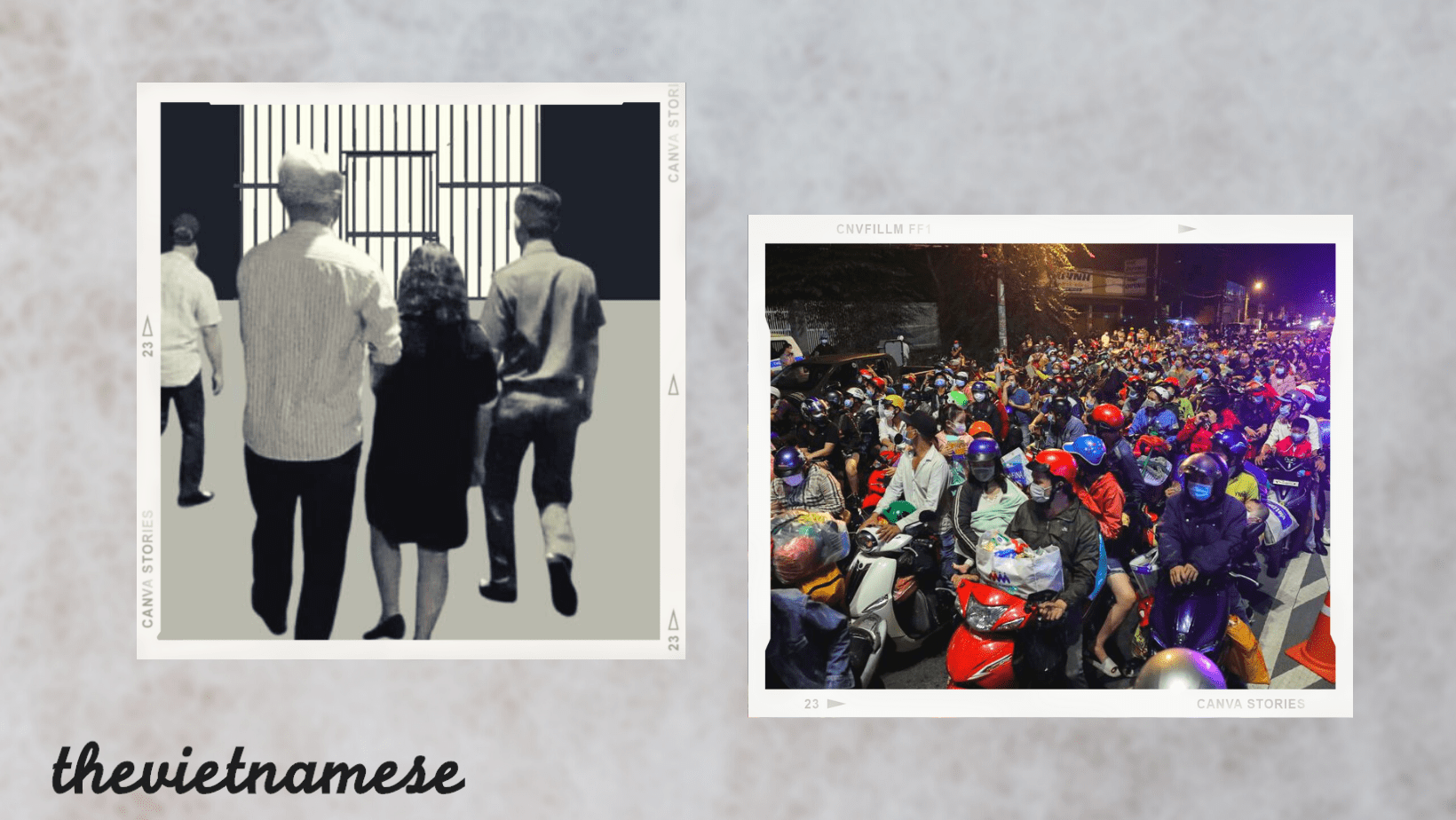 Vietnam Says It Is Promoting And Defending Human Rights, But The Reality Proves Otherwise
In Vietnam, the beginning of this October marks two significant events that challenge and reflect upon the country's actual circumstance over its commitment to uphold human rights values: the one year anniversary of the arrest of journalist Pham Doan Trang and the mass exodus of migrant workers who have had to use all sorts of means to return to their hometowns due to the lack of help from the government.
Earlier, in March, Vietnam also announced its candidacy for the United Nations Human Rights Council (UNHRC) for the agency's 2023-2025 term. This announcement has astonished many local pro-democracy activists and critics, who have expressed their opposition to such a move.
According to the UNHRC's membership requirements [1], member states running for the seats need to fulfill their "contribution to the promotion and protection of human rights," and once they gain the council's membership, the members must bear the responsibility to "uphold high human rights standards."
However, given the one-party Communist state's poor human rights record and its consistently oppressive policies and actions in curtailing the people's fundamental civil and political rights, Vietnam's legitimacy to become a member of the UNHRC should remain out of the question [2].
On the one hand, Vietnam's state-controlled media has been seen praising [3] the country's efforts in securing a seat at the United Nations body, betting on its early successful containment of COVID-19 and the donations of masks and medical equipment to other countries. From the government's reasoning, keeping people safe and protecting their daily livelihoods are crucial to the promotion of human rights. "The country has tackled the pandemic head-on, putting the people at the center of all its efforts," state media quoted Vietnamese Foreign Minister Pham Binh Minh as saying at the UNHRC's 46th Regular Session.
On the other hand, the apprehension of journalist Pham Doan Trang and the dire situation of Vietnamese migrant workers during the fourth wave of the COVID-19 pandemic in the country provide us with a contrasting narrative. Those unparalleled stories vividly portray an authoritarian government that shows virtually no tolerance for dissenting opinions, in addition to highlighting its disregard for the most basic human rights, which are recognized in the U.N.'s Universal Declaration of Human Rights and the country's own Constitution.
Pham Doan Trang and her freedom of speech
Pham Doan Trang was arrested by the Vietnamese authorities at around midnight on October 6, 2020, and she has been held incommunicado since her detainment. Her arrest came only hours after officials from Vietnam and the United States held a video conference for the two countries' 24th annual Human Rights Dialogue. However, Doan Trang, her friends and colleagues, and also the readers of her books, had long been anticipating her arrest.
As a dedicated journalist and a prominent writer, Pham Doan Trang has devoted her career to documenting and writing about controversial social issues and human rights violations committed by the Vietnamese government. She also publishes books popularizing general knowledge about politics, laws, and human rights for the Vietnamese people.
In theory, the Vietnamese Communist Party (VCP) has consistently trumpeted[4] its respect for the people's right to freedom of speech, right to access to information, and press freedom, which were promised to its citizens under the Constitution. But in reality, the VCP has systematically harassed and detained independent journalists and activists [5], restricted access [6] to critical online newspapers and blogs, including The Vietnamese Magazine and Luat Khoa Magazine, and tracked down and intimidated [7] anyone who disagrees with its political doctrine.
To the international community and admirers of her work, Doan Trang has only done what a journalist should be doing: report truthfully and inform the global audience about alleged human rights abuses by the VCP. What the Vietnamese government has been doing to silence opposition critics and dissidents like her only exposes the country's serious violations of basic human rights and its lack of commitment to steadfastly protect those fundamental rights of its citizens.
The homebound journeys of Vietnamese migrant workers
Also at the beginning of October, heartrending photos and video footage of thousands of migrant workers rushing to return to their hometowns were widely shared on Vietnamese social media. These migrant workers decided to flee big cities en masse due to financial difficulties that affected them as a result of COVID control measures and the lack of help from the government. "We are tired," one migrant worker said [8].
On their way home, many of the laborers were seen breaking through the barricades at checkpoints set up by local authorities, with many beaten by security forces and some even seen begging the officers to let them through. According to the government, these methods were to prevent the wave of mass migrations that resulted from concerns about the transmission of the coronavirus. Despite facing many hurdles and uncertainty during their homebound journeys, those migrant workers hardly had any other choice.
This abrupt and large-scale migration wave was a result of Vietnam's months-long abusive lockdown mandates [9], which largely excluded human rights matters from its protocols, and the negligence of the government regarding the well-being, and more importantly, the dignity of workers.
As written in the Universal Declaration of Human Rights, the Vietnamese people in general, and migrant laborers in particular, have the right to freedom of movement and residence within their own country; they also have the right to be treated with dignity and to seek their own security of life. Those allegedly unlawful actions by the Vietnamese government are clearly blatant violations of universal human rights, which are ironically the key conditions that the VCP must meet to gain its seat at the UNHRC.
Steward Rees, an advocacy associate with The 88 Project, a non-profit organization that promotes free speech in Vietnam, suggests [10] that if Vietnam is genuinely serious about contributing to the development of global human rights, unconditionally releasing Pham Doan Trang would be a good place to start.
References:
Membership of the Human Rights Council. (2020). United Nations Human Rights Council. https://www.ohchr.org/en/hrbodies/hrc/pages/membership.aspx
Jamal, U. (2021, March 17). Should Vietnam become a member of the UN Human Rights Council? ASEAN Today. https://www.aseantoday.com/2021/03/should-vietnam-become-a-member-of-the-un-human-rights-council/
VNA. (2021, March 15). Vietnam stands for election to UNHRC in 2023–2025 tenure. VietnamPlus. https://en.vietnamplus.vn/vietnam-stands-for-election-to-unhrc-in-20232025-tenure/197570.vnp
VNA. (2021b, July 8). Press freedom in Vietnam – Undeniable objective reality. VietnamPlus. https://en.vietnamplus.vn/press-freedom-in-vietnam-undeniable-objective-reality/204350.vnp
Database of persecuted activists in Vietnam. (n.d.). The 88 Project. Retrieved October 6, 2021, from https://the88project.org/database/
Freedom House. (2021, September). Freedom on The Net 2021 (Vietnam). https://freedomhouse.org/country/vietnam/freedom-net/2021
Human Rights Watch. (2021). World Report 2021: Vietnam. https://www.hrw.org/world-report/2021/country-chapters/vietnam
Reuters. (2021, October 4). "We are tired": Workers flee Vietnam's largest city as long lockdown eases. Reuters. https://www.reuters.com/world/the-great-reboot/we-are-tired-workers-flee-vietnams-largest-city-long-lockdown-eases-2021-10-04/
Nguyen, J. (2021, July 21). How The Latest Outbreak Reveals The Darker Side Of Vietnam's Anti-Coronavirus Strategy. The Vietnamese Magazine. https://www.thevietnamese.org/2021/07/how-the-latest-outbreak-reveals-the-darker-side-of-vietnams-anti-coronavirus-strategy/
Rees, S. (2021, October 5). Vietnamese rights activist marks first year in jail. Asia Times. https://asiatimes.com/2021/10/vietnamese-rights-activist-marks-first-year-in-jail/
Newsletter
Join the newsletter to receive the latest updates in your inbox.
---