Society
How The Latest Outbreak Reveals The Darker Side Of Vietnam's Anti-Coronavirus Strategy

Last year, when the novel coronavirus Covid-19 ravaged the healthcare system and economy of even the most developed countries in the world, Vietnam's early success in containing infections and keeping the death toll low drew praise and even admiration from the international media and community.
"Fighting the pandemic as if we are fighting an enemy," the country's anti-coronavirus slogan declared.
Vietnam's early successful anti-coronavirus protocols primarily focused on isolating infected areas, facilitating rapid contact tracing, mandatory hospitalization of infected patients and their close contacts, as well as imposing fines on those who broke the social distancing rules.
Though efficient as these protocols might seem, as experts point out [1], only a few countries possess control structures that Vietnam has in order to deal with the pandemic, let alone being willing to carry them out under actual circumstances.
Since the control playbook helped the country get through the very first waves of Covid-19 infections, the most recent outbreak has revealed the darker sides of how Vietnam handles the pandemic in its rigid and yet abusive nature.
When "collective benefits" dwarf human rights
In Vietnam, the need to curb the pandemic seems to have outmatched other substantial matters, such as upholding certain human rights [2] and looking after people's livelihoods.
As the Southeast Asian country witnessed [3] its highest surge of Covid-19 cases in recent days, more measures, including strict lockdown and movement restrictions, have been put in place. Ho Chi Minh City [4] and the entire southern region [5] remain under lockdown while adopting Directive 16 of the government, an anti-coronavirus protocol, to curb the spread of Covid-19.
Directive 16 [6] requires all citizens to follow disease control guidelines and stay at home, except for "necessary duties," while restricting gatherings of more than two people in public places, halting all means of transportation, and so on.
Although not legally binding [7], the new ordinance raises public concerns about whether the authorities' policies for "curbing the pandemic" interfere with fundamental human rights, such as the freedom of movement and speech.
People can be coerced into compliance or fined if they go outside without a "reasonable purpose"[8] or post content deemed to be "false information"[9] on social media.
These terms, "reasonable," "necessary," or "false," of course, are arbitrarily defined by local authorities.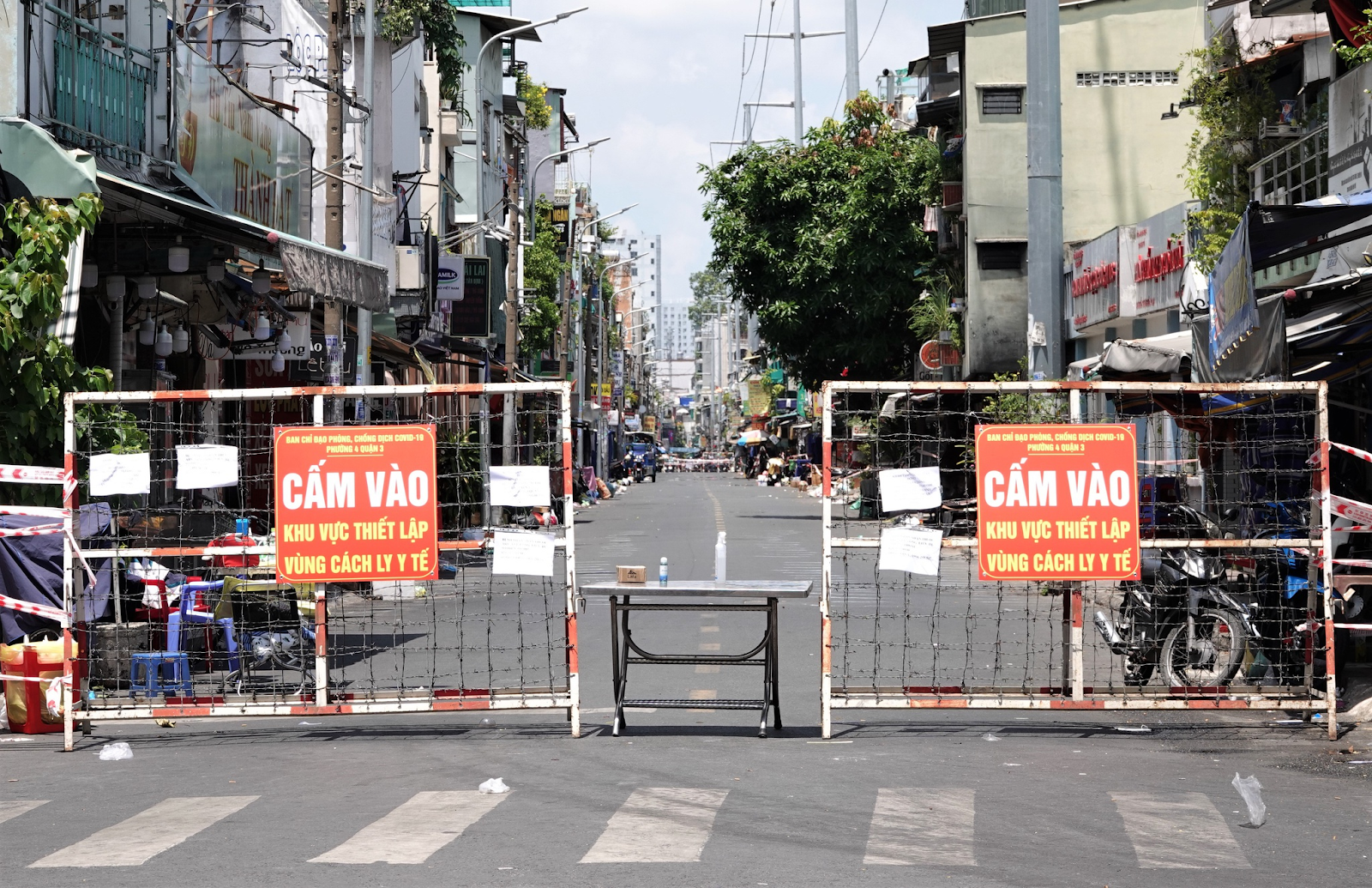 Since Ho Chi Minh City has undergone a citywide lockdown, there have been over 12,000 cases [10] in which people were fined for "violating anti-coronavirus regulations." That would include more than 2,000 cases [11] where people were fined for going outside, despite reports that they were properly wearing masks and keeping a safe distance. More ironically, the authorities even set a daily quota [12] for how many people to be fined.
Besides its legal ambiguity, Directive 16 is also being abused [13] by police officers and security forces to serve their interests in the name of containing the coronavirus. Petty corruption and alleged misconduct are commonplace.
Multiple personal experiences, videos, and short clips circulating on social media show the truth behind the curtain of the "ideal anti-coronavirus model," [14] about which Vietnamese authorities brag so enthusiastically.
In one video, policemen and security guards were seen entering a house and grappling with a local family, allegedly accusing them of violating social distancing measures for selling essential produce. The security forces later confiscated all the produce, and they then dragged the homeowner into their vehicle.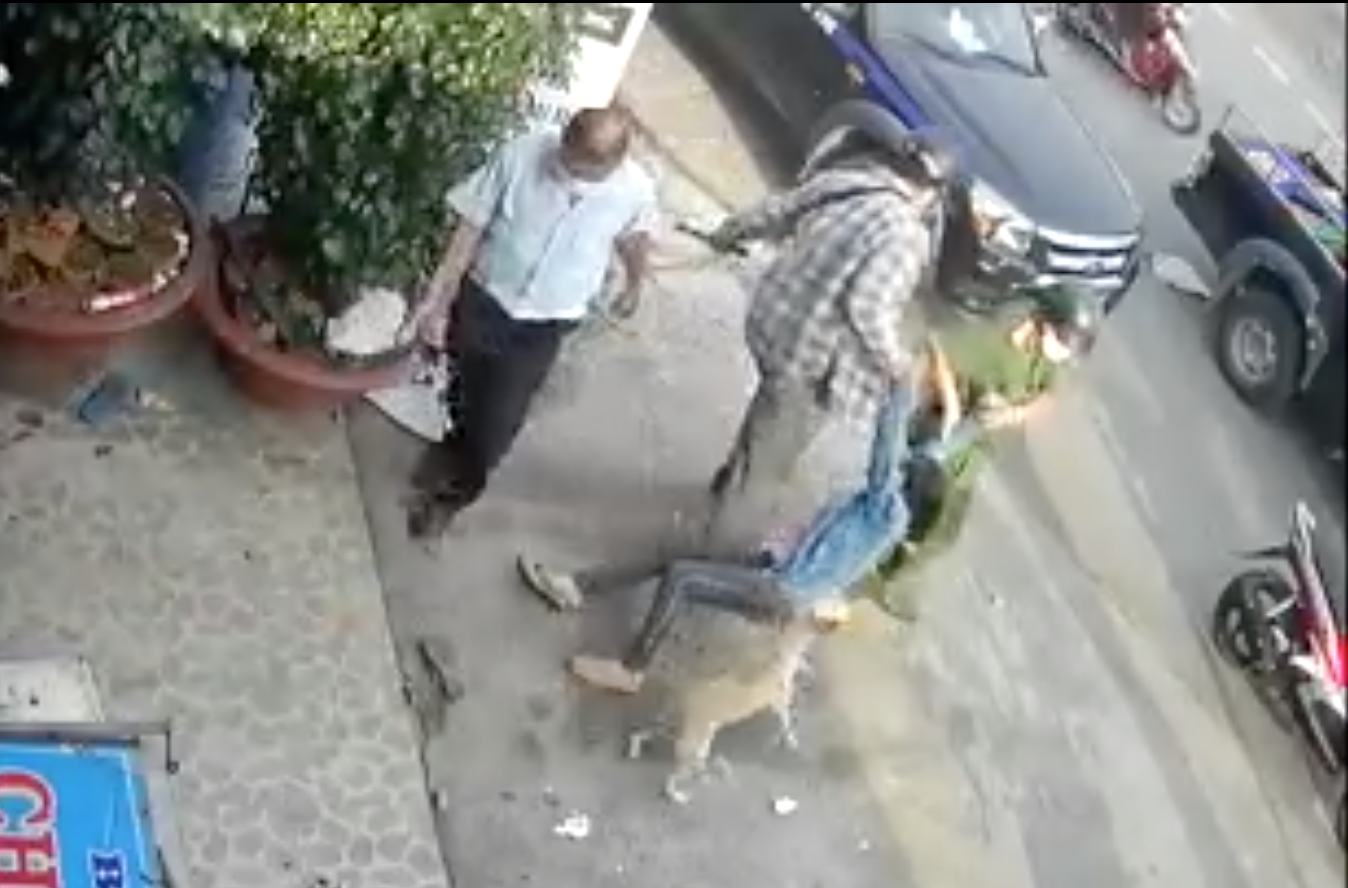 The lack of independent oversight of the power of law enforcement, along with the absence of transparency on Covid-19 stimulus and relief policies, is nurturing an environment where abuse of power [15] and corruption [16] flourish.
Other similar videos and Facebook posts showing police taking advantage of anti-coronavirus measures to harass passers-by, arbitrarily fine people, penalize street vendors, or implicitly ask for bribes are not difficult to find on social media.
Behind the successful anti-coronavirus model
The "effective" methods that helped Vietnam overcome the first three waves of Covid-19 infections, in reality, are not immune to shortcomings and inefficiency.
"Tracing, mapping and quelling the virus,"[17] the strategy which operates on the principle of tracing infected patients, isolating residential areas, and administering treatment, although appearing to be successful at first, comes at the cost of hurting the Vietnamese economy and causing many to be unemployed. Furthermore, the procedure of providing financial assistance to affected families is often long and bureaucratic.
Meanwhile, the effectiveness of centralized quarantine camps, where Covid-19 patients and their direct contacts are compulsorily held while awaiting testing and treatment, remains still a big question.
The so-called quarantine camps were hailed by state media [18] as "effectively functioning" to curb the coronavirus outbreaks, and therefore should remain "a top priority method."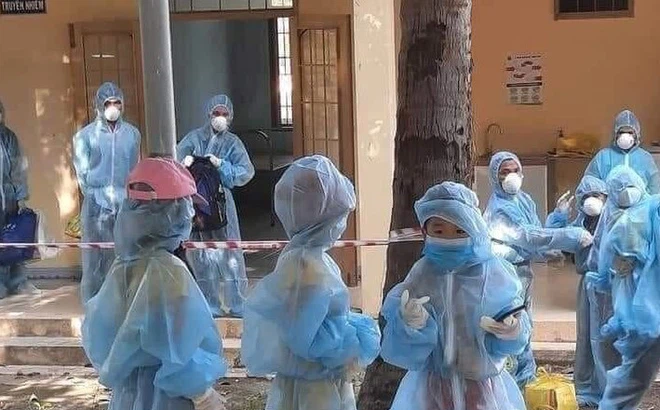 Nevertheless, the surge in cases in recent weeks, which overloaded the capacity [19] of those camps, coupled with their poor and unsanitary conditions, put both asymptomatic patients and healthy people at risk of being mutually infected. Also, since the quarantine requirements are applied to everyone regardless of age, children were subject to isolation and staying away from their parents, whereas home quarantine could be a more feasible option.
While too focused on the idea of "fighting the virus," Vietnam also trails behind [20] other neighboring Southeast Asian countries in securing a vaccination supply, as well as ramping up inoculation programs. As of now, only above 0.3 percent [21] of Vietnam's population is fully vaccinated.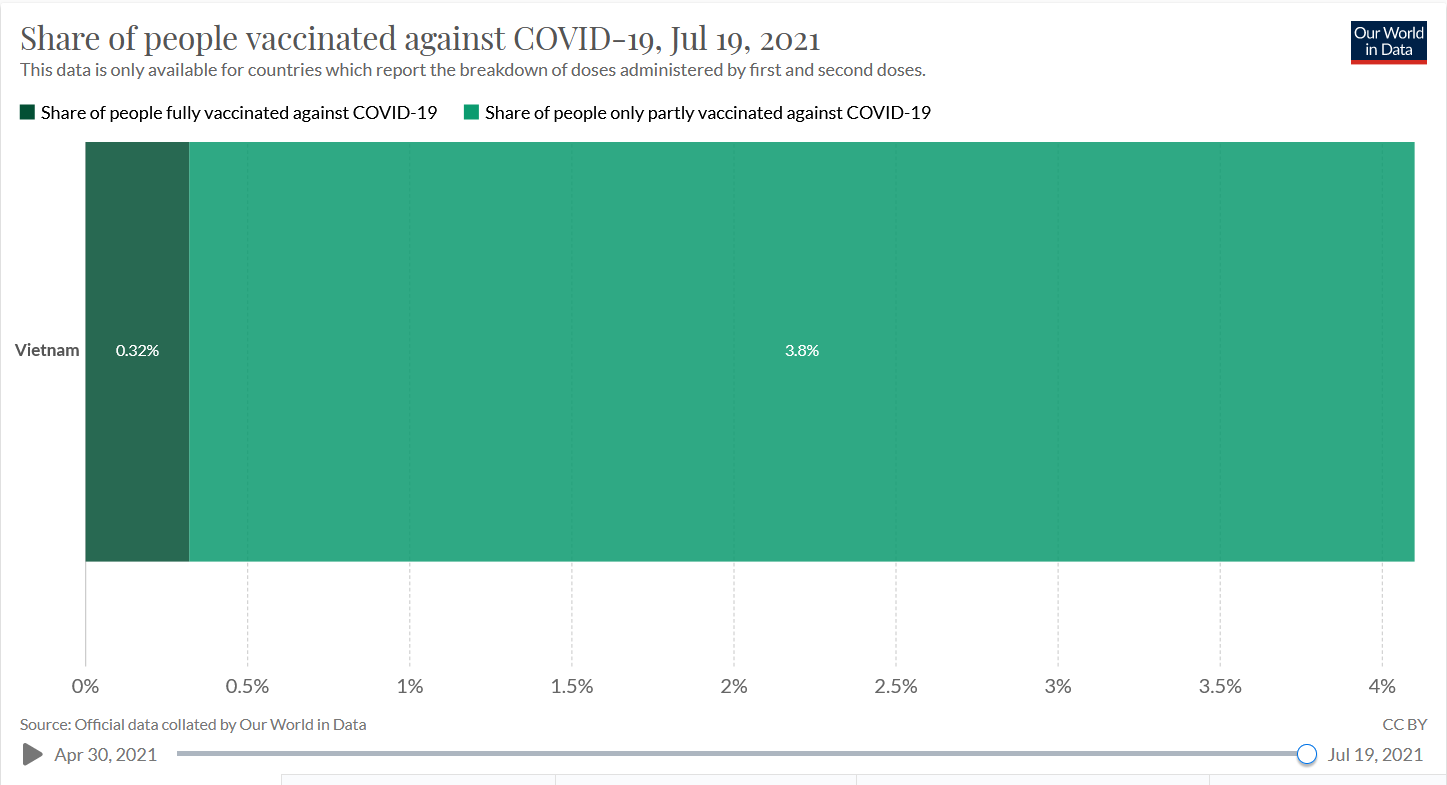 Meanwhile, as the government asks its citizens [22] to donate to the 'vaccine fund' as cases spike, questions [23] regarding the transparency of the fund, along with promises of equal access to Covid-19 vaccines [24] for all citizens, remain unanswered.
---
Last June, the New York Times published an article [25] warning Vietnam to brace itself for a fresh wave of Covid-19 infections while suggesting the country's luck in containing the disease might be "running out" this time.
The Vietnamese government, facing the shortcomings and challenges of its anti-coronavirus strategy, rather than admitting the faults, consulting experts' advice, and making appropriate adjustments to improve the situation, continues to defend its mistakes. The government has perpetually shifted the blame to "reactionary forces" for spreading "distorted information"[26] or the New York Times for a "biased evaluation" [27] in claiming that the country's success in containing previous infections was based on luck.
Whether Vietnam was lucky in its past Covid-19 handling is still unclear; however, we can ostensibly see the secret behind the success of the Communist regime's strategy: its anti-coronavirus playbook only works at the expense of the well-being of ordinary citizens.
Bibliography:
Bill Hayton, Tro Ly Ngheo. (2020, May 12). Vietnam's Coronavirus Success Is Built on Repression. Foreign Policy. https://foreignpolicy.com/2020/05/12/vietnam-coronavirus-pandemic-success-repression/
H.R.W. (2020, March 19). Human Rights Dimensions of COVID-19 Response. Human Rights Watch. https://www.hrw.org/news/2020/03/19/human-rights-dimensions-covid-19-response
Reuters. (2021, July 9). Vietnam sees record coronavirus cases as curbs tighten. Reuters. https://www.reuters.com/world/asia-pacific/vietnam-sets-covid-19-vaccination-targets-new-curbs-unrolled-2021-07-09/
BBC. (2021, July 7). TP HCM giãn cách xã hội "quyết liệt" theo Chỉ thị 16 từ 0h 9/7. BBC Tiếng Việt. https://www.bbc.com/vietnamese/vietnam-57750819
Associated Press. (2021, July 18). Vietnam puts southern region in lockdown as surge grows. AP News. https://apnews.com/article/asia-pacific-world-news-health-coronavirus-pandemic-vietnam-958c8f737c497b2330f1af69c84bae18
Cong, H. (2021, July 7). TP HCM giãn cách xã hội theo Chỉ thị 16. VnExpress. https://vnexpress.net/tp-hcm-gian-cach-xa-hoi-theo-chi-thi-16-4296651.html
Percy, N. (2020, April 4). Chỉ thị 16 có giá trị pháp lý không? – Không. Luật Khoa Tạp Chí. https://www.luatkhoa.org/2020/04/chi-thi-16-co-gia-tri-phap-ly-khong-khong/
Son, T. (2021, July 14). Xử phạt dân ra đường: vừa không hợp tình vừa thiếu cơ sở pháp lý! Đài Á Châu Tự Do. https://www.rfa.org/vietnamese/in_depth/punishing-people-leaving-their-houses-in-lockdown-time-is-ruthless-and-lack-of-legal-base-07142021094348.html
RFA. (2021c, July 2). Lâm Đồng phạt 30 triệu đồng ba người đưa tin sai về dịch COVID-19 trên mạng xã hội. Đài Á Châu Tự Do. https://www.rfa.org/vietnamese/news/vietnamnews/lam-dong-fined-three-people-vnd-30-million-for-spreading-false-information-about-covid-19-07022021082827.html
An, D. (2021, March 17). TPHCM: Phạt hơn 12.000 vụ vi phạm Chỉ thị 16 với số tiền 3,3 tỷ đồng. Công an TP.Hồ Chí Minh. https://congan.com.vn/doi-song/tphcm-phat-hon-12000-vu-vi-pham-chi-thi-16-voi-so-tien-33-ty-dong_116102.html
Ibid., [8]
Phuong, V. (2021, July 13). Phường ở TP.HCM giao chỉ tiêu phạt người vi phạm Chỉ thị 16: Quận chấn chỉnh ngay. Thanh Niên Online. https://thanhnien.vn/doi-song/phuong-o-tphcm-giao-chi-tieu-phat-nguoi-vi-pham-chi-thi-16-quan-chan-chinh-ngay-1413746.html
Chan, Y. (2021, July 15). Con virus không gây ra bệnh lộng quyền, nó chỉ làm lộ rõ bản chất của các "đầy tớ." Luật Khoa Tạp Chí. https://www.luatkhoa.org/2021/07/con-virus-khong-gay-ra-benh-long-quyen-no-chi-lam-lo-ro-ban-chat-cua-cac-day-to/
Van, N. (2021, July 6). Việt Nam – mô hình lý tưởng trong phòng chống dịch COVID-19. Sức Khỏe & Đời Sống. https://suckhoedoisong.vn/viet-nam-mo-hinh-ly-tuong-trong-phong-chong-dich-covid-19-n196626.html
RFA. (2021d, July 19). Giám đốc Hợp tác xã cấp khống giấy thông hành cho con gái bị phạt 7,5 triệu đồng. Đài Á Châu Tự Do. https://www.rfa.org/vietnamese/news/vietnamnews/director-of-cooperation-determine-control-travel-warrants-granted-to-his-daughter-received-a-7-million-07192021090444.html
Hoang, T. (2020, December 10). Xét xử cựu giám đốc CDC Hà Nội và đồng phạm nâng giá máy xét nghiệm COVID-19. Tuổi Trẻ Online. https://tuoitre.vn/xet-xu-cuu-giam-doc-cdc-ha-noi-va-dong-pham-nang-gia-may-xet-nghiem-covid-19-2020120922563448.htm
Hai, S. (2021, June 11). Khẩn trương truy vết, khoanh vùng dập dịch triệt để nhằm khống chế các chuỗi lây bệnh. Trang Tin Điện Tử Đảng Bộ Thành Phố Hồ Chí Minh. https://www.hcmcpv.org.vn/tin-tuc/khan-truong-truy-vet-khoanh-vung-dap-dich-triet-de-nham-khong-che-cac-chuoi-lay-benh-1491879154
Yen, N. (2021, June 2). Cách ly tập trung vẫn là biện pháp quan trọng hàng đầu. Báo Công an Nhân Dân. http://cand.com.vn/Su-kien-Binh-luan-thoi-su/Cach-ly-tap-trung-van-la-bien-phap-quan-trong-hang-dau-644093/
Tien, V. (2021, June 27). Tình hình Covid-19 hôm nay 27.6: Khu cách ly quá tải, TP.HCM sắp cho "tự quản" F1 tại nhà. Thanh Niên Online. https://thanhnien.vn/thoi-su/tinh-hinh-covid-19-hom-nay-276-khu-cach-ly-qua-tai-tphcm-sap-cho-tu-quan-f1-tai-nha-1405218.html
Tomoya Onishi. (2021, June 25). Vietnam backpedals on COVID-19 vaccination targets. Nikkei Asia. https://asia.nikkei.com/Spotlight/Coronavirus/COVID-vaccines/Vietnam-backpedals-on-COVID-19-vaccination-targets2
Share of people vaccinated against COVID-19, Jul 19, 2021. (n.d.). Our World in Data. https://ourworldindata.org/covid-vaccinations?country=VNM
AFP. (2021, June 8). Vietnam begs public for "vaccine fund" donations after virus surge. Yahoo News. https://sg.news.yahoo.com/vietnam-begs-public-vaccine-fund-091017383.html
Chinh, Y. K. (2021, July 13). 4 câu hỏi về chiến dịch tiêm vaccine COVID-19 của Việt Nam. Luật Khoa Tạp Chí. https://www.luatkhoa.org/2021/07/4-cau-hoi-ve-chien-dich-tiem-vaccine-covid-19-cua-viet-nam/
Tuan, V. (2021, July 10). Thủ tướng: "Mọi người bình đẳng trong tiếp cận vaccine." VnExpress. https://vnexpress.net/thu-tuong-moi-nguoi-binh-dang-trong-tiep-can-vaccine-4307457.html
Richard C. Paddock, Chau Doan. (2021, June 2). Spared for Months, Vietnam Faces a Wave of New Infections. The New York Times. https://www.nytimes.com/2021/06/02/world/asia/vietnam-covid-ho-chi-minh.html
Department Of News. (2021, July 19). Bác bỏ luận điệu xuyên tạc về công cuộc chống dịch COVID-19 của Việt Nam. VTV. https://vtv.vn/xa-hoi/bac-bo-luan-dieu-xuyen-tac-ve-cong-cuoc-chong-dich-covid-19-cua-viet-nam-20210719192125814.htm
Quan, M. (2021, June 24). Nói Việt Nam 'may mắn' trong chống dịch Covid-19 là thiếu khách quan. Báo Thế Giới và Việt Nam. https://baoquocte.vn/noi-viet-nam-may-man-trong-chong-dich-covid-19-la-thieu-khach-quan-149357.html