Human Rights
2020: 10 Religious Problems That The Vietnamese Government Doesn't Want You To Know About

Vietnam makes no progress with freedom of religion, which remains tightly controlled.
Vietnam is among countries with the greatest diversity of religions, but it is also among those that suppress freedom of religion most heavily.
In 2020, ethnic Thuong in the Central Highlands, Hoa Hao Buddhists, independent Cao Dai practitioners, and followers of new religions in the northwest all had to pay the price for exercising their freedom of religion.
---
1. No place for new religions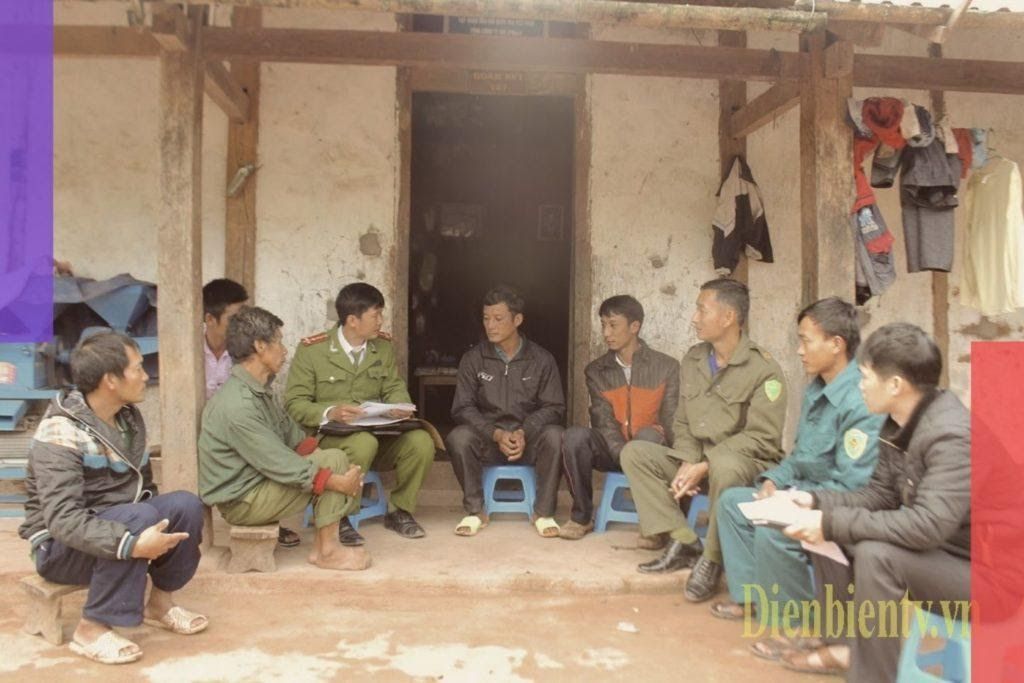 Vietnam possesses a great diversity of religions, but the government is quite strict with new ones.
Recently, a woman introduced me to Phap Mon Dieu Am. She advised me to eat vegetarian and call a phone number to receive "messages that will be imprinted on your heart".
Phap Mon Dieu Am is a new religion, and the Vietnamese government prohibits spreading it.
Authorities worry that new religions will destabilize security and spur anti-government activities. All new religions are referred to generally as "heresies."
In the northwest region, especially Dien Bien Province, two new religions have sprouted, known as the Gie Sua and the Ba Co Do religions.
The province has initiated criminal proceedings against three people for "acting to overthrow the people's administration" and "harboring criminals" in relation to the Gie Sua religion.
Dien Bien police also acknowledged that it has pressured residents to sign forms giving up their new religions.
"We went from house to house, explaining things to the residents and asking them to sign pledges giving up the Gie Sua religion, to not believe in the propaganda about establishing "the Mong Kingdom," Major Vu Van Hanh told the Dien Bien Phu Paper in February 2020.
"As of today, the Na Co Sa border defense post has gotten 55 households/325 individuals to sign pledges giving up their heresies", he said.
Despite the government's threats, other new religions continue to silently operate across the country.
The Government Committee For Religious Affairs stated in 2015 that there were approximately 60 instances of new religions in Vietnam.
And yet, throughout Vietnam, people could sometimes unexpectedly hear information about these strange, new religions like Phap Mon Dieu Am, Thanh Hai Vo Thuong Su, Gie Sua, Ba Co Do, Hoang Thien Long, Phap Mon Di Lac, Buu Toa Tam Giao, or Hoi Thanh Duc Chua Troi Me…
2. Ethnic Thuong living under strict religious policies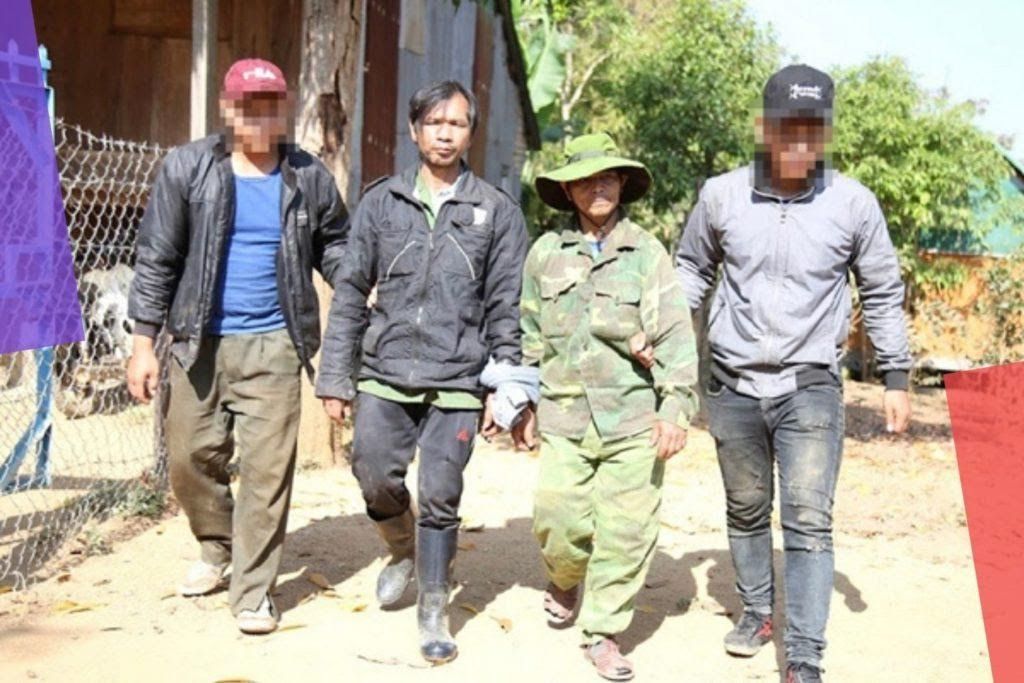 Since 1975, the Thuong ethnic group has been beleaguered as they have never been in their history.
After the government forced them to give up their traditional faiths, many converted to Catholicism and Protestantism. However, the Thuong have not been able to escape government harassment and are not allowed to freely organize their religious activities.
Peaceful civil activities such as gatherings and protests are all seen as linked to heresies.
Dega Protestantism, Ha Mon, and the Protestant Church of Christ are all seen as heresies that mislead the masses.
In March 2020, three Ba Na followers of the Ha Mon religion that had absconded into the jungle for seven years were arrested on suspicion of spreading anti-state propaganda.  In June, rather than being charged, the three underwent criticism sessions before the people.
In July, another ethnic Thuong underwent a public criticism session for illegally crossing the border to Cambodia many times, propagating "heresy", and distorting state policies.
Thuong refugees in Thailand have stated that members of their ethnic group from the Central Highlands escape across the Vietnamese border every month. Currently, there are a little over 500 Thuong refugees in Thailand.
3. Interfering in the internal affairs of religious organizations
The arms of the state reach deep into the internal affairs of religions.
In June 2020, the Government Committee For Religious Affairs ordered the Tien Thien Cao Dai Temple to "create regulations for active dignitaries and functionaries, as well as regulations to resolve letters of petition and grievance, and the selection of dignitaries to be applied to its followers". These regulations should be the internal matters that the religious organizations voluntarily manage, but the government is directing them to comply with specific instructions.
In Phu Yen Province, local authorities and the Tay Ninh Holy See Cao Dai Great Temple, Vietnam's largest Cao Dai organization, tried to take over the independent Phu Lam Cao Dai temple in June 2020.
In a conference marking 25 years of state management of the Cao Dai religion, "the church of churches," i.e. the Government Committee For Religious Affairs, stated that it will increase its research to study more closely the Cao Dai religion and to manage this religion, preventing it from further splintering and having internal conflicts between the religion's own organizations.
In June 2020, the Diocese of Vinh decided to retire Dang Huu Nam, a clergyman well-known for his civil society activities.  After the decision, the People's Daily and many anonymous pro-government web pages stated that the removal was well-deserved because of Nam's anti-government activities.
4. Arresting Falun Gong practitioners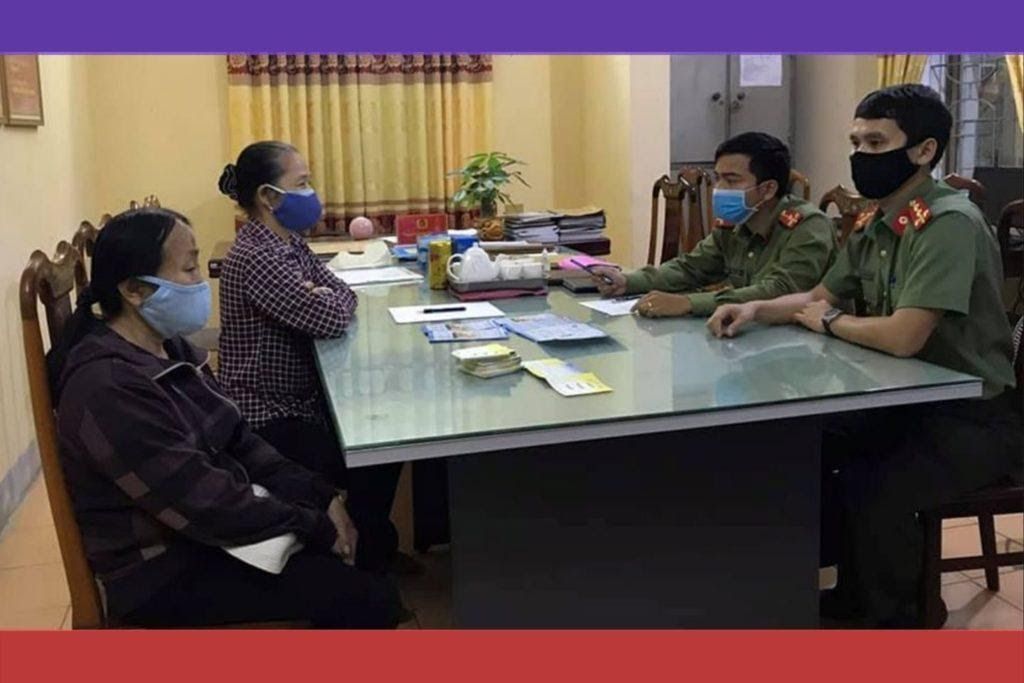 As of October 2020, at least 66 Falun Gong practitioners have been arrested and punished administratively for storing or distributing flyers regarding the religion. You may yourself see in public spaces a number of people practicing Falun Gong, numbers which are growing by the day in Vietnam.
However, distributing flyers or practicing Falun Gong with others at home are considered violations of the law.  In Quang Tri, a high school principle was harshly disciplined for inviting a large number of people to his home to practice Falun Gong.
In July 2020, police arrested 28 people for attending a lecture on Falun Gong at a residence in Ha Tinh Province.
Local authorities state that spreading Falun Gong violates the law because the religion has yet to be recognized by the state.
But Falun Gong practitioners disagree with this.
"Our connections are very loose," a Falun Gong practitioner stated in an interview with Luat Khoa. "We don't organize into associations or anything like Catholicism or Buddhism."
LIV, the organization that manages Luat Khoa magazine, has archived information regarding Falun Gong practitioners that have been arrested. This list is a part of a database on freedom of religion in Vietnam, which can be found at: https://www.liv.ngo/data/
Readers can also check out a number of other Luat Khoa articles to find out more about the Falun Gong: Is practicing Falun Gong legal?…, and our Religion Bulletins from May, June, and September.
5. Controlling publishing
Arrested Falun Gong practitioners have been administratively punished based on a decree regarding publishing. Specifically, they were punished for distributing flyers without government approval.
Publication policies are particularly strict when it comes to religion or politics.
In 2012, the government stipulated that the borrowing or gifting of publications between citizens requires government permission.
The Government Committee For Religious Affairs manages the Religion Publishing House and is the department in charge of censorship for religious publications.
Control of publishing certainly exercises a heavy influence on the development of religions, and it is impossible to avoid the idea that the government censors with a heavy hand to purposefully limit this development.
6. Punishing individuals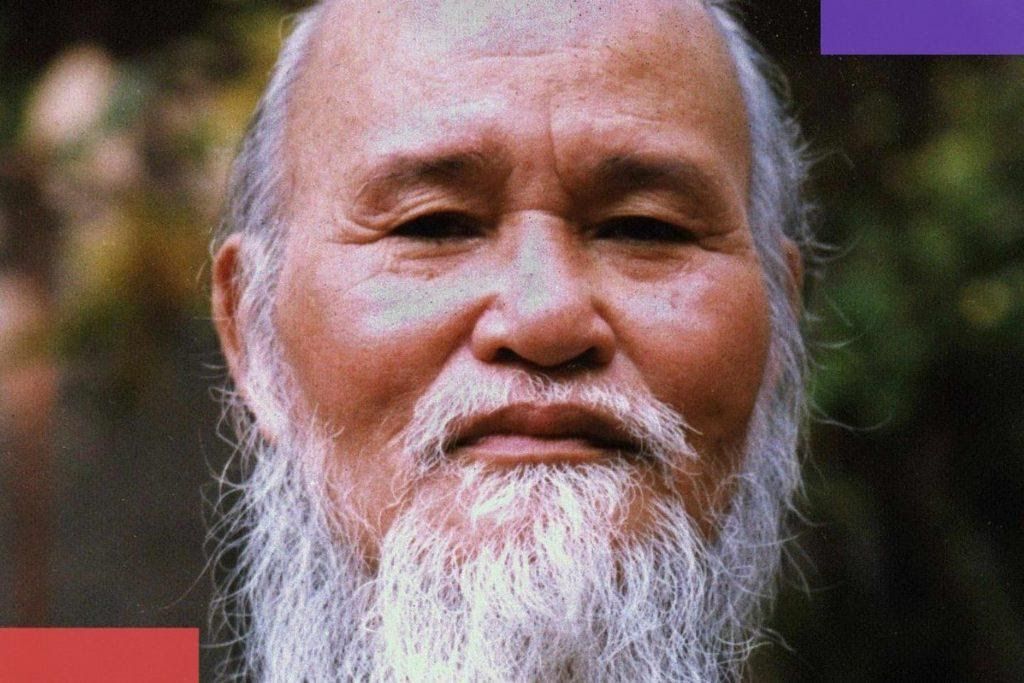 In February 2020, Vietnam's longest imprisoned monk Venerable Thich Quang Do passed away.
Before 1975, Venerable Quang Do actively mobilized for the Unified Buddhist Church of Vietnam. After 1975, he continued to lead this delegation, despite fierce government suppression that continued until his death.
Many other religious dignitaries remain subject to the government's control and punishment.
In January 2020, the head of Song Ngoc Parish Father Nguyen Dinh Thuc stated that he was banned from holding mass beginning in August 2019. Father Thuc is widely known by the public for his civil society activities among central Vietnamese fishermen after the Formosa environmental disaster. Between 2017 and 2019, the government banned him from traveling overseas twice.
In February 2020, a Khmer monk named Seun Ty had his passport confiscated for two weeks, with the government threatening that he had violated Vietnam's Cybersecurity Law. In May 2020, authorities refused to issue a passport to Nguyen Van Toan, a clergyman that often publicly criticized the government.
After issuing complaints about discriminatory treatment, including instances of torture, families of a number of imprisoned religious activists stated that they had lost touch with their loved ones behind bars.
The government disapproves of religious activists linking with diplomatic missions of their own accord.
The authorities ordered four religious activists in the Central Highlands, Pastors Nguyen Ngoc Khanh, Y Kuan E Ban, Y Quy Bdap, and Y Khen Bdap to come in for questioning after they met with an American delegation regarding religious freedom.
7. Obstructing freedom of association
In 2020, the Unified Buddhist Church of Vietnam and the Pure Hoa Hao Buddhist Church continued to operate without legal recognition. As in previous years, members of the group were prevented by police from conducting ceremonies at their headquarters in March and July.
A number of members of the Unified Buddhist Church of Vietnam stated that the government interfered in the February 2020 funeral of Venerable Thich Quang Do, stripping them of the right to manage the event. The attempted seizure of the Phu Lam Cao Dai Temple also demonstrates that the government does not accept the idea of practitioners there operating independently.
8. Seizing property and possessions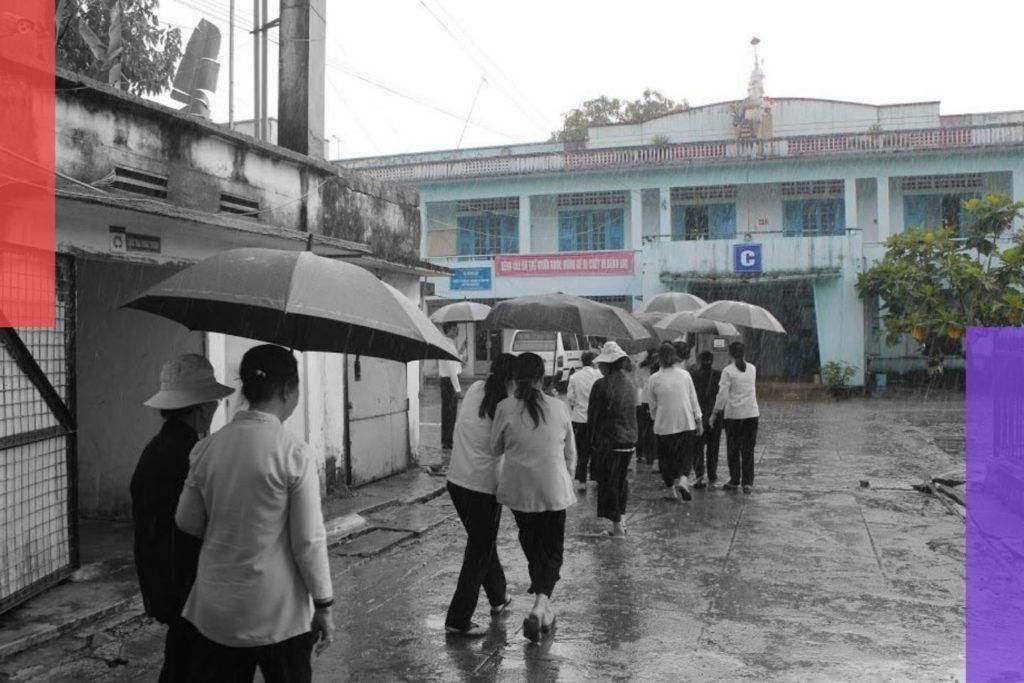 The government has moved from seizing religious properties after 1975 to now "re-appropriating" them.
In 2020, Thi Nghe Parish in Ho Chi Minh City and the Dominican Sisters of St. Catherine Siena Tam Hiep in Dong Nai Province stated that the usage rights for two schools that the government previously borrowed were quietly transferred to state entities.
Policies from 2003 related to land and properties of religious organizations  helped local authorities gain usage rights over religious properties  that they were "borrowing."
Currently, religious organizations do not have the legal grounds to demand their properties back if the government refuses to return them.
Religious organizations that possess large pieces of land can also become targets of harassment.
In Thua Thien – Hue Province, Thien An Abbey and provincial authorities are in conflict over the abbey's land and property. The abbey's 107 hectares of land has been continually chipped away by the government since 1975, without notification nor compensation.
In June 2020, Thien An Abbey's forests were attacked by individuals who cut down trees and sawed deeply into the roots of many conifers.
On August 13, 2020, an area household mobilized a group of men to hammer down stakes and put up barbed wire on a part of Thien An Abbey's land.
Another problem is that religious organizations are not allowed to sell or purchase land and must wait on the government to provide it.
In Ninh Binh Province, members of the Dong Dinh Parish were extremely upset when local authorities refused to give their land to their church. After the parishioners had donated the land to the government to pass to the church in accordance with the law, commune cadres announced that they would not turn the land over to the church but instead, would build a flood-prevention dyke between the current church land and the land parishioners had given to the government.
9. Religious organizations hit with reprisals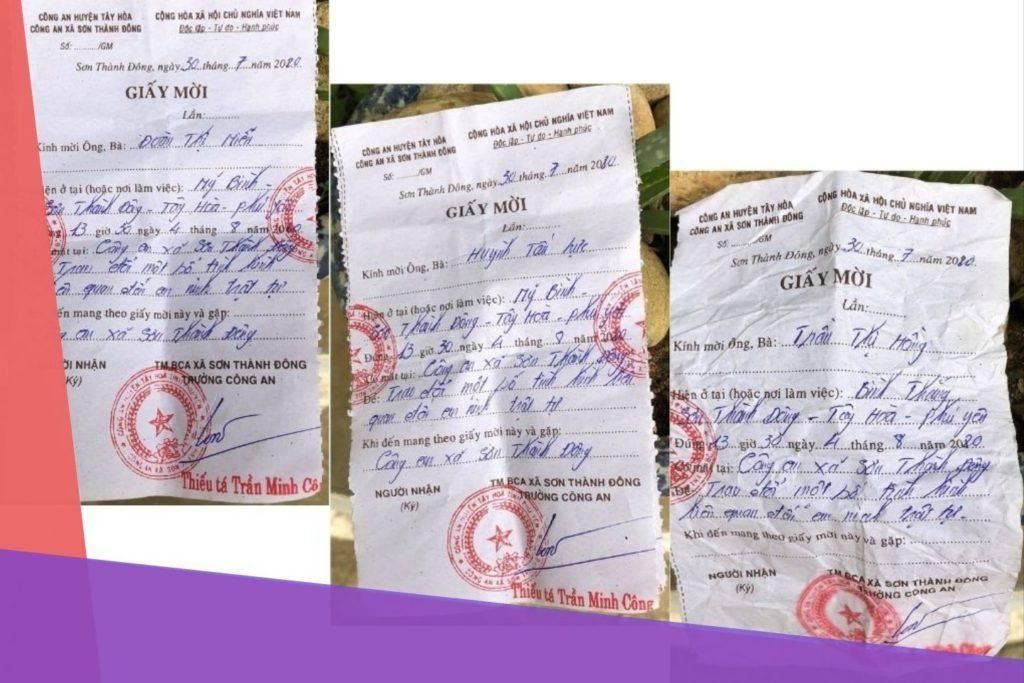 Letters police sent to members of Phu Lam Temple inviting them in for questioning. Photo: Cao Dai Orthodox Preservation.
In August 2020, a crowd that included residents and commune cadres protested for two days on land disputed by Thien An Abbey, local households, and the government.  The crowd hung up banners and used loudspeakers to decry the monks "taking their land."
In Phu Yen Province, after supporting the unsuccessful takeover of Phu Lam Temple, provincial authorities invited five members of the temple in for questioning. Authorities threatened these members, telling them that they had to accept the government's takeover order.
In 2020, Central Highland provincial authorities accused the Protestant Church of Christ of using religious activities to incite people to oppose the government. Many members of this church were taken in for interrogation.
10. Controlling the press
The Vietnamese government maintains a monopoly over all official media. With regard to religious issues, Vietnam's journalists present information according to government instruction. In February 2020, Tuoi Tre Newspaper had to remove an article about Venerable Thich Quang Do's career.
In June 2020, many publications simultaneously posted articles rejecting accusations in a 2019 international report regarding religion issued by the United States. In August 2020, the monks of Thien An Abbey issued a rebuttal to a report by Thua Thien – Hue Radio and Television, stating that it was untruthful and smeared the monks.
In recent years, all official newspapers in Vietnam have criticized the Falun Gong movement and its 'impropriety." These publications have only conveyed government views rather than the views of its adherents.
Two Catholic webpages, Good News To The Poor and VietCatholic, remain blocked in Vietnam, as are many press organizations that speak up for religious freedom, such as VOA, RFA, BBC, RFI, and Luat Khoa Magazine.
There are no private television or radio stations that operate freely in Vietnam.