Followers return home from the jungle, land disputes, Vietnam objects to US report.
Many religion-related events transpired in June 2020, including a dispute between an independent Cao Dai temple and registered Cao Dai followers, and a land dispute between a Catholic parish and a Buddhist abbey and local authorities, all covered along with other news in [Religion 360°]. Find out how independent Cao Dai temples have been bullied in past years in [Did you know?].
We welcome your suggestions and collaboration on reports. Email us at tongiao@luatkhoa.org or editor@thevietnamese.org.
[Religion 360°]
Three ethnic Bana arrested, but not prosecuted, for following the Ha Mon religion, after nine years of hiding in the jungle.
Three ethnic Bana: Ju, 56, Lup, 50; and Kunh, 32, were arrested on March 19, 2020, after nine years of hiding in the jungle. Authorities allowed them to return home and did not press any charges against them.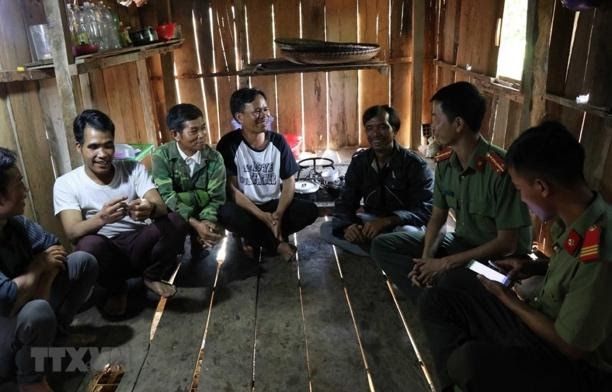 All three were allowed to return home to "draw from experience and educate themselves before the people" in their home villages on June 3, 2020. This method is commonly used to deter residents in areas that the authorities deem susceptible to religion.
State journalists published a flurry of articles describing the Vietnamese state's lenient policy towards those who repent after joining religious groups not approved by the government.
Newspapers that published stories regarding the return of these three include: Public Security, Vietnam News Agency, and Vietnam Plus.
According to the above reports, the three were not involved in any anti-state activities or foreign organizations, but had hid in the jungle for nine consecutive years because they feared punishment from the authorities for following the Ha Mon religion.
Independent religious practitioners in the Central Highlands often abscond to the jungle to avoid being hunted down by police. Many then proceed to contact relatives while in hiding to bring them over to Thailand or Cambodia as refugees. Services transporting people across borders are commonplace among independent religious practitioners in the Central Highlands.
Vietnamese journalists mobilized to oppose 2019 international report on religion authored by the United States
On June 11, 2020, many newspapers in Vietnam published articles related to a 2019 international report on religion authored by the United States.
The articles could be divided into two categories. The first simply conveyed the Foreign Ministry's opposition. The second asserted the American report was inaccurate and distorted the religious situation in Vietnam.
Nation and Development, an extension of the National Committee – Forum of Compatriots for Vietnam's Ethnic Groups, said the report was slander and contained false information regarding the religious situation in Vietnam. The paper stated that these kinds of reports serve to help "hostile forces" overthrow the state.
The Times, a publication of the People's Daily, stated that the United States "lacked logic" by putting out this report instead of focusing on the COVID-19 pandemic raging across the country and the "equally negative turmoil regarding African-American George Floyd".
The article in The Times also asserted that the American report was unable to differentiate between "those who genuinely practiced their faith or religion and those who used faith or religion to propagate superstitions and anti-government sentiments".
An independent Cao Dai temple in Phu Yen Province falls victim to bullying
According to RFA, on the morning of June 18, 2020, independent followers of Hieu Xuong Temple in Tuy Hoa City, Phu Yen Province, attempted to protect the institution from their state-registered counterparts, who planned to seize the building.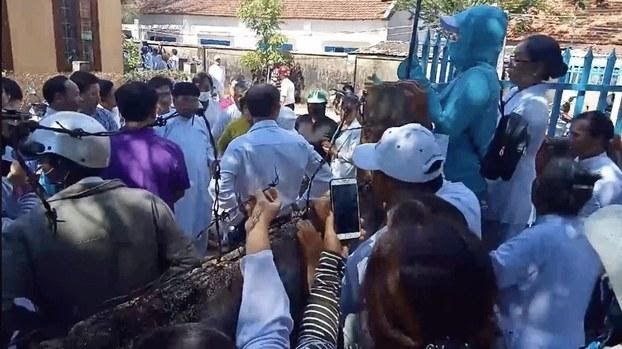 The independent Cao Dai followers told RFA that approximately 60 registered followers came with police to their temple, which was built in 1964.
RFA quoted Hieu Xuong Temple overseer Nguyen Ha as stating that the registered followers brought an administrative order to confiscate the temple.
Hieu Xuong Temple followers closed the gates to prevent the confiscation until 11 am that day, when the registered group dispersed.
Overseer Cao Van Minh, who is currently managing the temple, told RFA that he simply wanted the institution to be able to practice independently.
Hieu Xuong Temple is among a number of temples that remained independent after 1975, refusing to join the state-sanctioned Cao Dai bloc. These independent temples regularly face harassment from the authorities and the state-sanctioned Cao Dai bloc. Currently, there are no statistics on the number of independent Cao Dai temples operating.
High school principal stripped of all party positions after practicing Falun Gong with others at his home
At the end of June 2020, Vietnamese journalists reported on Tran Huu Duc, a 41-year-old principal of a school in Quang Tri Province, due to his affiliation with the Falun Gong.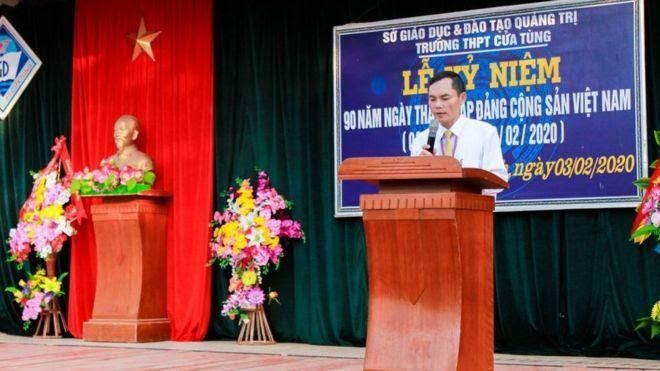 According to Traffic Newspaper, Quang Tri provincial police reported him to the Vinh Linh suburban district committee after discovering that he was propagating and practicing Falun Gong with others at his home.
Afterward, the suburban district standing committee requested that he cease congregating people in his home and stop distributing Falun Gong materials.
On May 15, 2020, Duc tore up the forms he had completed with the Vinh Linh suburban district committee. Shortly after, Duc also returned to them the form for party members who showed signs of infringement. After Duc's defiant acts, the suburban district committee decided to strip him of all party positions in the 2020-2025 term, and also suggested that the Office of Education and Training discipline him.
In March 2020, the Government Committee For Religious Affairs announced that all localities should be on strict guard for those who might try to take advantage of the COVID-19 pandemic to conduct illegal religious proselytizing. As of May 2020, local police had arrested at least 23 people for spreading Falun Gong.
State newspapers warn against the activities of two unregistered sects
At the start of June 2020, Voice of Vietnam's news page reported there were currently many Protestant sects illegally operating in Vietnam.
The article focused on two sects with South Korean origins, the Shincheonji Church of Jesus and the World Mission Society Church of God. It reported that these two religious organizations were operating surreptitiously, disrupting social order in Vietnam, and destroying familial and societal traditions.
The article also warned residents not to participate in the activities of these two sects.
Nguyễn Hồng Phong, vice director of the Internal Security Bureau (Ministry of Public Security) stated that Vietnam currently had approximately 70 unregistered Protestant organizations, with around 200,000 followers.
Land dispute between Dong Dinh Parish and Ninh Binh provincial authorities
At the end of May and beginning of June 2020, the members of Dong Dinh Parish, in Nho Quan suburban district, Ninh Binh Province, stated that they had been deceived by local and provincial authorities, who had taken their land but not returned it as agreed.
According to information from Dong Dinh Parish, at the beginning of 2019, the parish had a back-and-forth with local authorities about the need to expand parish land.
In April 2019, 12 households with land bordering the parish agreed to donate 4.5 hectares of agricultural land and merge it with the church.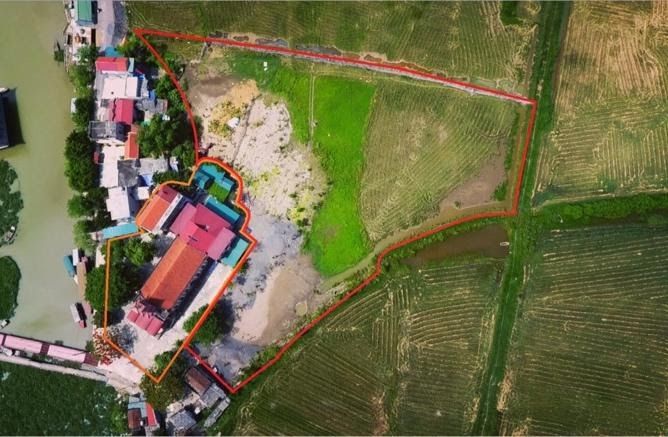 On May 22, Dong Dinh Parish submitted an application to expand its parish to include the land that the 12 households had donated to the Ninh Binh Province People's Committee, the Nho Quan Suburban District People's Committee, and the Huu Thuong Commune People's Committee.
In September, representatives of the Nho Quan Religious Front guided the 12 houses in filling out the application to return the land to the government so that provincial authorities could then confer the land back to Dong Dinh Parish.
On May 28, 2020, Huu Thuong commune authorities allowed workers onto the land that the 12 households donated to conduct measurements and announce the construction of a dyke between current parish land and the donated land to prevent flooding.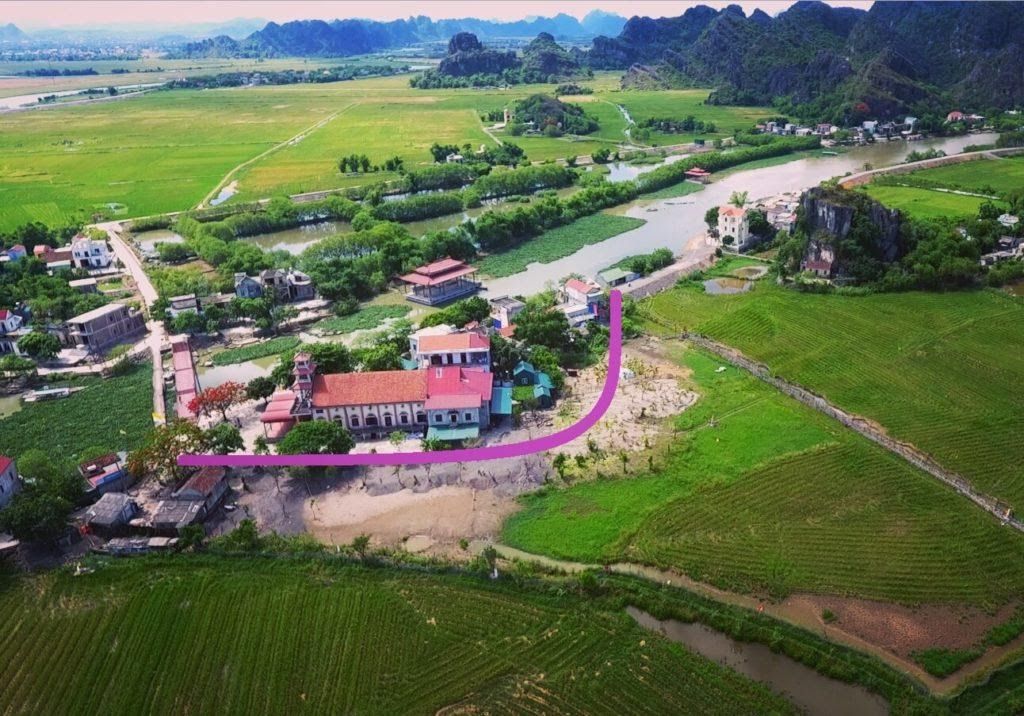 On May 29, parishioners decided to cordon off the donated land with wire mesh, placing seven holy statues in different places to prevent trespassing.
Afterwards, the government, Dong Dinh Parish, and parishioners had a dialogue but were unable to reach an agreement.
Unknown persons trespass upon Thien An Monastery's forests
On June 12, 2020, Thien An Monastery announced that individuals had trespassed upon the monastery's pine forests to cut down trees.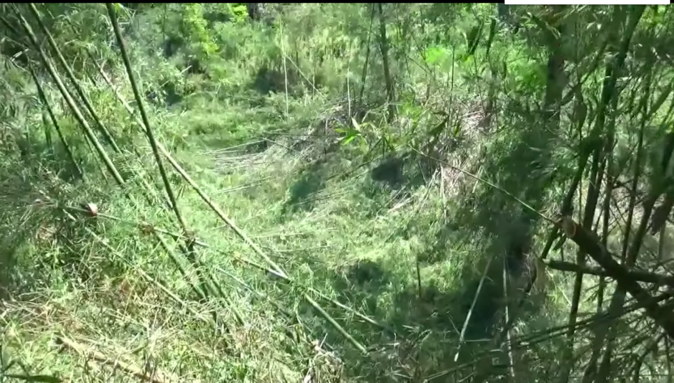 The abbots were able to prevent the would-be choppers but do not know who organized the action. Many older-aged trees within a one-square-hectare space were cut into but not felled, so that they would die slowly of natural causes.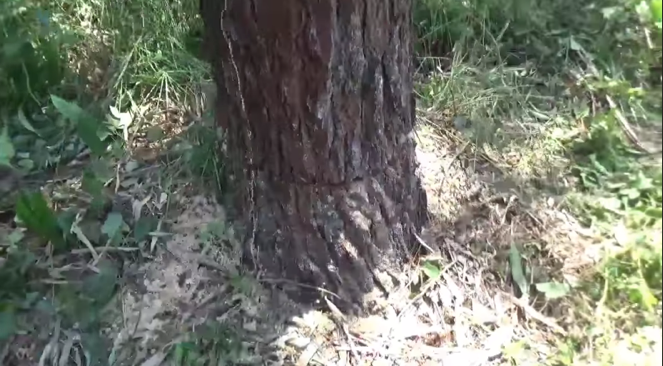 Thien An Monastery was officially constructed in 1943 on land which today includes approximately 107 hectares of land, homes, and pine forests owned by the monastery. It is located in Thuy Bang Commune, Huong Thuy Suburban District, Thua Thien–Hue Province.
In the past 20 years, Thien An Monastery and Thua Thien–Hue provincial authorities have butted heads over how to use the monastery's land. Events such as forest burnings, trespassings, and authorities harassing abbots have occurred repeatedly in past years.
In April 2019, more than 10 hectares of the monastery's pine forests were burned in one night. According to the abbey, the area burned was only 200 meters away from the Tien Phong Arboretum but no alerts were issued.
Did you know?
Independent Cao Dai temples continue to be bullied over the years
For many decades, independent Cao Dai temples have operated under duress, unsure of when their temple would be repossessed by "state-sanctioned Cao Dai".
The Cao Dai religion has been recognized by the state since 1997. At that time, a new sect called Sect 1997, or "state-sanctioned Cao Dai," was established to control the religion, a move which independent Cao Dai followers inside and outside the country have criticized.
The incident at Hieu Xuong Temple above is but one of many conflicts that have occurred over the years as Sect 1997 and local cadres try to expropriate independent Cao Dai temples.
At the beginning of 2020, as an independent Cao Dai temple in Ben Tre Province was carrying out its normal rituals, local cadres and authorities came to "conduct work". The independent adherents saw this as harassment and refused to cooperate.
In 2017, the independent adherents of Hoai Nhon Temple in Binh Dinh Province were harassed by the authorities as they were preparing to carry out a ritual. That same year, Dong Thap provincial authorities harassed independent followers in Tam Nong Suburban District and repossessed their temple to give to Sect 1997. The followers in Tam Nong were then convinced by the authorities to conform to Sect 1997.
In 2015, an independent Cao Dai family in Tay Ninh Province told RFA they were assaulted by a member of Sect 1997 when they organized a gathering at their home with other independent adherents. The family alerted the authorities, who did not intervene.
In 2012, according to RFA, independent Cao Dai followers of Phu My Temple in Binh Dinh Province were assaulted by "state-sanctioned" adherents, injuring six people. According to the independent followers, police were present but did not intervene.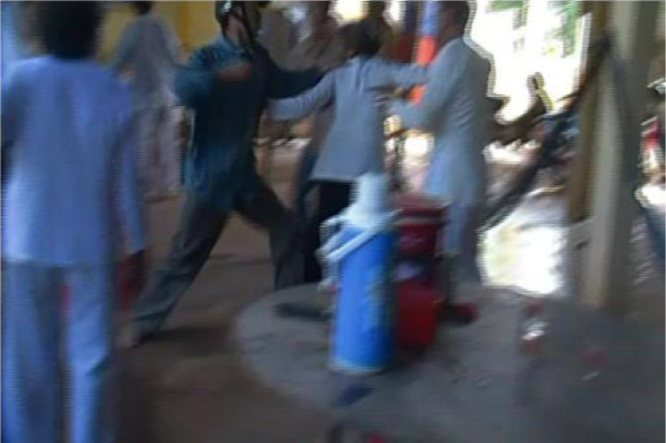 According to BPSOS, these disputes are part of plans by Sect 1997 to increase control over independent Cao Dai followers and push them to conform to the sect.
Currently, there are no accurate and updated statistics regarding the number of independent Cao Dai temples nor any news regarding the current dispute with Sect 1997. We hope to gather more information regarding the independent Cao Dai temples in the near future. Please send any information you have to tongiao@luatkhoa.org or editor@the vietnamese.org.