Human Rights
Selective Justice and the Government's Maltreatment of the "Vietnam Four"

Between 2021 to 2022, four Vietnamese civil society leaders were arrested, prosecuted, and imprisoned for tax evasion. Referred to as the "Vietnam Four" by The 88 Project, three were convicted for non-payment of taxes related to the donations received by the NGOs they were leading. At the same time, the remaining individual was found guilty of not paying personal income tax on the grant she received after winning a prestigious award in 2018.
Controversy and scandal surround their arrests, with several international NGOs, Human Rights Watch, and the United Nations demanding their immediate release. Likewise, procedural anomalies, abuse of due process, and the government's ulterior motives add even more tension to the situation of the Vietnam Four.
All these are discussed in The 88 Project's report, Vietnam: Law Weaponized to Prosecute Climate Activists, released on April 21, 2023.
The Vietnam Four
1. Dang Dinh Bach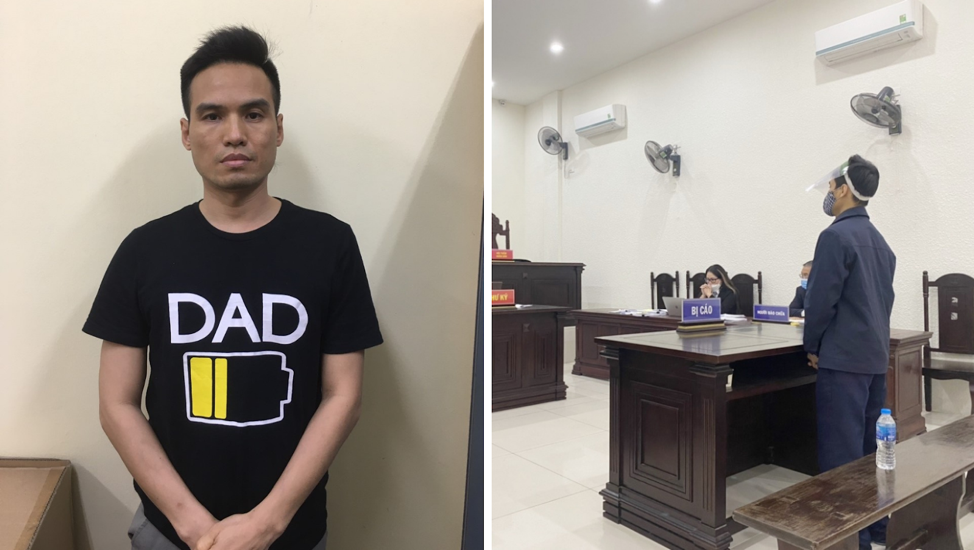 The director of the non-profit environmental organization Law and Policy of Sustainable Development (LPSD), Dang Dinh Bach, was arrested on July 21, 2021 at 7 a.m. According to The 88 Project, he also worked for the state audit office of the Ministry of Home Affairs (MoHA), the Vietnam Economic News under the Ministry of Industry and Trade (MoIT), and the Hanoi Bar Association before his appointment in LPSD.
The publication also states that he was detained without a warrant for violating Article 200 of the 2015 Criminal Code. Likewise, the police stated that he "contacted foreign-based organizations and received their funding" without getting approval from the government and owed  1.3 billion dong in taxes ($57,300). His home was searched two and a half hours after his arrest, and the authorities confiscated "official stamps, permits, documents, and electronic devices, " forcing LPSD to cease operation.
Before his arrest, Bach was known for his "leadership in engaging with and mobilizing young people to participate in charitable projects" and created several competitions and awards that encouraged a switch to a more sustainable and environmentally friendly lifestyle. He also supported the Vietnamese government's fight against COVID-19 and helped people who were affected by environmental catastrophes and those impacted by climate change.
Dang Dinh Bach is currently serving five years in prison, and he intends to enter a hunger strike on June 24, 2023, to protest his sentence.
2. Nguy Thi Khanh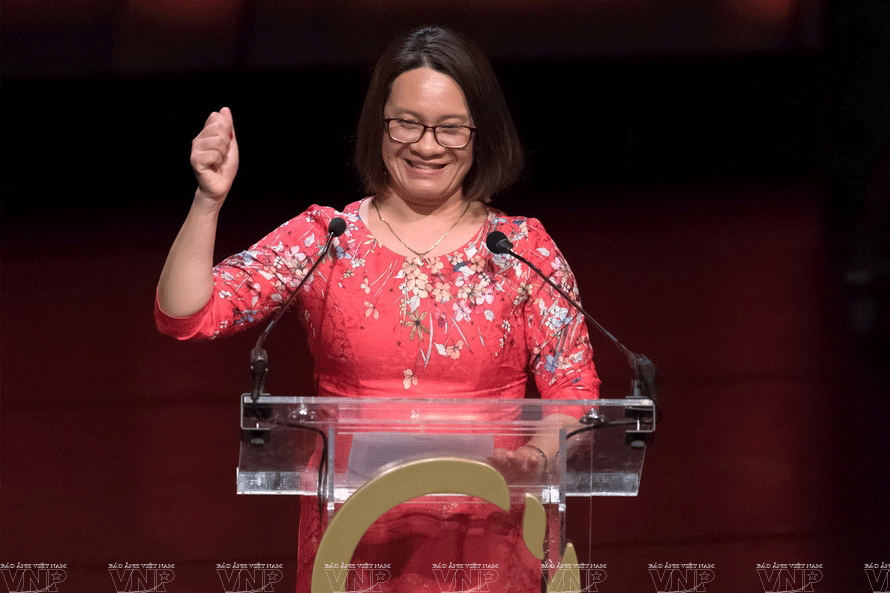 Nguy Thi Khanh was a recipient of the Goldman Environmental Prize in 2018 for her advocacy for "sustainable long-term energy projections in Vietnam." Before her arrest on Jan. 11, 2022, she founded the Green Innovation and Development Centre (GreenID) in 2011 and established the Vietnam Sustainable Energy Alliance. She advocated for using renewable energy sources and wanted to reduce Vietnam's reliance on traditional fossil fuels and coal.
She also worked with the Vietnamese government on developing a revised energy development plan that would push the country towards a greener form of energy generation. Her efforts led to Vietnam acknowledging that it needed to "review development plans for all new coal plants" and affirming the country's responsibility to "implement international commitments for reducing greenhouse gases." In March 2016, the Vietnamese government announced its revised Power Development Plan, which included several of Khanh's recommendations.
The 88 Project also states that she was indicted for nonpayment of taxes amounting to $200,000 in personal income from the money she received from the Goldman Environmental Prize. Despite her family's efforts to pay the amount owed to the state, Khanh's trial continued, and she was sentenced to 24 months imprisonment. However, she later appealed the decision, and her sentence was reduced to 21 months. In the last week of May 2023, Khanh was released early from prison, an act that many international human rights organizations welcomed, but it did not make the current situation of Vietnamese environmental activists better.
3. Mai Phan Loi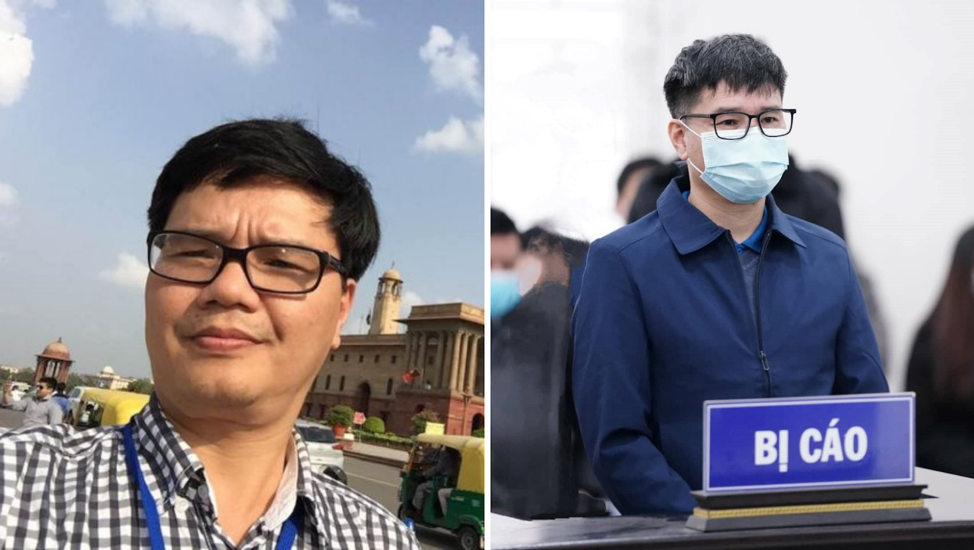 Mai Phan Loi, the founder of the Center for Media in Educating Community (MEC), who was also the former editor-in-chief of the Vietnamese state-run magazine Phap Luat,  was arrested on June 24, 2021, and later charged with committing "tax fraud."
The 88 Project's report states that Vietnamese authorities had reason to believe the MEC was committing tax evasion. While details of his trial remain unavailable to the public, a police-run local newspaper, Công An Nhân Dân Online, provides additional information about this claim.
They stated, "MEC staff [received] nearly $843,384 for projects from local and foreign organizations." They also believe that the leaders of MEC directed their staff  "to not use the accounting system, not make financial statements, not submit corporate income tax declarations, not submit value added tax declarations, [and] not use accounting books as prescribed by the law." Because of these supposed anomalies, the prosecutor at Loi's trial stated that the MEC founder had "evaded $84,335 worth of tax, while noting that he had already paid back $33,734 to make amends."
Before his arrest and imprisonment, Mai Phan Loi was a journalist who advocated for freedom of expression and universal access to information. In 2016, he met former U.S. President Obama, who praised his efforts. Following this encounter, his press card was revoked, which led him to establish MEC. MEC launched an online TV channel (GTV) that produced content discussing several social issues in Vietnam. MEC was dissolved following a recommendation by the prosecutor at Loi's trial; the organization's license to operate was also revoked.
Mai Phan Loi was sentenced to 48 months in prison and was also "banned from undertaking any managerial positions for a period of five years after his release."
4. Bach Hung Duong
According to The 88 Project, Bach Hung Duong was hired by Mai Phan Loi. He was the acting director and legal representative of MEC. He is not well-known for his activism but has previously worked in the field of public-private partnerships. He is also a lawyer with a speciality in economics.
He was sentenced to 30 months imprisonment and, like his colleague, Mai Phan Loi, was also prohibited from taking any managerial positions for a period of five years after his release.
Selective Justice and Anomalous Proceedings
The Vietnam Four were subjected to numerous violations of their right to due process, and the application of the law in their case was questionable from their initial arrest to their trial and sentencing. Furthermore, Vietnamese law is unclear about local NGOs' tax status and tax exemption, and the report notes that this ambiguity is often used against activists.
The 88 Project's report also states that The Vietnam Four were all detained without being officially charged. Likewise, they were held in pre-trial detention, despite this practice being rarely applied in tax evasion cases. Their trials also lasted less than a day, indicating that the outcomes had been decided in advance. However, the two most dubious issues with the Vietnam Four are the nature of their imprisonments and the ulterior motives behind the government's questionable actions.
The 88 Project presents various evidence and statistics that highlight how anomalous the situation of the Vietnam Four is. To establish a baseline for comparison, the report's author compiled several court cases involving sentences based on Article 200 of the Criminal Code – the same law that the Vietnam Four were charged with violating. The author was able to create a sample group which consisted of 59 cases pertaining to 86 individuals. Of this group, the following observations were made:
From the general population:
Only two individuals out of a total of 86 (2.3%) were investigated by the Security Investigation Agency, while the Police Investigation Agency investigated the rest (97.7%).

Only one individual (1.2%) was criminally prosecuted for evading taxes on personal income.

The rest (98.8%) were prosecuted for corporate tax evasion.

And from the people who were convicted of tax evasion:

The average (mean) amount of tax alleged to have been evaded was: $97,763.

Only one (1.2%) person was held in pre-trial detention until their trial, a case in which the person was already serving another prison sentence. Seventy-four individuals (86%) were placed under house arrest, and 11 people (12.8%) were initially detained but then released on bail or placed under house arrest.

Only 15 individuals (17.5%) received prison sentences, with sentences ranging from six to 60 months. Forty-two individuals (48.8%) received suspended sentences (ranging from five to 36 months) and probation time (from 12-60 months), and 29 individuals (33.7%) received fines.

The author also notes that the average sentence of the 15 people who were sent to prison was 26.6 months.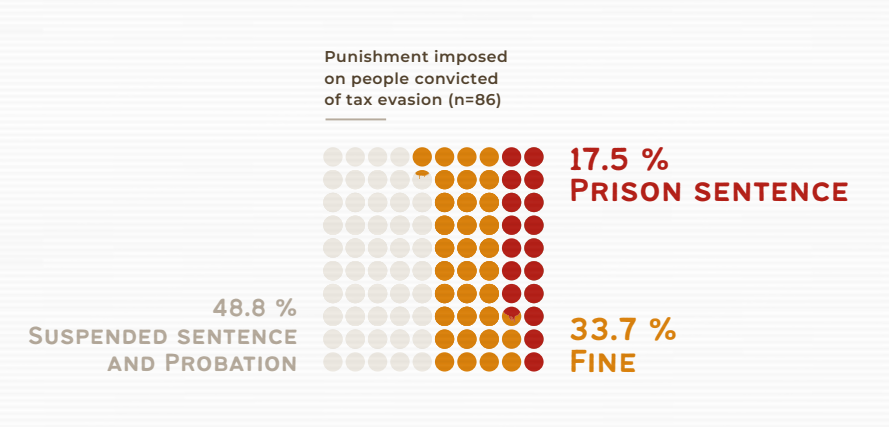 After presenting the data, the author compared this baseline against the cases of the Vietnam Four.
First, the author found that regarding the case of Dang Dinh Bach, he owed the government $57,300, which is far less than the average amount of  $97,763. Despite this, he received the longest sentence of five years despite the average being only 26.6 months. Only one other person was sentenced to a prison term as long as Bach, but this individual was not held in pre-trial detention.
Second, the author concluded that Nguy Thi Khanh, who was accused of evading personal income tax, is only one of two people charged with this crime and was the sole person given a prison sentence. The author also notes that personal income tax violations are usually treated as an administrative offense rather than a criminal act.
Third, the author observed that Bach, Khanh, and two other individuals from the baseline were the only ones under investigation by the Security Investigation Agency.
Fourth, the author brought attention to the fact that The Vietnam Four and only one other person were held in pre-trial detention. The author also notes that this individual was already serving a prison sentence for a separate offense.
Lastly, the author stated that The Vietnam Four were given longer prison sentences than the rest of the sample group, with Bach and Loi receiving the longest and 3rd longest imprisonments.
The Heart of Environmental Activism
Aside from presenting data illustrating the Vietnam government's unequal and discriminatory application of the law against The Vietnam Four, The 88 Project also details the reasons behind the Communist state's actions. Bach, Khanh, Loi, and Duong were all working together to reduce Vietnam's reliance on coal as an energy source; they were working towards using alternative and more sustainable power sources. Regrettably, their advocacy went against many of the government's vested interests.
An article published by the Lowy Institute states that Vietnam is the world's tenth largest coal power generator and that 82% of its factories, which use coal to generate electricity, are less than ten years old. Aside from this, The 88 Project's report also presents the conflict between the organizations that The Vietnam Four represent and the country's energy sector. When Vietnam's power conglomerate proposed its plan to double down on the usage of coal to meet the country's energy needs, The Vietnam Four criticized the plan, sent letters to government officials, hosted educational seminars, held talk shows which highlighted the negative effects of the plan, and informed the European Union of Vietnam's potential violation of the clauses in its trade agreement with them.
In response, the Communist regime imprisoned The Vietnam Four; the government saw their actions as a threat to their rule and power.
The plight of Bach, Khanh, Loi, and Duong can be viewed as another instance of the Vietnamese government's suppression of civil society. Although activists who address issues of the environment are not typically viewed on the same level as other dissenters, who directly confront the government, they are activists in their own right. The Vietnam Four's bravery and actions in standing up against the Communist dictatorship and its interests demonstrate that the same passion that fuels political critics and government reformists also resides within environmental activists. They face similar risks as all dissenters in pursuing reform and change.
The Vietnam Four are not tax evaders or criminals. They are political prisoners of the Communist regime, and it is imperative that they be immediately released.
---
The 88 Project's publication can be found here.
References:
The Goldman Prize. (n.d.). Khanh Nguy Thi - Goldman Environmental Prize. Goldman Environmental Prize. Retrieved April 23, 2023, from https://www.goldmanprize.org/recipient/khanh-nguy-thi/
Access Now et al. (2022 October 21). Joint letter to secretary-general António Guterres. Human Rights Watch. Retrieved April 23, 2023, from https://www.hrw.org/news/2022/10/21/joint-letter-secretary-general-antonio-guterres
United Nations. (2022 April 22). News release – Viet Nam: Un entities concerned by arrest and sentencing of environmental human rights defenders. OHCHR. Retrieved April 23, 2023, from https://bangkok.ohchr.org/viet-nam-rights-defenders/
The 88 Project. (2023, April 21). Vietnam: Law weaponized to prosecute climate activists. The 88 Project. Retrieved April 23, 2023, from https://the88project.org/vietnam-law-weaponized-to-prosecute-climate-activists/
The Vietnamese Magazine. (2022, January 24). Dang Dinh Bach: director of a nonprofit environmental organization, receives 5 years in jail. The Vietnamese Magazine. Retrieved April 24, 2023, from https://www.thevietnamese.org/2022/01/dang-dinh-bach-director-of-a-nonprofit-environmental-organization-receives-5-years-in-jail/
Radio Free Asia. (2022 February 11). Vietnam arrests prominent environmentalists on tax evasion charges. Radio Free Asia. Retrieved April 24, 2023, from https://www.rfa.org/english/news/vietnam/tax-02112022183016.html
The 88 Project. (n.d.). Profile: Mai Phan Loi. The 88 Project. Retrieved April 24, 2023, from https://the88project.org/profile/537/mai-phan-loi/?ref=thevietnamese.org
Nguyen, T. (2023, February 28). Vietnam's Challenge to Wean Off Coal. The Interpreter. Retrieved April 24, 2023, from https://www.lowyinstitute.org/the-interpreter/vietnam-s-challenge-wean-coal#:~:text=Vietnam%20is%20also%20the%20world%27s,25%20per%20cent%20in%202010