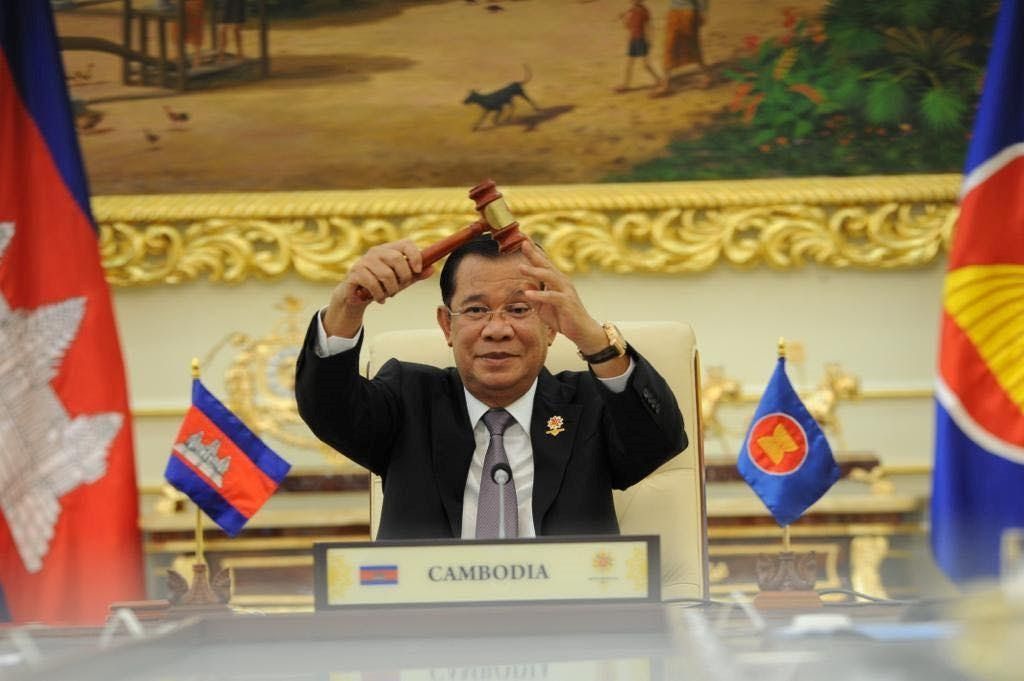 Three Challenges Vietnam Will Face When Cambodia Takes The ASEAN Chair In 2022
On October 28, 2021, Cambodia officially became the rotating chair of ASEAN for 2022. This is somewhat bad news for Vietnam and other countries because China has always been supportive of Cambodia. The fact that Cambodia prevented the ASEAN Joint Declaration in 2012 and 2016 is still a haunting memory in the hearts of other countries. Most likely, 2022 may not be a good year for Vietnam and ASEAN when Cambodia holds the rotating presidency, mainly because of the following issues:
1. The South China Sea
The South China Sea will be the first matter that Vietnam will have to deal with before a pro-China president takes over the chairmanship of ASEAN. In 2012, Cambodia prevented ASEAN from issuing a joint statement regarding the Scarborough Shoal incident between the Philippines, China, and the issue of Vietnam's exclusive economic zones (EEZs). For the first time in its 45-year history, ASEAN failed to issue a joint statement. [1]
In that same year, Cambodia repeatedly used its chair position to restrict or exclude discussions on the South China Sea that would be detrimental to China in the ASEAN agenda.
In 2016, after The South China Sea Arbitration Award by the Hague Tribunal, ASEAN countries led by the Philippines and Vietnam proposed a joint communiqué of the organization that mentioned that award to show the need to respect international law. Once again, Cambodia minimized any mention of the award and stifled any discussion that could be unfavorable to China. Cambodia sided with Beijing and prioritized resolving disputes bilaterally. Once again, ASEAN fell into a deadlock. [2]
Cambodia was once considered a puppet of Vietnam, but now Vietnam is losing its influence in Cambodia. In recent years, Cambodia and Laos - Vietnam's good brothers - have strengthened ties with China. ASEAN has been divided and China has become increasingly aggressive in the South China Sea.
Cambodia will avoid discussing the South China Sea and security issues in general because these are not only detrimental to China but also to Cambodia's own interests. The Cambodian government has already acknowledged that these security issues were sensitive and that reaching a consensus among countries within the bloc was challenging.
Most likely, Cambodia will dismiss all statements critical of China as it did in 2012 and 2016. It is also within Cambodia's power to exclude all discussions related to the South China Sea and any others which are non-beneficial for China from now until the end of the 2022 term.
The participation of third parties will also be affected. Cambodia can restrict discussions that include the United States and the West while increasing China's presence and participation. Instead of being "internationalized," the South China Sea issue will become "Sinosized."
2. The Process of Negotiating the Code of Conduct (COC) in the South China Sea
With Cambodia as the chair, it is unlikely that the Code of Conduct in the South China Sea (COC) will be completed next year. Nevertheless, China and ASEAN have aimed to achieve the COC by 2022; negotiations resumed in August 2021. [3] [4]
The framework of the COC was agreed upon in 2017. The two sides completed the first draft of the COC in 2019. Since then, there has been no significant progress mainly due to the COVID-19 pandemic causing several delays in mission trips and meetings. The COC negotiations have resumed, but the parties have not been able to resolve significant differences and have not made any substantive progress. [5]
China will probably be the biggest beneficiary when Cambodia takes the ASEAN chair in 2022. Beijing is trying to push for the COC in 2022 because it knows that this will be the best possible time for negotiations to swing in its favor. Cambodia's leadership will make discussions regarding the prevention of interference of third parties, the arbitration of international courts to resolve conflicts and disputes and the like, lean towards Chinese interests.
With a pro-China president, the skepticism of the member states, and the "consensus" mechanism of ASEAN, it is tough to reconcile the interests of all 11 parties and reach an agreement mutually beneficial for everyone. The COC will most likely not be achieved in 2022.
Many analysts in the region have a pessimistic view of the COC's prospects when Cambodia holds the ASEAN chair in 2022. Jay Batongbacal, director of the Institute for Maritime Affairs and Law of the Sea at the University of the Philippines, told RFA: [6]
"If the idea is to produce a comprehensive COC that addresses all of the different concerns of the claimant countries, I do not think it is achievable. The differences are still too wide at this point, and they have yet to begin really substantive discussions on the key provisions, each of which are probably going to be difficult to reconcile between 11 parties."
Carlyle Thayer, emeritus professor at the University of New South Wales (Canberra, Australia), a scholar with numerous articles on Vietnamese and Southeast Asian politics, also shared with RFA that negotiating fundamental commitments in the COC will be very complicated. According to Thayer, the COC still has a long and rocky road ahead.
Since China and the ASEAN signed the Declaration on the Conduct of Parties in the South China Sea (DOC) in 2002, peace and stability in the region have not been achieved. Part of the reason is that the DOC is not a binding international treaty. Thus, ASEAN always urges China to sign the COC - a binding legal document that prevents unilateral actions contrary to international law.
3. Relations with the US and the West will be Affected
As the chair, Cambodia will act as spokesperson, coordinator, and agenda organizer for ASEAN. The association's foreign affairs in 2022 will depend significantly on Cambodia.
Meanwhile, Cambodia does not have good relations with the United States and the West. To make matters worse, Hun Sen is an anti-democratic dictator. The Biden administration also has very little leverage over Phnom Penh. With strained diplomatic ties, criticism of its dire human rights situation, limited investments, and a modest bilateral trade balance, it is tough for the United States and the West to deepen ties with Cambodia.
In contrast, Cambodia is currently a satellite in China's orbit. Beijing was once described by the Cambodian leader, Hun Sen, as "the most trustworthy friend." [7] Up to 90 percent of FDI in Cambodia comes from China. The country has become even more dependent on Beijing following US and EU sanctions. [8]
In 2018, Hun Sen once said: "The Chinese leaders respect me highly and treat me as an equal. Let me ask those of you who have accused me of being too close to China, what have you offered me besides cursing and disciplining me and threatening to put sanctions on me?" [9]
The 2022 ASEAN chair does not have good relations with the United States and the West and this will be a significant obstacle for member countries like Vietnam.
Vietnam cannot become too close to the United States at the bilateral level for several reasons but must strengthen ties in multilateral diplomatic forums.
Most likely, the ASEAN agenda in 2022 will lean more towards China. The absence of the participation of Washington and other Western countries means that the issues Vietnam is interested in, such as the internationalization of the South China Sea and the security of the Mekong River's natural resources, will lack outspoken criticism and vocal voices. [10]
Under the Cambodia era, ASEAN will struggle to navigate the rivalry between the two great powers - the United States and China - in the region. Most bloc members are reluctant to choose sides and Cambodia is not a skilled driver.
In addition, due to the need to overcome the consequences of COVID-19 and rebuild the economy, Southeast Asian countries desperately need external capital; China and the United States would be their top choices for aid. This situation will likely push member states to choose sides and strengthen bilateral diplomatic relations, leading to cracks and stagnation in the bloc.
This situation is challenging for an administration like Vietnam as the one that prefers multilateral diplomacy. It may also be a disadvantage for ASEAN. The more powerful countries in the region will only pay attention to the interests of countries like Vietnam if ASEAN can work excellently to be a force driver, that it will dispute conflicts which arise in the region by uniting the smaller countries and attracting their interests.
References:
1. Ernest Z. Bower. (2012, July 20). China Reveals Its Hand on ASEAN in Phnom Penh. Center for Strategic and International Studies. https://www.csis.org/analysis/china-reveals-its-hand-asean-phnom-penh
2. Manuel Mogato, Michael Martina, & Ben Blanchard. (2016, July 25). ASEAN deadlocked on South China Sea, Cambodia blocks statement. Reuters. https://www.reuters.com/article/us-southchinasea-ruling-asean-idUSKCN1050F6
3. Thanh Phương. (2021, June 10). biển Đông: ASEAN và Trung Quốc cố đạt được Bộ Quy tắc ứng xử vào năm 2022. RFI. https://www.rfi.fr/vi/ph%C3%A2n-t%C3%ADch/20210610-bien-dong-asean-va-tq-co-hoan-tat-coc-nam-2022
4. Q.Hoa. (2021, August 10). Cambodia welcomes resumption of COC negotiations. The Vietnam Union of Friendship Organizations. http://vufo.org.vn/Cambodia-welcomes-resumption-of-COC-negotiations-16-3269.html?lang=en
5. Laura Zhou. (2021, August 4). Beijing and Asean's long-awaited South China Sea code of conduct inches forward. South China Morning Post. https://www.scmp.com/news/china/diplomacy/article/3143742/beijing-and-aseans-long-awaited-south-china-sea-code-conduct
6. South China Sea disputes loom large as ASEAN, China struggle to negotiate code of conduct. (2021, November 22). Radio Free Asia. https://www.rfa.org/english/news/china/asean-scs-code-11222021163046.html
7. The Diplomat. (2016, September 1). How China Came to Dominate Cambodia. https://thediplomat.com/2016/09/how-china-came-to-dominate-cambodia/
8. New ASEAN chair Cambodia inherits South China Sea headache. (2021, October 31). Radio Free Asia. https://www.rfa.org/english/news/cambodia/asean-southchinasea-10312021080102.html
9. Beech, H. (2018, March 17). Embracing China, Facebook and Himself, Cambodia's Ruler Digs In. The New York Times. https://www.nytimes.com/2018/03/17/world/asia/hun-sen-cambodia-china.html
10. Lee Nguyen. (2021, September 3). 3 lý do Việt – Mỹ chưa trở thành đối tác chiến lược. Luật Khoa Tạp Chí. https://www.luatkhoa.org/2021/09/3-ly-do-viet-my-chua-tro-thanh-doi-tac-chien-luoc/


Newsletter
Join the newsletter to receive the latest updates in your inbox.
---