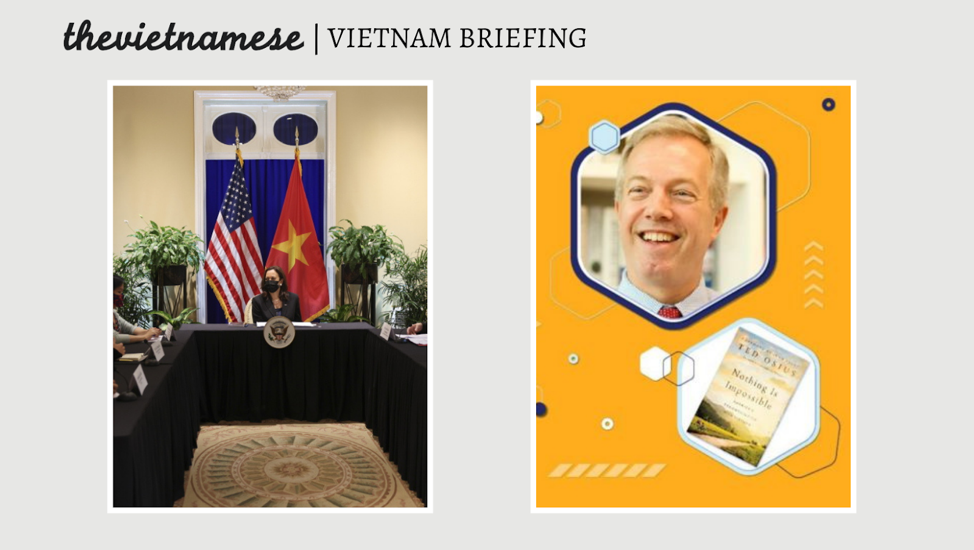 Vietnam Briefing: UN Experts Urge Vietnam To End Human Trafficking; U.S.-Vietnam Human Rights Dialogue Held Last Week
UN experts urge the authorities of Vietnam and Saudi Arabia to stop human trafficking
The Vietnamese Magazine reports:
Several United Nations Special Rapporteurs on November 4 released a statement calling on Vietnam and Saudi Arabia to stop the trafficking of Vietnamese women and girls who enter Saudi Arabia to serve as domestic workers.
These UN experts stated that "vulnerable and marginalized" females and girls who live in poverty are the targets of labor recruitment companies in Vietnam. Once they arrive in Saudi Arabia, some are "sexually abused, beaten and subjected to torture and other cruel treatment by [their] employers." They added that these women "were denied food and medical treatment, not paid at all, or paid less than stipulated in their contracts."
The UN experts also said they had received "truly alarming allegations" that many of the recruitment companies in Vietnam used false identity documents to hire children as domestic workers. They also cited the case of a 15-year-old Vietnamese girl who was maltreated by her employer and died before she could board her prearranged flight back home.
The special rapporteurs urge Saudi Arabia and Vietnam "to adopt effective measures and policies to prevent and combat trafficking in persons and to protect trafficked workers."
---
Wife of a detained National Assembly candidate appeals for international help
Do Le Na, wife of the former National Assembly candidate Le Trong Hung, has called on the international community to pressure Hanoi to release her husband. The citizen journalist was arrested on March 27 after declaring his candidacy for election in a challenge to political processes tightly controlled by the ruling Communist Party of Vietnam.
In letters sent to embassies and international rights organizations on Monday, Na called for intervention in her husband's case and hoped that her actions would inspire other families of prisoners of conscience to take similar steps.
"I would also like people living in Vietnam—and especially the families of detainees who don't dare to speak up—to know that it is everyone's right to speak out against injustice and that we shouldn't be afraid of [the government] if we are in the right," Na said in an interview with RFA Vietnamese.
---
Activist Do Nam Trung accused of "distributing materials against the State" in his indictment
On November 11, attorney Ha Huy Son was allowed to visit detained activist Do Nam Trung, who was arrested in July. Trung was arrested on allegations of "making, storing and distributing information, materials or documents against the Socialist Republic of Vietnam."
In his indictment, Do Nam Trung was accused of "distributing materials against the State" by the People's Accuracy of Nam Dinh Province. The evidence used to prosecute Trung includes the audio and video recordings of a conference advocating for human rights and prisoners of conscience hosted by Front Line Defenders that he attended in 2019.
Attorney Son told RFA Vietnamese that he would request the representatives of the Nam Dinh Province investigation agency to defend their argument regarding the legitimacy of the alleged evidence.
---
The United States and Vietnam hold 25th Annual U.S.-Vietnam Human Rights Dialogue
On November 9, the U.S. Department of State announced in a media note that the 25th Annual U.S.-Vietnam Human Rights Dialogue was held in Washington, DC with discussions focused on "a wide range of human rights issues, including freedom of expression, freedom of religion and belief, labor rights, rule of law and legal reform, multilateral cooperation on human rights, and individual cases of concern."
The bilateral dialogue also "covered the human rights of persons in vulnerable situations, such as members of ethnic minority groups, LGBTQI+ persons, and persons with disabilities," according to the media release by the Department of State.
Just before the event, human rights advocate Human Rights Watch (HRW) on November 8 released a press statement calling the U.S. government to pressure Vietnam for "the release of detained dissidents and other human rights improvements." Also according to HRW, the Vietnamese government is currently imprisoning at least 145 people for their peaceful exercise of basic human rights; while at least 31 people were arrested this year mostly for "expressing opinions online contrary to the government's positions."
Last year, journalist and political activist Pham Doan Trang was arrested by Vietnamese authorities just hours after the conclusion of the 24th Annual Human Rights Dialogue between the two countries.
---
Facebook unblocks hashtag #saltbae after Vietnamese minister's gold-encrusted steak
Facebook's parent company said on Tuesday it had unblocked the hashtag '#saltbae,' named after celebrity chef Nusret Gokce's nickname, after having found the tag had been blocked globally days after a video was posted online of Gokce feeding a gold-encrusted steak to a senior Vietnamese Communist Party official in London.
According to Reuters, it wasn't immediately clear why the tag had been blocked, and the spokesperson of Meta declined to comment on potential reasons. While it was blocked, a search for the hashtag generated a message saying community standards had been violated.
---
The U.S-funded Fulbright University Vietnam cancels book event of former U.S. Ambassador to Vietnam Ted Osius
According to BBC Vietnamese, Fulbright University Vietnam reportedly canceled the book event of former ambassador Ted Osius without notice just a few days before the event was to take place. Previously, Ambassador Ted Osius was expected to attend a virtual event hosted by Fulbright Vietnam on his newly published book "Nothing is Impossible: America's Reconciliation with Vietnam" on November 4.
In an interview with BBC Vietnamese, Osius expressed his disappointment at the university's decision to cancel the event. "Maybe someone doesn't like the book content," the former ambassador answered when asked about the reason for the cancellation.
Osius was the former U.S. ambassador to Vietnam from 2014 to 2017. He has been seen as playing a major factor in the post-war reconciliation process between the United States and Vietnam.
---
Vietnam's COVID-19 cases reached 1 million
Vietnam reached 1 million COVID-19 infections on November 11 as confirmed cases began to spike in recent weeks. The country recorded 8,129 and 7,918 coronavirus cases on November 9 and 10, respectively.
According to the Deputy Minister Vu Duc Dam, on November 10, Vietnam will have enough vaccines to cover its population against COVID-19 by the end of this November.
Meanwhile, Vietnamese Prime Minister Pham Minh Chinh made a statement on November 12 that his government was seeking ways to fix the country's labor shortage, which was caused by the mass exodus of migrant workers fleeing industrial hubs for their hometowns.
---
Vietnam's Workers Hesitate to Return After Covid Outbreak
"Managers have made calls promising higher wages to get the workers to return. On Oct. 22, the Ho Chi Minh City government said it would provide free transportation and accommodations for the first month to workers who were willing to come back.
The measures have had some success. Ninety percent of the workforce of Pouyuen Vietnam has returned to Ho Chi Minh City, according to Cu Phat Nghiep, the chairman of the company's trade union.
But Doan Thi Bich Tram has made up her mind not to come back. "Why would we stay after they had left us in our most difficult time in the midst of the pandemic?" said Ms. Doan, 29, who sews gloves for the Hung Way factory, a supplier to Patagonia and other brands."
---
Vietnam reconsiders methane-emitting rice amid climate crisis
"At the United Nations COP26 summit in Scotland, Vietnam's Prime Minister Pham Minh Chinh joined 109 countries in pledging to reduce methane emissions by 30 percent by 2030.
To meet the commitment, the Southeast Asian nation will need to look at rice – one of the country's key exports and a staple food – but also the second biggest contributor to greenhouse gas emissions among foodstuffs after beef.
The heart of Vietnam's rice production lies in the country's Mekong Delta region known as the "rice bowl" of the nation. More than 50 percent of the country's total rice and 95 percent of its exports are grown here, in an area roughly the size of the Netherlands."
---
Vietnam Insight: Learn more about Vietnam
Did COVID-19 Strengthen Authoritarianism in Southeast Asia?
The Diplomat/ David Hutt/ November 12
"Cambodia has led a hugely successful vaccination campaign, with close to 79 percent of the population now fully vaccinated. Yet Prime Minister Hun Sen has greatly increased his party's grasp on power since January 2020. Freedom House gave Cambodia a score of 24 (out of 100) in 2021, compared with 26 in 2019. Vietnam was held up as a poster-boy of success for its handling of the pandemic in 2020, but there one cannot help but see the rise of the Communist Party's power."
Webinar: The Winding Road to the US – Vietnam Reconciliation: Reflections from Ambassador Ted Osius
ISEAS - Yusof Ishak Institute
Date: November 18, 2021
Time (GMT +8): 10.00 a.m - 11.00 p.m
About:
"After the Vietnam War ended in 1975, it took the United States and Vietnam 20 years to normalize their diplomatic relations. Since then, however, bilateral ties have developed quickly and comprehensively. By 2021, the two countries have become important economic and security partners to each other, with bilateral ties continuously strengthened in various domains, especially trade, investment, education and defence. Yet, to get where they are now, the two countries have travelled a long and winding road towards reconciliation. During this process, they have undertaken different measures to heal war-time wounds, build mutual trust and respect, and pursue various practical cooperation initiatives to advance mutual interests. This webinar, presented by former American ambassador to Vietnam Ted Osius, will review the efforts of the United States and Vietnam to promote their reconciliation since 1995 and the challenges that they have overcome along the way. It will also discuss the future trajectory of bilateral relations, especially against the backdrop of recent momentous changes in the regional geopolitical landscape."

Webinar: Digging Up Dai Viet's Glorious Past: An Introduction to Archaeology and Arts of Vietnam
ISEAS - Yusof Ishak Institute
Date: November 17, 2021
Time (GMT +8): 10.00 a.m - 11.30 a.m
About:
"After regaining independence from China in the 10th century, Đại Việt became a powerful kingdom in Southeast Asia and considered itself a Smaller Dragon in the South. This talk introduces Đại Việt civilisation during its heyday in the Ly, Tran, Hồ, and Lê sơ dynasties (10th-16th centuries) based on recent archaeological advancement. I will introduce the Đại Việt State through the Đại Việt's Imperial Capitals, the Thăng Long citadel (present-day in Hanoi), the Hồ Citadel (Thanh Hóa province), and the royal architectural system from the Ly, Tran, Ho, and Le dynasties. I will also cover the influence and imprint of Buddhism and Confucianism on Đại Việt society as seen from historical and archaeological documents; and finally the production and exportation of Đại Việt's ceramics in the 11th-16th centuries."
Newsletter
Join the newsletter to receive the latest updates in your inbox.
---