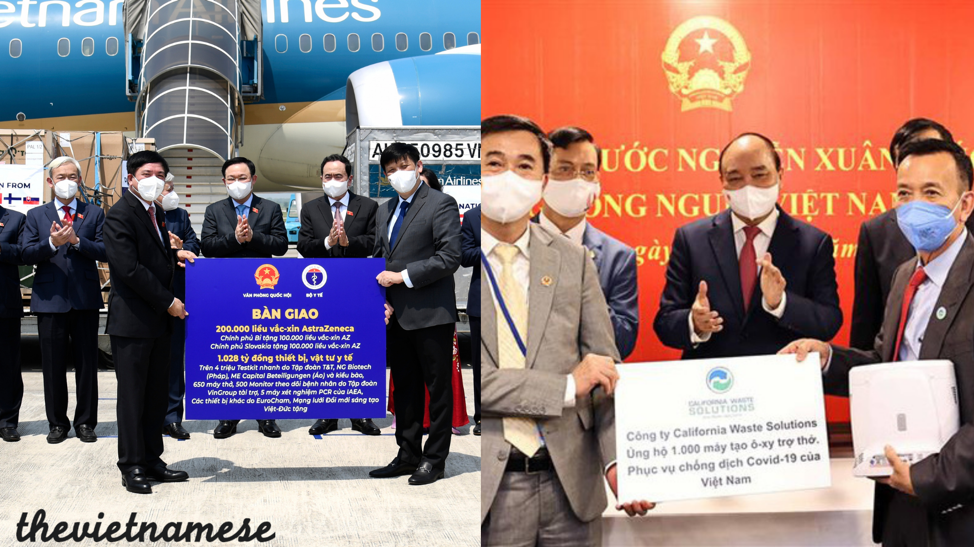 Journey To The West: Vietnamese Top Leaders' Recent Vaccine Diplomacy
In the past month, newly-elected Vietnamese leaders have been seen "touring" Western countries, from Europe to the Americas. From the chairman of the National Assembly Vuong Dinh Hue, who went to Europe, to President Nguyen Xuan Phuc, who went to the United States and Cuba, both are parts of the "four pillars" (tứ trụ) leaders – those at the very top of the Vietnamese political system.
Not only are they two of the most important leaders of Vietnam; they are also newly-elected: although they have re-sworn their terms in the office about three months ago in July, they have held power since April of this year. But that is a different topic for another day.
In other words, these trips are important. National leaders who were just elected do not just go to other countries on official trips for no reason at all. Whatever they were doing in Western countries, it must have been calculated to yield significant political impact on their new term in office.
But what exactly were they doing, or hoping to achieve from these trips?
Despite what the Vietnamese state media is telling you about "comprehensively promoting economic and international cooperation," the most important reason is very simple: getting more COVID vaccines for Vietnam. Is it to genuinely help the people back home to access vaccines or rather it is to save face after the government's poor handling of the crisis in recent months?
Vuong Dinh Hue in Europe
On the occasion of the fifth session of the World Conference of Speakers of Parliament in Austria and the ongoing European Union – Vietnam Free Trade Agreement (EVFTA), Chairman Hue's six-day trip to Europe in early September seems to serve multiple purposes as he mainly visited Austria, Belgium, and Finland.
However, upon the conclusion of the trip, the most important highlights according to Vietnam's state-controlled media were all COVID-related. In an article published by Vietnamnet about Hue's achievements during the trip, it was all about him successfully bringing back foreign-donated COVID vaccines or equipment, with the exception of buying 50 million COVID vaccine doses HIPRA from Spain (this vaccine is still in trial, so the doses are not being delivered immediately to Vietnam). In an interview with a high-ranking diplomat accompanying Hue on the trip, more than half of Vietnam Plus' article is about Hue asking the EU to send more vaccines to Vietnam. VTV coverage of his trip reflects similar patterns.
Nguyen Xuan Phuc in the Americas
While Vuong Dinh Hue might have had more reasons to go to Europe than Nguyen Xuan Phuc, the COVID vaccine agenda in Phuc's trip to the Americas – the United States and Cuba – is significantly more obvious. According to the deputy minister of foreign affairs Dang Hoang Giang, President Phuc's main objective in the United States was to give a speech in the United Nations General Assembly and to meet with pharmaceutical companies to talk about vaccine supplies. Additionally, Phuc's trip to Cuba also coincided with Vietnam's very recent approval of Cuba's Abdala vaccine.
Questions arise about Vietnam's plan to battle COVID
COVID vaccines being the priority of the two leaders' foreign trips makes even more sense as we take into account the role of Prime Minister Pham Minh Chinh, another of the four pillars, who at the moment holds direct decision-making power over domestic COVID policy.
As we know that the COVID pandemic is shaping the "four pillars" priorities during their new terms, I believe that there are two questions that arise.
First, why did the Vietnamese government have to wait so long to actually conduct vaccine negotiations abroad?
Vaccine diplomacy is good for a rising middle power like Vietnam, and the country had an advantage last year as it had an extremely low infection and mortality rates. While the mentioned leaders did not hold de-facto power until April 2021, they seemingly inherited little concrete plans from their predecessors about obtaining the vaccines or conducting early vaccine diplomacy. This is why the government's abrupt fundraising plan for a "COVID vaccine fund" in June seems to reflect a lack of preparation at least and systematic governmental incompetence at most.
This lack of preparedness eventually resulted in the newly-elected leaders literally begging for vaccines in foreign countries after Vietnam suffered from months of restrictions with the number of total cases approaching 1 million. Though the vaccination rates in Vietnam are getting better, and more vaccine supplies are always better for the people, it is definitely not a good look for these leaders and the government itself, despite what the state-controlled media tries to tell us.
Second, I believe that we should also ask the question: What is Nguyen Phu Trong, the remaining member of the "four pillars" elite club, and arguably the most powerful, contributing to the government's COVID plans?
He is the oldest and longest-serving of the "four pillars" leaders. He also held the Communist Party's secretary-general position over the past decade. While Chinh is tasked with the heavy-lifting duty of curbing domestic infections and Hue and Phuc are busy abroad, Nguyen Phu Trong seems to remain hidden behind the curtain. His most recent public appearances include an official meeting with leaders from Laos and Cambodia and speeches about corruption.
While this makes sense because, in theory, the leader of the Communist Party cannot interfere in the executive function of the government, we must ask ourselves if this is really the case, and whether secretary-general Trong is dodging responsibility for the most serious national and legitimacy crisis that the Communist Party and the Vietnamese government have faced in recent years.
Citations
Ban Thời Sự. (2021, September 12). Chuyến thăm châu Âu của Chủ tịch Quốc hội – Sự khẳng định về "một Quốc hội hành động, một Việt Nam chủ động, nỗ lực."Báo Điện Tử VTV. https://vtv.vn/chinh-tri/chuyen-tham-chau-au-cua-chu-tich-quoc-hoi-su-khang-dinh-ve-mot-quoc-hoi-hanh-dong-mot-viet-nam-chu-dong-no-luc-20210912192101944.htm
Bhatia, G., Dutta, P. K., & McClure, J. (2021, October 3). Vietnam: the latest coronavirus counts, charts and maps. Reuters. https://graphics.reuters.com/world-coronavirus-tracker-and-maps/countries-and-territories/vietnam/
Hoang T. H. (2021, September 13). Kết quả quan trọng chuyến thăm các nước châu Âu của Chủ tịch Quốc hội. VietnamPlus. https://www.vietnamplus.vn/ket-qua-quan-trong-chuyen-tham-cac-nuoc-chau-au-cua-chu-tich-quoc-hoi/740268.vnp
M.H. (2021a, September 10). Chuyến thăm châu Âu của Chủ tịch Quốc hội Vương Đình Huệ thể hiện chính sách đa dạng và độc lập của Việt Nam. Thông Tấn Xã Việt Nam. https://baotintuc.vn/thoi-su/chuyen-tham-chau-au-cua-chu-tich-quoc-hoi-vuong-dinh-hue-the-hien-chinh-sach-da-dang-va-doc-lap-cua-viet-nam-20210910194112584.htm
Ministry of Health Online Portal. (2021, September 25). Thủ tướng chủ trì cuộc họp Ban Chỉ đạo Quốc gia phòng, chống dịch COVID-19. Ministry of Health. https://moh.gov.vn/tin-noi-bat/-/asset_publisher/3Yst7YhbkA5j/content/thu-tuong-chu-tri-cuoc-hop-ban-chi-ao-quoc-gia-phong-chong-dich-covid-19
N.D. (2021b, September 16). Chủ tịch nước Nguyễn Xuân Phúc sẽ gặp doanh nghiệp sản xuất vắc xin của Mỹ. Tuổi Trẻ Online. https://tuoitre.vn/chu-tich-nuoc-nguyen-xuan-phuc-se-gap-doanh-nghiep-san-xuat-vac-xin-cua-my-20210916123224642.htm
Nguyen, D. (2021, June 30). Vietnam's Unprecedented COVID-19 Challenge Compounded By A Deficit Of Trust In The Government. The Vietnamese Magazine. https://www.thevietnamese.org/2021/06/vietnams-unprecedented-covid-19-challenge-compounded-by-a-deficit-of-trust-in-the-government/
Reuters. (2021, September 18). Vietnam approves Abdala vaccine as president visits Cuba. https://www.reuters.com/world/asia-pacific/vietnam-approves-cubas-abdala-vaccine-use-against-covid-19-2021-09-18/
T.H. (2021c, September 22). Ban Chỉ đạo được kiến nghị Bộ Chính trị xử lý cán bộ, đảng viên tham nhũng, tiêu cực. Vietnamnet. https://vietnamnet.vn/vn/thoi-su/chong-tham-nhung/ban-chi-dao-duoc-kien-nghi-bo-chinh-tri-xu-ly-can-bo-dang-vien-tham-nhung-tieu-cuc-777124.html
T.H., & P.H. (2021d, September 12). 70 hoạt động dày đặc tại 3 nước Châu Âu của Chủ tịch Quốc hội Vương Đình Huệ. Vietnamnet. https://vietnamnet.vn/vn/thoi-su/quoc-hoi/70-hoat-dong-day-dac-tai-3-nuoc-chau-au-cua-chu-tich-quoc-hoi-vuong-dinh-hue-774198.html
The Vietnamese Magazine. (2021, July 26). Vietnam Briefing: COVID-19 Crisis Deepening While The National Assembly Convened To Elect State Leadership. https://www.thevietnamese.org/2021/07/vietnam-briefing-covid-19-crisis-deepening-while-the-national-assembly-convened-to-elect-state-leadership/
Thông Tấn Xã Việt Nam. (2021, September 26). Cuộc gặp cấp cao Việt Nam – Campuchia – Lào. Vietnamnet. https://vietnamnet.vn/vn/thoi-su/chinh-tri/cuoc-gap-cap-cao-viet-nam-campuchia-lao-778199.html
Newsletter
Join the newsletter to receive the latest updates in your inbox.
---