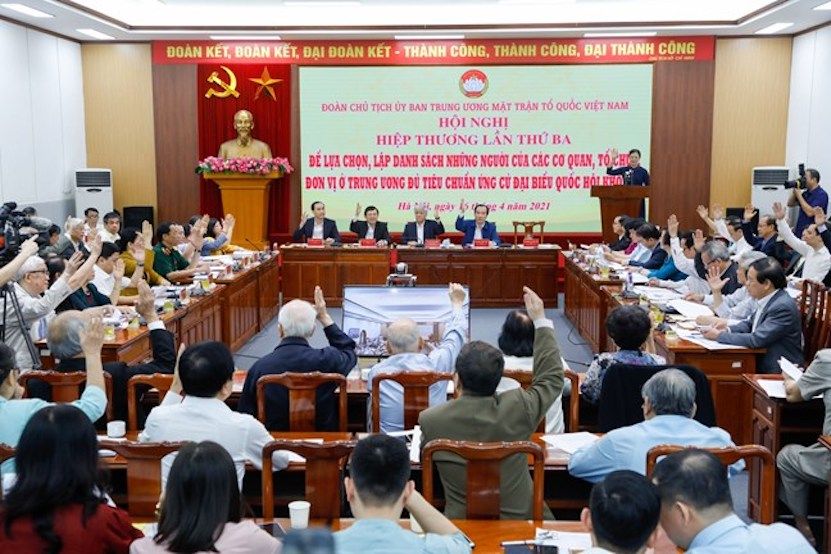 Vietnam Briefing: VCP Has Finalized The List Of Candidates In The Very Election They Are Running For
We release the Vietnam Briefing every Monday morning, Vietnam time.
---
The Vietnamese Communist Party is finalizing the list of eligible candidates for the  upcoming general election
The way elections in Vietnam work is to pre-determine the results, and the way to achieve that is to determine the list of candidates.
Vietnamese citizens can't just register themselves as candidates and expect their names will go straight to the candidate listings on the ballots. If they want to be candidates, they have to go through a vetting process called hiệp thương, which is conducted by the Vietnam Fatherland Front, the extended political arm of the Vietnamese Communist Party (VCP). After the third and final round of hiệp thương, the list of candidates will be released and voters can vote for only these candidates.
The Fatherland Front's local committees of Hanoi and Ho Chi Minh city did exactly that just last week. Similar events were held in other provinces as well.
Context:
At least two independent candidates have been arrested before the third round of hiệp thương.
Dozens of candidates in Hanoi withdrew before the final list was adopted.
Almost no dissidents or activists are running for election this year. This is a major change compared to the last election in 2016, when at least 30 of them ran (and failed to make it to the final list).
---
A prominent activist, Nguyen Thuy Hanh, was arrested
Quote from VietnamPlus:
"Hanoi's police have taken a woman into custody as they investigate allegations of 'making, storing, distributing, or disseminating information, documents, and items against the State of the Socialist Republic of Vietnam' under Article 117 of the 2015 Penal Code.
The Investigation Security Agency under the municipal Department of Public Security said on April 8 they had arrested Nguyen Thuy Hanh, born in 1963 and living in Thuong Dinh ward, Thanh Xuan district."
Context:
Nguyen Thuy Hanh has been a prominent advocate for democracy and human rights in Vietnam since 2011. She also participated in several anti-China movements.
Hanh ran for election in 2016 as an independent candidate but failed to make it through the VCP's vetting process.
She founded and managed a well-known charity called the 50k Fund (Quy 50k) to assist family members of political prisoners financially for several years before shutting it down in late 2020.
Read her profile in The 88 Project's database and an op-ed about her.
---
Vietnam unveils tools for taxing and tracking big tech
Quote from Nikkei Asia:
"Vietnam is proposing a pair of regulations that would compel global tech players such as Alibaba and Google to hand over more taxes and data, in a move to increase government oversight in one of the world's fastest-growing digital markets."
---
US stops short of branding Vietnam a currency manipulator
Quote from Reuters:
"The U.S. Treasury Department on Friday said Vietnam, Switzerland and Taiwan tripped its thresholds for possible currency manipulation under a 2015 U.S. trade law, but refrained from formally branding them as manipulators."
---
US names new ambassador to Vietnam
Quote from VnExpress:
"U.S. President Joe Biden on Thursday nominated Marc Evans Knapper as the new ambassador to Vietnam.
The Senior Foreign Service member, who will succeed Daniel J. Kritenbrink, is currently serving as the deputy assistant secretary for Japan and Korea in the State Department.
He has previously served in the U.S. embassies in Seoul, South Korea, Baghdad, Iraq, and Tokyo, Japan, and the State Department's Office of India Affairs and Office of Japanese Affairs."
---
What's special about April for Vietnamese?
April is a special month not only in Vietnam but also in Vietnamese overseas communities. It marks the end of the Vietnam War on April 30, 1975. The event widely divides Vietnamese people around the world with the winning side, which is the ruling Communist Party, celebrates and the losing side mourns. The losing side is millions of people in the South and Vietnamese former refugees as well as their families now settled in countries such as the United States, Canada, and Australia. Discussing the loss of the losing side and the nature of the fall of Saigon is still largely taboo in Vietnam.
However, this day is not only about the war, it is also the end of the first and the only Vietnamese democracy in history thus far, the Republic of Vietnam.
Curious about it? Here are the books you might be interested in:
---
Learn more about Vietnam
Why the #MilkTeaAlliance movement has little appeal to Vietnamese youth
Dien Nguyen An Luong/South China Morning Post | April 16, 2021
"Against that backdrop, outsiders may wonder why Vietnam's internet-savvy youth have remained an outlier in the #MilkTeaAlliance. How have Vietnam's leaders afforded to stave off such a movement? Will anti-government sentiment materialise any time soon in the country? A closer look at how social media and geopolitics have become increasingly interwoven provides some clues.  While some observers have talked up its role, there has been a growing body of evidence that social media alone could not have fanned the likes of Arab Spring-style uprisings."
Vietnam's Great Debate Over Democracy
Trien Vinh Le/The Diplomat | April 15, 2021
"Inspired by the development stories of East Asian countries that have experienced the benefits of embracing democratic principles, there are official and informal opinions that Vietnam needs a second Doi Moi centered around political reform. If new political institutions and practices are allowed to emerge and lead to new ways of governing and fresh policy ideas, the economy can pivot to more open and more innovative activities based on science and technology. It is appropriate to ask how the current government system can usher in a new era of economic transformation when so many at the top benefit from the old model based on exploitation of labor and natural resources."
Vietnam restores regional balance to top leadership
Le Hong Hiep/Nikkei Asia | April 14, 2021
"In an attempt to address southern politicians' grievances, the party appears to be taking steps to gradually restore the regional balance.  Soon after the 13th congress, the party installed Vo Van Thuong, a politician from the southern province of Vinh Long, as the standing member of its secretariat, the No. 5 position in the party's hierarchy. Last week, the National Assembly also elected three southerners into senior state and government positions, including Vo Thi Anh Xuan from An Giang Province as vice president, Tran Thanh Man from Can Tho city as deputy chair of the National Assembly, and Le Minh Khai from Bac Lieu Province as one of the deputy prime ministers."
How a Vietnam-Malaysia Fishing MOU Could Ease the Wider South China Sea Dispute
Ralph Jennings/VOA News | April 16, 2021
"Malaysia and Vietnam intend to sign a memorandum of understanding that experts say could eventually help ease a decades-old, six-party dispute over sovereignty in the resource-rich South China Sea.  Maritime law enforcement agencies from the two Southeast Asian countries aim to sign the memo this year and resolve at least 15 years of trouble over the movement of Vietnamese fishing vessels, the official Bernama news agency in Malaysia reported in early April. Bernama quoted the Malaysian Maritime Enforcement Agency director-general saying he's confident the deal, now in its final stages, will solve the issue of Vietnamese fishing boats that enter Malaysian-claimed waters."
Newsletter
Join the newsletter to receive the latest updates in your inbox.
---