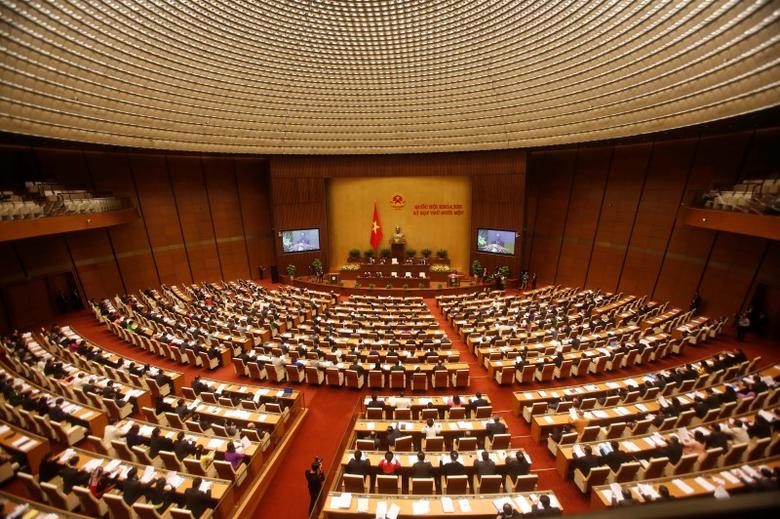 Vietnam Briefing: 2021 Is Going To Be A Busy Year Of Elections
We release the Vietnam Briefing every Monday, Vietnam time, with an emphasis on politics and foreign affairs. The briefing today is mainly about the different kinds of elections Vietnam is going to have this year.
---
COVID-19:
COVID-19 vaccinations will be rolled out this month.
Hai Duong Province will end lockdown from March 3.
Hanoi's closure order for street vendors, cafes and historical sites has remained unchanged, but just as we briefed last week, many places are still open.
---
We are starting to know what the next National Assembly will look like
It's true. We don't need to wait until the general election ends on May 23 or for the results to be released in June. The National Assembly's Standing Committee revealed in early February and last week the "tentative proportion" or "tentative allocation," of seats for Parliament's next term (2021 – 2026).
This means we can now see which government and Communist Party bodies will tentatively hold how many seats in the National Assembly.
The tentative number of seats is officially stated in the Standing Committee's Resolution 1185/NQ-UBTVQH14, which is dated February 5, 2021 and which was debated again last week during the committee's session that ended on February 23.
More details:
Approximately 95 members of the National Assembly are members of the Communist Party of Vietnam's (CPV) Central Committee, including 12-14 members of the Politburo and the Central Secretariat.
Outside-of-the-party members: 25-50 (5-10 percent).
Members from the central government: 207 (41.4 percent).
Members from the military: 12 (excluding the minister of national defense).
Members from the police: 2 (excluding the minister of public security).
Other seats are also planned to be allocated to other government and party bodies.
Context:
The general election will be held on May 23 for both the National Assembly and local legislative bodies at all three levels (province, district, and commune). The results are expected to be released in June. The first National Assembly session will be held in July, mainly to elect top officials of all three branches of the central government.
General elections are held every five years, shortly after the Communist Party congresses.
Free and fair elections? That's what the government says, but it's not the view of Freedom House, a human rights organization, in its 2020 report: "Elections to the National Assembly are tightly controlled by the CPV, which took 473 of the body's 500 seats in the 2016 balloting. Candidates who were technically independent but vetted by the CPV took 21 seats. More than 100 independent candidates, including many young civil society activists, were barred from running in the elections."
Curious about how this election works? Pay close attention to two things: the role of the Fatherland Front – the Communist Party's external arm – as a vetting agency and how the government deals with independent candidates.
---
Vietnam to run for a seat at the United Nations' Human Rights Council
That's what the Deputy Prime Minister announced last week before a United Nations' session in Geneva, Switzerland.
Vietnam apparently doesn't have a good record on human rights. But just like other authoritarian states such as China, Cuba, and Saudi Arabia, it has a chance to win one out of 47 seats on the United Nations' Human Rights Council's 2023-2025 term.
Context:
---
Vietnamese ambassador runs for re-election to International Law Commission
It seems Vietnam is actively seeking more influence on the international stage. Here is another election at the United Nations that Vietnam is campaigning for, according to VietnamPlus:
"Vietnam's permanent missions to the United Nations (UN) in New York and Geneva have recently sent diplomatic notes to the UN and member countries informing them of the candidacy of Ambassador Nguyen Hong Thao to the International Law Commission (ILC) for the 2023-2027 term, marking the official start of the Vietnamese candidate's campaign for re-election to the UN's important law organ.
In 2016, Ambassador Thao became the first Vietnamese to be elected as an ILC member. During the 2017-2022 term, he actively promoted ILC's research results, delivered speeches and joined discussions at the ILC."
---
The Dong Tam appellate trial will be held on March 8
Remember the high-profile Dong Tam trial in September? The appellate trial opens on March 8 and will last until March 10.
Six defendants have appealed their sentences to the People's High Court in Hanoi.
What should we expect?
The trial will very likely result in the affirmation of the lower court's verdict with little or no adjustments to the defendants' convictions and sentences.
Similar to the trial in September, the appellate trial is expected to be closed to the public, with no independent and international media, and no independent observers allowed to attend; even family members of the defendants may be refused permission to observe the trial.
Learn more about the Dong Tam case:
---
Amnesty International's new investigation into hacking group Ocean Lotus
Two weeks ago, we mentioned the hacking group Ocean Lotus in our briefing, indicating that the Vietnamese government is likely behind the effort to target dissidents and foreign entities.
Last week, another report on the matter was released by Amnesty International. Here is what it says:
"Our investigation was not able to attribute Ocean Lotus' activities to any company or government entity. However, the extensive list of people and organizations targeted by Ocean Lotus over years shows that it has a clear focus on targeting human rights and media groups from Vietnam and neighbouring countries. This raises questions about whether Ocean Lotus is linked to Vietnamese state actors. The consistent evidence linking Ocean Lotus to Viet Nam should trigger the Vietnamese authorities to undertake an impartial, thorough and independent investigation into the group's unlawful activities and human rights abuses."
Context:
The Vietnamese government has kept silent on the issue.
The Vietnamese government also has accused Amnesty International of "distorting Vietnam's reality" and of "intervening in Vietnam's internal affairs."
---
Read more about Vietnam:
Where to now for Vietnam after Trong? (East Asia Forum – Feb 27): "Events over the past year have brought major long-term trends in Vietnam's domestic and foreign policy to the surface. The country will be less aligned with China. In the next decade, it will likely have its first non-conservative leader since the Cold War's end but its leaders continue to value the Leninist state model."
Vietnam's unresolved leadership question (East Asia Forum, Feb 25): "Pham Minh Chinh emerged as a new star. […] Chinh is also a potential candidate to succeed General Secretary Trong when Trong vacates his position. In that case, Chinh will have reached a position his predecessors — Nguyen Tan Dung and Nguyen Xuan Phuc — wanted but did not get. The question is whether Trong wants and has enough time to groom Chinh to handle the roles of general secretary and state president."
Supply chain bottlenecks in Vietnam (Bangkok Post, Mar 1): "Vietnam's economy has fared better than that of almost any other country except China during the Covid-19 crisis. It grew by 2.9% last year while most other countries fell into recession. One consequence of the crisis was that manufacturers realised the importance of diversifying supply chains, and many accelerated the China Plus One policies that they had initiated because of the US-China trade war. This led to a surge of investment in Vietnam from global manufacturers last year."
Capital meant for Myanmar may seek havens in Vietnam and Cambodia (Nikkei Asia, Feb 27): "The military coup in Myanmar has forced investors who had earmarked capital for the country to look for nearby alternatives. Delta Capital, Anthem Asia and other funds that have solely focused on Myanmar are adopting a wait-and-see approach, and those with a wider geographic footprint are funneling money to destinations like Cambodia and Vietnam. Vietnam is especially frothy."
Mitsubishi pulls out of Vinh Tan 3 coal project in Vietnam (Reuters, Feb 26): "Mitsubishi Corp has decided to pull out of the Vinh Tan 3 power plant in Vietnam, two sources familiar with the company's thinking on the matter told Reuters, as it shifts away from carbon intensive businesses in the face of climate change. Mitsubishi's move to exit the estimated $2 billion project shows how willing Japanese companies and financiers are to drop their once-strong support for coal amid pressure from shareholders and activists."
Newsletter
Join the newsletter to receive the latest updates in your inbox.
---