Land Rights
Tensions Mount in Aftermath of Attack on Dong Tam Village

As details and testimonies slowly emerge from Dong Tam after a surprise government raid early the morning of January 9, tensions between officials and civil society activists continue to mount as the two groups fight to clarify events that led to the deaths of 84-year-old village leader Le Dinh Kinh and three police officers, as well as the arrest of more than 30 villagers.
Compounding tensions is the fact that Vietnam is a one-party authoritarian state in which all official news, press, and media outlets are controlled by a single communist party. Citizen-journalists make ample use of social media to counter the systemic bias, as the general population struggles to establish the facts.
State media announcedyesterday that 22 individuals have been charged: 20 for murder, including two of Kinh's sons, Le Dinh Chuc and Le Dinh Cong, as well as 2 others for obstruction of officials. Murder is among the most serious charges of the Vietnamese penal code, with punishment ranging up to and including the death penalty.
The clash in Dong Tam was the culmination of a land disputethat had been simmering for years over private farmland earmarked for a military airport (Mieu Mon). Experts statethat land disputes in Vietnam have become increasingly common, at Loc Hung garden in Ho Chi Minh City most recently, due to the ambiguous laws that the ostensibly "communist" country has enacted regarding land ownership.
According to villager testimonies, around 3 AM the morning of January 9, 2020, approximately 3,000 officers from the police, riot, and armed forces carrying clubs, sticks, guns, shields, and tear gas grenades poured into Dong Tam village (My Duc suburban district, Hanoi), targeting village leader Le Dinh Kinh's house.
Collecting eyewitness accounts, citizen-journalist and activist Pham Doan Trang explained: "as violent skirmishes broke out, police used an explosive charge to blow a hole into village leader Kinh's house, all while firing bullets and tear gas. Other officers tightly sealed off all the paths and alleyways in the village and used German shepherds to hunt down 'culprits'. The villagers responded with rocks and Molotov cocktails. Police completely collapsed the roof of Le Dinh Kinh's house and more than 30 members of his extended family were taken away."
Trang reports that the Dong Tam area is currently under complete lockdown and no independent journalists have been allowed in, noting state media outlets simultaneously began reporting the same story January 9, citing a single source: Vietnam's Ministry of Public Security. The brief statement from the ministry stated that a number of officers 'sacrificed themselves' in the line of duty, while one 'hostile culprit' died.
It was not until January 10 that state media identified the "hostile culprit" as village leader Le Dinh Kinh himself, who was accused of leading a mob of villagers to "obstruct officials" who were working on constructing a wall delineating Mieu Mon Airport. Officials did not explain why this work was being done at four in the morning, nor why 3000 officers were present in the village rather than closer to the Mieu Mon work site, a few kilometers away. Officials handed over Kinh's body to villagers the same day (January 10).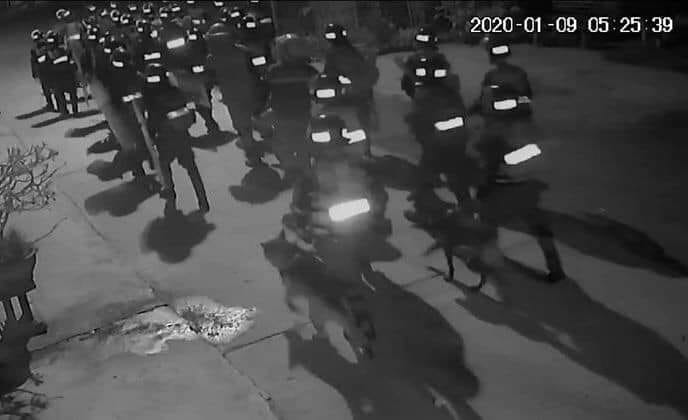 Luong Tam Quang, deputy head of the Ministry of Public Security, explained at a press conference January 14 that Kinh was shot because he was "holding a grenade" and posed a threat to security forces. Quang, however, confirmed that the Ministry of Public Security did not have an arrest warrant for anyone when police stormed Kinh's private residence.
Kinh's wife, Du Thi Thanh, told land rights activist Trinh Ba Tu that Kinh was shot right in front of her, twice in the head, once in the heart, and once in the left foot. A viral video of Kinh's body on social media showed a single bullet hole near his heart, and an unexplained long surgical scar down his abdomen.
Kinh's funeral was held January 13, but the area of Dong Tam remained under high security, with the internet cut. Little to no footage of the funeral is available, and supporters were largely prevented from attending.
Public outpouringof support for Kinh has been swift on social media, with many seeing him as a exemplary moral leader who consistently fought for the weak. In his lifetime, Kinh was a peasant farmer, a revolutionary soldier who had fought against the Americans, a Communist Party member at 20, head of police in his village, and both party secretary and chairman of the village's Party committee in the 1980s.
That the Vietnamese government has killed a model Party member has intellectuals commenting on the inherent symbolism, stating Kinh's murder represented the communist regime "digging its own grave".
Kinh's wife, Du Thi Thanh, herself suffered harsh mistreatment from the authorities, and in a surreptitiously recorded video that has spread on social media, she details how police slapped and kicked her repeatedly to force her to falsely confess to using grenades and petrol bombs.
Kinh's wife, Du Thi Thanh, explains how police repeatedly slapped and kicked her to force her to sign a false confession.
Her son Le Dinh Cong, adopted daughter Bui Thi Noi, and her grandchildren Le Dinh Doanh and Le Dinh Quang are also likely victims of forced confessions, as their battered images appeared on state television January 13, stoically confessing to making petrol bombs and other weapons to attack police. They admitted they had broken the law, even implicating prominent activist Nguyen Anh Tuan and blogger Le Dung Vova in encouraging "anti-state" activities.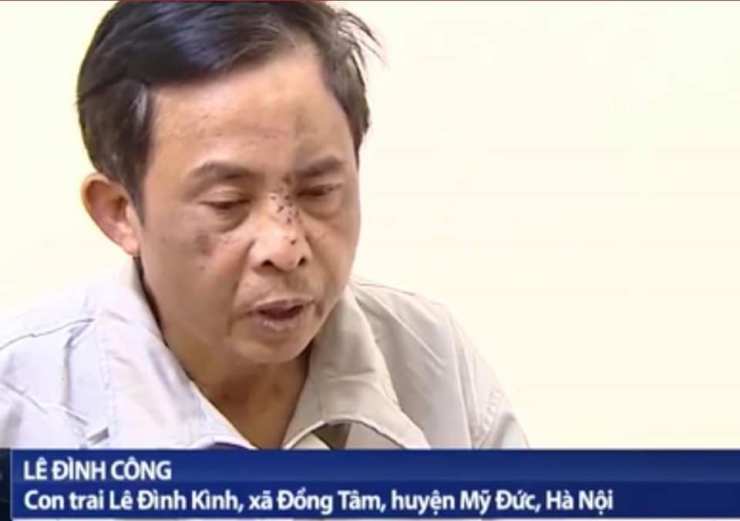 All four subjects were covered in scrapes, black eyes, bruises, and swellings, and looked down as they spoke during the entire recording, appearing to be reading from statements off-camera.
Forced scripted confessions, particularly those aired on state television, are common in authoritarian regimes, like Vietnam, China, and North Korea.
State media also reported that Le Dinh Chuc, Le Dinh Kinh's second son, is laying in a hospital; his condition is unknown.
The January 14 press conference further identified the three police officers killed in the raid as: Colonel Nguyen Huy Thinh, Captain Pham Cong Huy, and Lieutenant Duong Duc Hoang Quan.
After days of state media reporting that the villagers attacked and killed the officers by grenades, knives and petrol bombs, deputy head Quang admitted that the three individuals had fallen down a four-meter skylight in Kinh's residence while pursuing suspects. He alleges that Dong Tam residents, upon seeing the officers in the well, poured gasoline and lit them on fire.
All three officers have been given posthumous awards and the honorary title of "martyr" by President and Party General Secretary Nguyen Phu Trong for their service.
Vietnam has cracked down on those challenging the official narrative, and according to citizen-journalist Pham Doan Trang, the government has arrested people in Can Tho, Quang Ngai, and Dak Nong for posting online about the event. She also notes that land rights activists (and brothers) Trinh Ba Tu and Trinh Ba Phuong, who are in direct contact with the Dong Tam villagers and have worked to smuggle information out, are currently at high risk of arrest.
Facebook itself is now complicit in the oppression, activists say , as the government—using a cybersecurity law it passed in 2018—has succeeded in pressuring the company to remove videos and posts regarding the Dong Tam attack; Vietnam's own online army has succeeded in bringing down some activists' profiles through coordinated campaigns.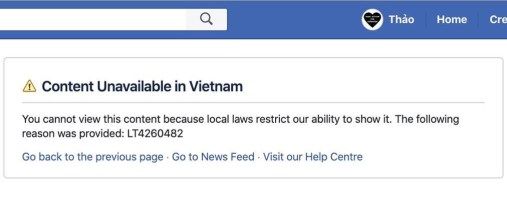 Vietnamese civil society organizations have responded accordingly, organizing several campaigns to bring awareness to the event, as well as pressure the Vietnamese government to address inconsistencies and unknowns in the government's "evolving" narrative.
Luat Khoa Magazine, an independent journal that covers legal and political issues in Vietnam, has mailed a letter to To Lam, head of Vietnam's Ministry of Public Security with a list of fundamental legal questions for Mr. Lam to answer (English translation here), while a nationwide, weeklong "Pray for Dong Tam" color campaign launched Sunday, Jan 12, calling for calm, mourning, and an objective investigation into what transpired January 9 (English translation here).
Perhaps most significantly, the "Dong Tam Task Force", an ad hoc organization established by leading Vietnamese activists, launched January 13 to organize, coordinate, and facilitate fact-finding in the Dong Tam attack (English translation here). It also aims to protect the remaining village witnesses from further government harassment and arrest.