Death Penalty
Wrongfully Convicted Ho Duy Hai Languishes on Death Row

During these last days of 2017, be it rain or shine, people in Ha Noi, Vietnam, could often spot a frail, weary middle-aged woman holding up a sign "Do Not Kill My Innocent Son, Ho Duy Hai" near the government's headquarters.
She is death-row inmate Ho Duy Hai's mother, Nguyen Thi Loan.
Since Hai's conviction in 2008, Ms. Loan has begun her own crusade to petition for his release. In the past few years, she especially traveled more often to Ha Noi where the central government is located to raise awareness of Hai's case because time might be running out for him.
Ho Duy Hai's execution was halted once in December 2014 due to public outcry, but recently, local authorities had expressed their impatience for having to continue keeping him on death row.
On December 7, 2017, at a meeting of the People's Committee of Long An Province, Dinh Van Sang – Prosecutorial General of the People's Procuracy of Long An Province had suggested that the execution of Ho Duy Hai should be carried out as soon as possible because "the imprisonment of this kind (of prisoners) would be too burdensome (for the government)."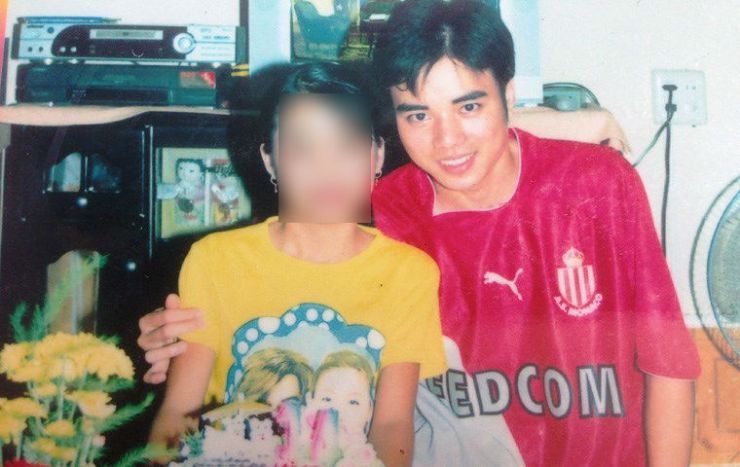 It often goes without exception in the majority of jurisdiction, that one shall not be convicted based solely on his or her confessions.
The criminal law principle of corpus delicti requires a higher burden of evidence from the prosecution and provides that a defendant's confession – on its own – is not enough for a conviction.
Having credible physical evidence from the prosecution then becomes the determining factor in convincing a jury or a judge, that the government has satisfied the burden of proof and that they have proved the defendant was, in fact, guilty of the crime charged.
Vietnam follows this general rule in prosecuting criminal cases.
Yet, such a rule only exists in law books and legal codes.
In practice, people not only got convicted solely on their confessions but very often, they confessed because they were beaten and tortured by the investigating officers.
Ho Duy Hai was one of them.
In March 2008, Hai – a then 23-year-old recent graduate from Long An Province located in the Mekong Delta south of Sai Gon – was arrested, charged and convicted of double homicide and sentenced to death.
The only evidence used to convict him was practically his confession, which he later recanted and revealed that he was forced to confess by the police during his detention.
The prosecution not only did not offer any credible physical evidence, they even committed basic prosecutorial mistakes.
The time of death was never established for the two victims, making it impossible for the defendant to come up with an alibi.
The murder weapons were "lost" by the forensic team and other items were later "purchased" a local market by witnesses who vouched for their similarities if compared to the real ones.
None of the fingerprints found at the crime scene matched Ho Duy Hai's.
A special team of legal experts set up by the Vietnamese National Assembly and led by the current Commissioner of the National Assembly's Judiciary Committee – Le Thi Nga – visited Hai in the end of December 2014 after his family successfully used social media campaign to halt his execution (which was set to be carried out earlier that month).
The report signed by Ms. Le Thi Nga in February 2015, found that Hai's case was riddled with irregularities and prosecutorial mistakes and that the prosecution did not present sufficient evidence to support a conviction. It also called for a trial of cassation for Hai.
2018 will be three years since the government's legal experts concluded that Hai's case deserved a review and ten years since Hai's life as a free man ceased to exist, yet it seems as if the legal obstacles have stacked even higher against him.
Hai remains in prison, his youthful years waste away with each day spent on death row.
With the assistance of a local artist, Thinh Nguyen, Ms. Loan and other parents of wrongfully convicted death-row inmates appeared in several video clips to raise public awareness on the reality of forced confessions and prosecutorial irregularities in Vietnam's criminal cases.
And even though the videos are well-received, it seems as if these efforts are to no avail, at least for the time being.
His mother has also written thousands of petitions pleading the government to not kill her innocent son, and she would talk to anyone – be it the personnel from foreign embassies or just about any passerby on the streets – whoever would spare a few minutes listening to her telling the story of Hai's wrongful conviction.
Her hope is that one day, not only the people will stop and listen to her, but so will government officials and that they will take up Hai's case and declare him a free man.