Vietnam soon faces the UN's review compliance on the implementation of the 1984 United Nations Convention against Torture and Other Cruel, Inhuman or Degrading Treatment or Punishment (UNCAT), which it became the 81st signatory on November 7, 2013.
Despite a showing of strong commitment from the Vietnamese Ambassador to the UN at the time of signing, Le Hong Trung, who condemned all "acts of torture and cruel, inhuman or degrading treatment of persons and to better protect and promote fundamental human rights", police brutality and death in police detention remain some of the most urgent social issues in the country today.
Less than a year since the Vietnam's National Assembly ratified UNCAT in November 2014 and submitted the ratification to UN on February 5, 2015, 17-year old Do Dang Du died from injuries to the head and body while being held in police custody at Chuong My District, Hanoi on October 10, 2015. His death shocked the nation.
14 lawyers immediately petitioned to the Minister of Ministry of Public Security (MPS), the Chief Procurator of the Supreme People's Procuracy, and the Chief of Hanoi Police Department to get the details of his arrest and detention.
As it turned out, Du's death might have been avoided because he was not supposed to be detained at all.
According to some of the lawyers from this group of 14 who petitioned to review his case, under Section 2 of Article 303 of Vietnam's Code of Criminal Procedures, a minor being alleged to have committed a "less serious" crime, such as theft, was supposed to be released on his own recognizance. Du's mother confirmed that he was arrested in August 2015 for stealing two million VND (about 90 USD) from a neighbor and taken into police detention, where he was held until taken to the hospital due to injuries from a physical assault in early October 2015.
Yet, Chuong My District Police stood by and continued to affirm that their detention of Du for some two months was done according to laws. However, other facts surrounding this case compelled people to question police's involvement in Du's death and demanded more answers.
First, while Du's three teenager cellmates were arrested and charged with the assault and battery which caused his death, their reasons for getting into an altercation with Du failed to convince the public and Du's family. The main perpetrator, Vu Anh Binh, also 17-year old, confessed that he had assigned Du to wash their dishes, but because Du did not wash them well enough, leaving them still dirty, Binh got angry and beat him up.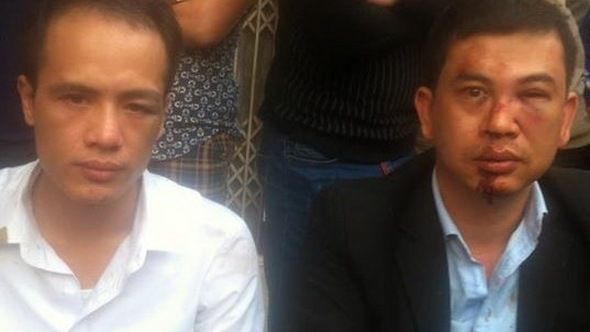 Du's family then retained two attorneys, Le Luan and Tran Thu Nam, from the group of 14 to represent them in the matter of their son's death, but the lawyers soon became victims of physical violence as well. On November 3, 2015, attorneys Luan and Nam were assaulted by a group of eight thugs on their way to visit Du's mother. The victims identified one of the perpetrators to be Chuong My District police officer Cuu, and they also told the media that they believed the police had followed them since they agreed to represent Du's family.
Speaking to BBC News – Vietnamese edition at the time, Attorney Tran Quoc Thuan, former Deputy Director for the Office of the National Assembly, demanded that an independent investigation unit should have been convened to invest the police officers of Chuong My District to avoid conflict of interest. Attorney Thuan also mentioned to BBC that some 226 people had died in police custody in recent years.
Attorney Thuan's claim was based on Vietnam MPS' own representation to his former employment, the Office of the National Assembly, in 2015 regarding deaths in police custody from 2011-2014, which curiously was not mentioned by the Vietnamese government in their report submitted in July 2017 to the UN regarding the first year of implementing UNCAT from 2015-2016.
However, in the report to the UN, the government did admit deaths and other incidents of police brutality indeed happened. But the numbers from the government, of course, are nowhere near 226. In fact, it is difficult to decipher the exact number from the 51-page report, which also did not include any allegations of death in police detention that Vietnamese newspapers and social media had reported in 2015 and 2016.
What more disturbing is the fact that the report from the Vietnamese government delineates the reality that police brutality often goes unpunished. Impunity is at the heart of this problem, and the government has yet to demonstrate they have dealt with it efficiently.
For example, Paragraph 100 of the report stated: "From 2010 to 2015, People's Courts had not handled any cases regarding the obtainment of testimony by duress and bribing or forcing another person to give false testimony or provide false documents".
Further, it provided that in the same five-year period, the Vietnamese courts "only handled and tried 10 cases with the total 26 defendants who committed torture offenses". Eight out of those 10 cases involved police officers and prison's guards. (In Vietnam, prison's guards are also police officers because according to the laws, the MPS has direct control over all prisons in the country).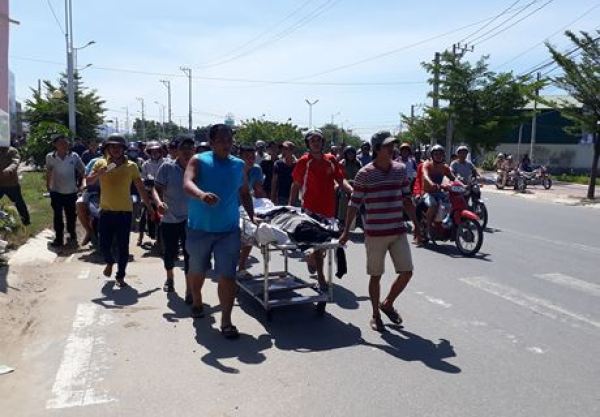 Even when police officers were prosecuted and tried for having committed torture of suspects and/or prisoners, they often received very light sentence. Take for example the case of four police officers of Dak Trung prison in Dak Lak Province, listed in Annex 11 of the Vietnamese government's report to the UN, none of the police officers involved in a prisoner's death while in their custody was handed actual prison terms.
These four police officers admitted to using "corporal punishment" on a prisoner, Truong Thanh Tuan, during the morning of September 23, 2010. Tuan died on the way to the hospital the very same evening from "respiratory distress syndrome and cardiovascular collapse". The officers were tried and convicted of "using corporal punishment" under Article 298 of Vietnam's Penal Code, and their sentence was the minimum "penalty of warning", which translated into "no jail time".
Paragraph 45 of the report, the government acknowledged that their laws allow for many other penal code provisions to prosecute criminal acts that carry "torture nature", some are specifically applicable to police officers, such as "causing death to people in the performance of official duties" (Article 97), "inflicting injury on or causing harm to the health of other persons while performing official duty" (Article 107), "ill-treating other persons" (Article 110), humiliating other persons (Article 121). Vietnam's laws also allowed for charging perpetrators with multiple offenses for committing the same criminal conducts.
But in reality, the same report also showed that Vietnam's justice system had not prosecuted any of the listed perpetrators with multiple charges, even when their laws allow for it. In all of the reported cases, the police officers were charged and tried for only one crime, "using corporal punishment" under Article 298.
Taking into consideration the facts and the applicable laws, people have to ask why the offending police officers were not charged with any other crimes besides "corporal punishment" and thus always received just a slap on the wrists for causing serious injuries and even death to suspects and prisoners?
The difference between only charging the offenders with one crime instead of multiple crimes in Vietnam is quite large, and we could see it by studying the facts in one of the most talked about cases involving police brutality in the past five years, the case of Ngo Thanh Kieu of Phu Yen Province.
According to the government report, the 20-year-old Kieu was arrested for theft in the morning of May 13, 2012. He was then interrogated by several police officers of Tuy Hoa District, Phu Yen Province that day, where he was handcuffed and beaten. He was interrogated multiple times on the same day and continued to be interrogated even after showing obvious signs of physical assault. By 5:40 pm, Kieu died on the way to the hospital from injuries to the head which had caused drama to his skull.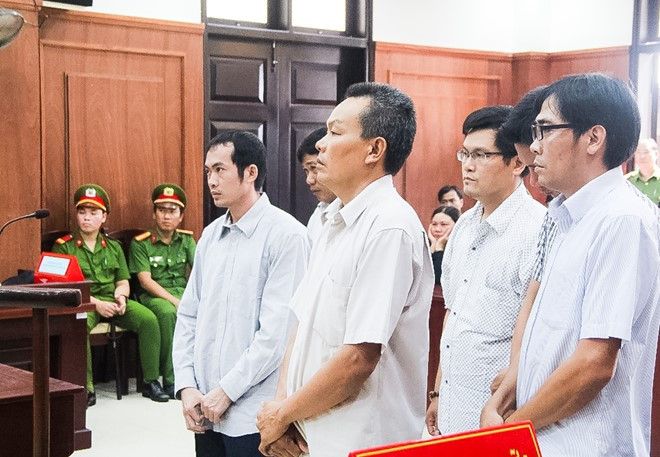 While the involved officers were tried and sentenced to prison from nine months to eight years, they were charged, again, only with "applying corporal punishment" under Article 298. Moreover, the highest-ranking officer involved, Le Duc Hoan, Deputy Head of the Investigation Agency of Tuy Hoa District Police, was only charged with "negligence, causing serious consequences" while carrying out official tasks.
It was Hoan who had ordered the other police officers to conduct the interrogation of the victim even after Kieu had shown signs of suffering rounds of physical assault during the first questioning. Yet in the end, it was also Hoan that received the lightest sentence of nine months and was allowed to serve it on probation, meaning he did not have to spend a single day in jail.
The government's report to the UN also failed to mention that two of the five defendants appealed and got their sentences reduced sufficiently in September 2016. Nguyen Than Thao Thanh was sentenced to eight-year imprisonment but got reduced to five years, while Nguyen Tan Quang's two-year imprisonment became two-year probation.
Had they been charged with all of the criminal provisions applicable to their illegal conducts, the offending police officers who caused the death of Ngo Thanh Kieu could have faced up to 30 year-imprisonment on a combined sentencing under Article 50 of the Penal Code if convicted.
The story of Ngo Thanh Kieu is not the last to tell about torture and police brutality in Vietnam. In 2017, I have documented nine cases where people died in police detention from January 2016 to September 2017. To date, no one had yet been prosecuted in relation to these cases.
As long as the problem with impunity continues to be as serious as police brutality in Vietnam, it seems that there is still a long way to go for UN CAT to be effectively implemented. At the very least, however, Vietnam should begin aggressively investigating, prosecuting, and trying the perpetrators according to the standards of their current laws, where multiple charges should be filed against those who committed such horrendous crimes against the victims' basic human rights and took away their most sacred one, their right to life.