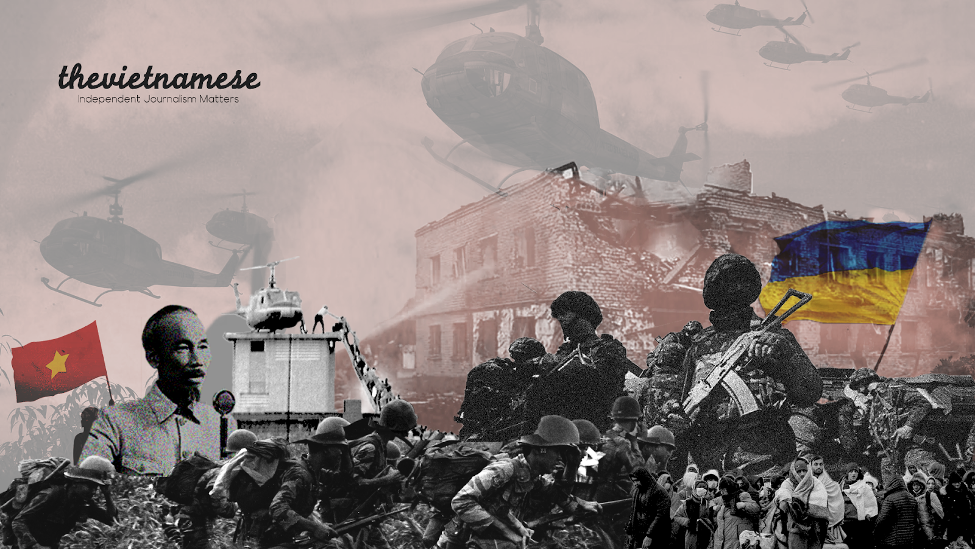 Why Vietnam Has Good Reasons To Publicly Oppose The Russian Invasion Of Ukraine
As the conflict between Russia and Ukraine approaches the third week, there is virtually no remaining doubt about the true nature of this "special military operation."
It's an outright invasion.
And while there is seemingly unwavering support from the international community for the Ukrainian people's fight against foreign aggression, a handful of countries are attempting to walk a tightrope in the name of national interests, by either condemning Russia's illegal actions or publicly supporting its military objectives.
Vietnam, not surprisingly, is one of those countries that maintain its neutrality [1] in the current crisis.
The country's neutral stance can be witnessed from its carefully chosen description of the invasion as just an "armed conflict" in state media to its abstention from voting in favor of the United Nations resolution condemning Moscow's invasion of a sovereign state.
In fact, Vietnam pursues a pseudo-neutrality position in the current crisis in Ukraine. On the one hand, it does not voice support or criticizes either side involved on the international stage, while at the same time, Hanoi deliberately pushes pro-Russia propaganda and Kremlin's fabricated information via State media at home.
For example, the military-owned People's Army newspaper on February 19, when the West warned of the Russian military's increasing presence around Ukraine, asked [2] the Vietnamese public to be aware of an "information attack led by Western media [and] political forces" against Russia. "All these [Western news outlets] intended to create a cacophony of information, which prevented Moscow from justifying its intention for the war," it wrote.
On February 21, when president Vladimir Putin deployed troops into the self-proclaimed Luhansk and Donetsk People's Republics, the same military mouthpiece only quoted [3] Putin's speech of his intent to perform "peacekeeping duties," while neglecting Ukrainian President Volodymyr Zelenskyy's accusation [4] that Russia had wrecked peace talks.
According to local independent observers, [5] the reasons for Hanoi's absence of vocal condemnation and its underlying pro-Kremlin rhetoric may be due to a variety of reasons.
First, it is concerned with Vietnam's historic relationship with the former Soviet Union — one of the country's closest allies in the past.
The now collapsed Soviet Union sent substantial support to North Vietnam during the Vietnam War and to a unified Communist Vietnam in the following decades.
This support consequently resulted in a special brotherhood between the two ideological comrades. Today, a majority of government officials and military commanders still view Russia as the descendant of its big brother — the Soviet Union.
Second, Russia is one of Vietnam's most strategic partners in terms of defense support and key energy supplies. This can be explained by the fact that Hanoi's military equipment supplies and its oil and gas industry are heavily dependent on Russian exports.
As Western countries have started to impose sanctions on Moscow, Vietnam will face certain difficulties in securing its arms purchases, maintaining military equipment, and finding a stable energy source.
As a result, given Hanoi's special historic relationship with the once ideological comrade and its ever-improving economic ties and relations with the West, many analysts suggest [6] that the country is likely to maintain the current status quo to avoid upsetting either side. It seemingly portrays an impartial stance on the global stage while also pushing pro-Kremlin propaganda domestically.

Nonetheless, in the face of the current crisis in Ukraine, there are also convincing reasons for Vietnam to publicly oppose the Kremlin's outrageous war against a sovereign state.
First of all, it fundamentally stems from the self-promotion of the Democratic Republic of Vietnam, or North Vietnam, as a fervent anti-war advocate.
During the Vietnam War, the preceding North Vietnamese government had gathered massive domestic support as well as an international reputation for its role as a nationalist liberator who fought against "foreign interference and imperialism."
Its war propaganda machine self-promoted the country's ultimate goals as nothing other than to achieve peace, independence, and self-determination for the Vietnamese people.
North Vietnam's robust dedication to its principles of freedom, independence, and democracy was even emboldened by Ho Chi Minh's speech broadcast on July 17, 1966, when he called on the nation to keep on fighting and urged the United States to pull its troops out of Vietnam. He noted: [7]
"Let the United States end its war of aggression in Vietnam, withdraw from this country all U.S. and satellite troops, and peace will return here at once. [...]
The Vietnamese people cherish peace, genuine peace, peace in independence and freedom, not sham peace, an American peace.
For the defense of the independence of the fatherland, and for the fulfillment of our obligation to the peoples struggling against U.S. imperialism, our people and army, united like one man, will resolutely fight till complete victory whatever the sacrifices and hardships maybe."
From what we see here, the speech that Ho made in 1966 was ironically almost identical, if not the same, to the messages that Ukrainian president Volodymyr Zelenskyy has been sending out since the moment Russian tanks rolled into Ukraine.
In his public speeches, Zelenskyy promoted the Ukrainian people's opposition to war and their legitimate rights to self-determination. He also clearly rejected [8] Russia's unfair conditions for ending the war, which portrays the kind of "sham peace" created by Moscow that Ho strongly denounced.
"The war is a big disaster, and this disaster has a high price. With every meaning of this word. People lose money, reputation, quality of life, they lose freedom," Zelenskyy told [9] the Russians in a videotaped speech on February 24. "But the main thing is that people lose their loved ones, they lose themselves."
At the same time, Putin's abuse of military and political might to arbitrarily invade a smaller country and deprive its people of their freedom of choice implies his unspoken belief that big and powerful countries should run the world. It is an act of imperialism. And thus the Russian president is ostensibly nothing but an imperialist [10] — the very enemy that Ho and his country had tirelessly stood up against since its formation.
Meanwhile, Hanoi's less well-known, but rather significant relationship [11], with Ukraine is another crucial reason for Hanoi to stand with the Ukrainian people and their government at this crucial time.
Four months after Ukraine became an independent country following the collapse of the Soviet Union in late 1991, Hanoi formally established diplomatic ties with Kyiv on January 23, 1992.
The former Soviet republic once provided assistance and trained thousands of Vietnamese students who later returned home and became high-ranking officials.
The two countries upgraded their partnership to a "comprehensive" level from a diplomatic one in 2011 and also established a variety of cooperating mechanisms on trade, technology, and science.
It is conceivable that Hanoi has a more special commitment to its relationship with Moscow than Kyiv; but at the same time, Vietnam also bears a debt of gratitude to Ukraine for its support during the Soviet era and the Second Indochina War, writes [12] Ha Hong Nguyen, a research fellow at the Center for Policy Futures at the University of Queensland.
Ha also added that Vietnam's abstention from condemning the invasion, and its calling for involved parties to respect the UN Charter and international laws, showed the country's political dilemma in picking sides during this conflict.
The country's foreign policy is torn amongst the effort to uphold its important partnership with Russia, the duty to stand in solidarity with its historical benefactor Ukraine, and the need to adhere to the principle of territorial integrity to protect its own interests in current sovereign disputes.
It is clear that staying neutral is not an optimal choice for Vietnam, especially when it is concerned with the blatant violation of a country's sovereignty.
It is also harder for Vietnam to defend its neutrality when traditionally neutral states such as Switzerland have broken [13] their long tradition to impose sanctions on the Kremlin.
We witnessed the same move from Sweden, [14] which used to support Hanoi during the second Indochina War. Other persistently impartial Asian countries, including Singapore and Indonesia, also followed [15] Western-led calls to punish Moscow.
Obviously, there is no doubt about the importance of Hanoi's flexible diplomacy as a small country and the conundrum that it is facing in order to maximize its national interests in the midst of the ongoing global plight.
But if Vietnam wants to promote its image as a peace-loving country that adheres to peaceful and legal settlements of disputes, it cannot remain silent in the face of aggression.
Remaining neutral can only expose Hanoi's double standard in dealing with the current crisis and will further hurt its long-term interests in the process of solving future territorial disputes with Beijing.
Vietnam must find its voice and publicly support Ukraine during this tumultuous time.
---
References:
[1] Buchholz, K. (2022, March 3). Where Russia's Attack on Ukraine Was Condemned. Statista. https://www.statista.com/chart/26946/stance-on-ukraine-invasion/
[2] Phuong, H. (2022, February 19). Có một "cuộc chiến" bên lề. Quan Doi Nhan Dan. https://web.archive.org/web/20220228095049/https://www.qdnd.vn/quoc-te/doi-song/co-mot-cuoc-chien-ben-le-686432
[3] TTXVN. (2022, February 22). Nga triển khai quân đội tại miền Đông Ukraine. Quan Doi Nhan Dan. https://web.archive.org/web/20220301135318/https://www.qdnd.vn/quoc-te/tin-tuc/nga-trien-khai-quan-doi-tai-mien-dong-ukraine-686621
[4] Samantha Lock; Jennifer Rankin, Lauren Aratani And Elias Visontay. (2022, February 22). Luhansk and Donetsk regions recognised as independent states by Russia – as it happened. The Guardian. https://www.theguardian.com/world/live/2022/feb/21/russia-ukraine-news-latest-crisis-putin-biden-summit-kyiv-kiev-russian-invasion-threat-live-updates
[5] Prof. Dinh Hoang Thang. (2022, February 27). Chiến tranh Nga – Ukraine: Bom đạn bên ấy, "khói lửa" bên này. RFA Vietnamese. https://www.rfa.org/vietnamese/news/blog/russia-ukraine-war-bombs-overthere-smoke-overhere-02272022091200.html
[6] Nile Bowie, David Hutt. (2022, March 1). Hanoi shy to leave Moscow for the West over Ukraine. Asia Times. https://asiatimes.com/2022/03/hanoi-shy-to-leave-moscow-for-the-west-over-ukraine/
[7] Reuters. (1966, July 17). Text of Ho Chi Minh's Radio Statement. The New York Times. https://timesmachine.nytimes.com/timesmachine/1966/07/17/82835983.html?pageNumber=2
[8] Fink, J. (2022, March 7). Zelensky Rejects Putin's Demands for Ending War: "It's an Ultimatum." Newsweek. https://www.newsweek.com/zelensky-rejects-putins-demands-ending-war-its-ultimatum-1685678
[9] Reuters. (2022, February 24). Full transcript of Zelenskyy's emotional appeal to Russians. NBC News. https://www.nbcnews.com/news/world/full-transcript-zelenskyys-emotional-appeal-russians-rcna17485
[10] Vladimir Putin is an imperialist, but China does not care. (2022, March 5). The Economist. https://www.economist.com/china/vladimir-putin-is-an-imperialist-but-china-does-not-care/21807942
[11] Nguyen, H. H. (2022, March 4). Russia's Invasion of Ukraine: The Diplomatic Dilemma Facing Vietnam. The Diplomat. https://thediplomat.com/2022/03/russias-invasion-of-ukraine-the-diplomatic-dilemma-facing-vietnam/
[12] Ibid., [11]
[13] Rick Noack, Sammy Westfall. (2022, February 28). In move to sanction Russia, Switzerland breaks from long tradition. The Washington Post. https://www.washingtonpost.com/world/2022/02/28/switzerland-neutral-ukraine-russia-sanctions/
[14] Sweden's government calls for even tougher sanctions on Russia. (2022, March 1). The Local. https://www.thelocal.se/20220301/swedens-government-calls-for-even-tougher-sanctions-on-russia/
[15] Al Jazeera and news agencies. (2022, February 28). In rare stand, South Korea, Singapore unveil sanctions on Russia. Al Jazeera. https://www.aljazeera.com/economy/2022/2/28/in-rare-stand-south-korea-singapore-unveil-sanctions-on-russia
Newsletter
Join the newsletter to receive the latest updates in your inbox.
---