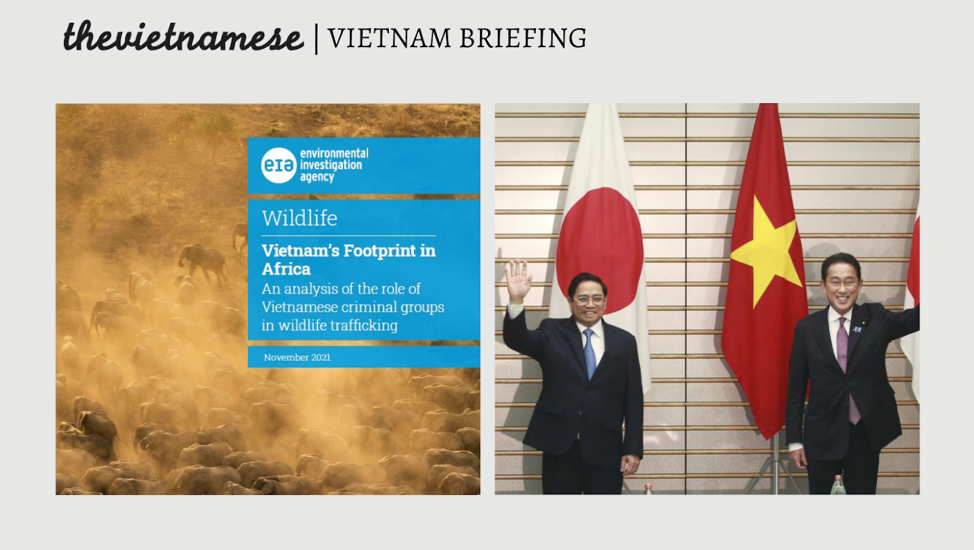 Vietnam Briefing: Vietnam - Japan Summit; Vietnamese Attorney Harassed While On Duty
The Vietnam Briefing, which is released every Monday morning Vietnam time, looks at Vietnam's social and political developments of the past week.
---
Pham Doan Trang's family receives no response regarding request to  visit her
On November 15, Pham Chinh Truc, brother of journalist Pham Doan Trang, sent a formal letter to the head of Hanoi's People Criminal Court, Nguyen Xuan Van, requesting a family visitation with his sister. However, according to Doan Trang's family, they have not received any response from Hanoi's People Court as of November 25.
In the letter, Truc wrote that he was disappointed at the Court's postponement of Doan Trang's trial and that the Court had not informed them about the alternative trial date. Doan Trang's family, including her 80-year-old mother, have not been able to visit her since her arrest last year, a period of more than 400 days. "This is a blatant violation of the law and against the accepted norms," Truc wrote in his letter.
Doan Trang's family demanded the head of Hanoi's Criminal Court allow an immediate visitation with her, arguing that this is the lawful right of Trang and her family.
---
Vietnamese attorney accuses local security forces of violating his legal practice
On November 24, Attorney Ngo Anh Tuan, a lawyer known for his defense role in multiple politically sensitive cases in Vietnam, sent a petition to the Hanoi Bar Association regarding the violations of his legal practice by local public security forces.
According to the petition papers he released online, Tuan accused the public security officers in Thanh Khuong Ward, Bac Ninh Province of unlawfully harassing and preventing him from legally assisting his client during a police summons on November 16. On that day, a video published by Tuan on his social media account showed a uniformed officer violently pushing him out of the Thanh Khuong Ward Precinct office and closing the precinct's gate to bar him from going inside. Attorney Tuan added that the officers had previously insulted him and interfered in his legal practice by asking him to leave his client alone with the police.
The attorney requested the authorities verify the details of what happened and take actions to protect lawyers' legal rights. Tuan wrote that the incident was a serious infringement upon his and other lawyers' legitimate and legal rights to practice their occupation.
---
Former Vietnamese political candidate reportedly discriminated against and isolated while in custody
Le Trong Hung, the former political candidate and civil journalist who was shortly arrested after announcing his candidacy this year, had been allowed to meet his lawyer on November 22, according to his wife Do Le Na. The visitation lasted for about one hour, Na wrote.
Hung told his lawyer, Ha Huy Son, that he had lost some weight during his detention while both of his eyes developed cataract-like symptoms. Do Le Na, who is visually impaired, told RFA in an interview that she is "deeply worried" about her husband's visual conditions. Na also claimed that her husband had been discriminated against and isolated in custody, sharing that the detention officers allegedly prohibited other inmates from meeting or talking to Hung.
The trial date of Le Trong Hung has not yet been announced. He faces up to 12 years of imprisonment if convicted.
---
Vietnam remains the top destination for illegal wildlife trafficking, says an environmental NGO.
The Vietnamese government has made notable efforts to address wildlife trafficking, but the country remains the "primary destination for illegal wildlife products sourced from across Africa," according to a report published by Environmental Investigation Agency (EIA), a London-based NGO that investigates environmental crime.
Wildlife being trafficked from Africa by Vietnamese organized crime networks include pangolin meat, elephant ivory, and rhino horns, says the report titled "Vietnam's Footprint in Africa." "These networks are accelerating the decline of Africa's biodiversity and are exacerbating corruption and weak rule of law in many source and transit countries in the continent."
Similar to China, demand for wildlife products in Vietnam is based on the belief held by many wealthy and middle-class Vietnamese that serving exotic animals at meals displays their social status. Meanwhile, some people believe that wildlife animal products have medical benefits, such as boosting sexual perfomance, although no scientific evidence is available to support such beliefs.
---
Vietnamese prime minister vows to improve human rights during his visit to Japan
Vietnamese Prime Minister Pham Minh Chinh met his counterpart Japanese Prime Minister Fumio Kishida on November 24 during his four-day trip to Japan. Security and economic issues were included in the agenda for the two leaders, reports Nikkei Asia.
During their meeting in Tokyo, the two leaders  expressed "serious concerns about the situation in the South China Sea and any unilateral attempts to change the status quo and increase tensions," they said in a joint statement, without mentioning any specific country. Prime Minister Chinh and his counterpart Kishida also reportedly discussed areas of mutual interest and agreed on the export of defense equipment from Japan to Vietnam.
Later at an investment promotion event organized by the Japan External Trade Organization, the Vietnamese prime minister vowed that Vietnam would take up measures to ensure human rights in an attempt to attract more foreign investors, reports Nikkei Asia. "Securing people's safety creates opportunities for investors," said Chinh.
---
Vietnam witnesses sharp rises in COVID-19 cases as four workers die after receiving Sinopharm vaccines
Vietnam recorded 12,450 and 12,429 COVID-19 cases on November 25 and 24, respectively, witnessing a new spike in cases after the daily infection tally began to fall under 10,000 in October. Ho Chi Minh City still has the highest number of  daily confirmed cases in Vietnam.
As of November 26, four Vietnamese female workers at a shoe factory in Thanh Hoa Province have died after receiving Sinopharm COVID-19 vaccines, reports VnExpress. The deceased workers, aged from 25 to 36, were among around 400 workers getting vaccinated with the Chinese-made doses at the Kim Viet Shoe Company in Vietnam's north central province on November 23. The local health department said that dozens of other workers also developed side effects after receiving their vaccinations; about 17 workers were later taken to hospitals.
The White House on November 24 said that the United States would donate another four million COVID-19 vaccines doses to Vietnam, bringing the total number of vaccines delivered to Vietnam from the United States to 17,589,110 doses.
---
Vietnam's supply chains struggle due to labor shortage and brutal COVID-19 lockdowns
"Factories in the industrial south serving brandsfrom Intel to Toyota to Reebok were allowed to reopen Oct. 1, after hundreds had closed or had staff living on site. But in the stuttering recovery, companies say they still face labor shortages, sealed borders, inconsistent rules, costs of testing and disruptions when even a single worker contracts the coronavirus. Vietnam's rebound will be "more gradual than expected," with the impact felt into 2022, Bank of America has said."
---
The death of a Vietnamese teen undercovers peril of labor exports to the Middle East
"A 2018 report by the Vietnamese National Committee on Crime Prevention and Control identified about 7,500 victims of human trafficking between 2012 and 2017, more than 90 percent of whom were female and 80 percent of whom came from remote ethnic communities.
Vietnamese who fall prey to human traffickers usually come from impoverished and vulnerable families and communities and lack education or awareness of human trafficking."
---

Vietnam Insight: Learn more about Vietnam
Vietnam has produced a new class of billionaire entrepreneurs
The Economist/ November 27
"The Soviet link is a function of Vietnam's modern economic and political history. In 1985 Vietnam had a GDP per person of around $500 in today's dollars, one of the lowest in the world at the time. Until the collapse of the Soviet bloc, bright and politically connected students in Vietnam gained opportunities to study in Russia and its various satellites; in 1980 around 3,000 did so, alongside youngsters from other communist-run places."
Why improving Vietnam–UK relations matters for the Indo-Pacific
The Strategist/ Bill Hayton/ November 24
"There are opportunities across the spectrum of diplomatic engagement, ranging from sharing strengths in fisheries management and managing the challenges caused by rising sea levels to collaborating on defence. Vietnam's most pressing needs are in tackling Covid-19 and its consequences, generating sustainable economic growth, and coping with the many threats posed by climate change. These are all areas in which the two sides would do well to increase their ambitions and cooperation. Likewise, the UK and Vietnam have a strong shared interest in upholding and promoting an open international order. There are already examples of diplomatic and security cooperation between the two, and these can be further enhanced."
Seen and not heard: health workers in Asia bullied into silence
Nikkei Asia/ Erwida Maulia, Ismi Damayanti/ November 24
"In Vietnam, which is battling a new wave of infections, the Health Ministry in September said doctors and nurses contributing to its pandemic control should be rewarded, but also threatened those who quit with "administrative discipline or [deprivation of] the right to use their practicing certificates," according to local news portal VnExpress."
The Interpreter/ Helen Clark/ November 22
"More to the point, the steak saga sums up three things that had been annoying people in Vietnam to varying degrees before the Covid pandemic: corruption, a government that seemed out of touch, and one prone to hysterical crackdowns when challenged."
Newsletter
Join the newsletter to receive the latest updates in your inbox.
---