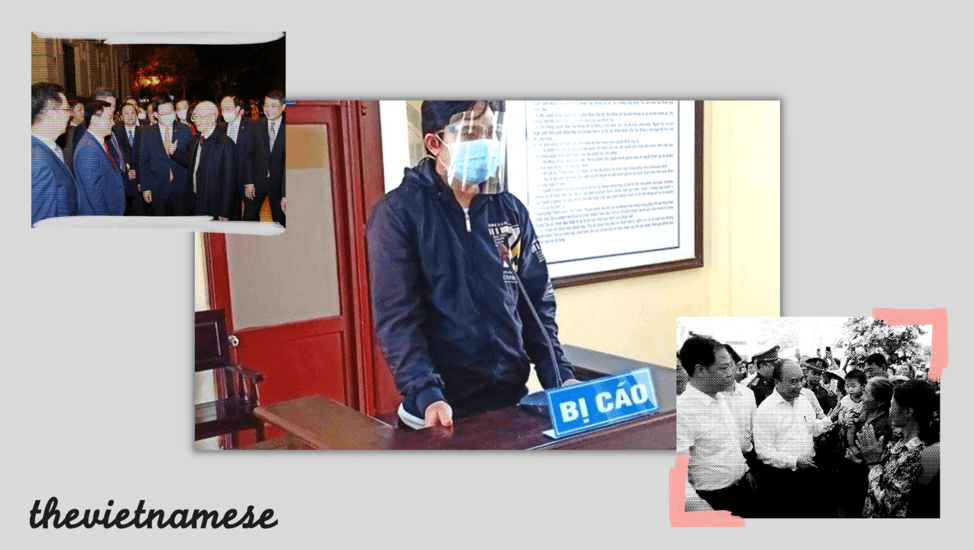 A Vietnamese Sentenced To Five Years In Jail For "Spreading Coronavirus": Rules For The People But Not For The Government
Last week, on September 6, when the news of a Vietnamese man being sentenced to five years in prison for "transmitting coronavirus" by a court in Ca Mau Province made international headlines, it vehemently startled a substantial number of foreign readers.
One day later, in the country's southernmost province of Ca Mau, a local doctor was officially prosecuted for having "irresponsible manners which cause serious consequences." More specifically, he was accused [1] of spreading coronavirus by deliberately administering treatment to an ill patient without properly testing him for coronavirus and informing local authorities of the case. The patient later tested positive for COVID-19.
Looking back a little further, in June, a Protestant church in Ho Chi Minh City, Revival Ekklesia Mission, became [2] an unlikely scapegoat for a wave of criticisms targeting them for hosting religious events, which are believed to have eventually led to a significant coronavirus outbreak in the city. The church's founding pastors, a husband, and a wife were then officially charged under criminal prosecution for "transmitting dangerous infectious diseases to other people." The wife, nonetheless, firmly believed that her church was not the source of the new cluster since they always correctly followed health guidelines from local authorities.
In reality, these are just a few examples among dozens of similar cases where individuals have been targeted, fined, or charged under causes of "deliberately spreading disease" or "flouting anti-coronavirus measures" since the beginning of the COVID-19 pandemic in Vietnam. In most cases, the defendants are working-class citizens struggling to make ends meet day by day. Now, they are facing pending criminal prosecutions and harsh criticisms from state media for their alleged "recklessness and indiscipline."
Setting aside all legal grounds for imprisoning or penalizing citizens on charges of "spreading disease," it is utterly unfair how criminal prosecutions are deployed to punish ordinary people. At the same time, the Vietnamese government is given a free pass, despite being responsible for mishandling the coronavirus through controversial policies and their fault in hosting mass gathering events that could have been the original cluster of the current COVID-19 outbreaks.
Who is responsible for the current wave of infections?
Not long before the current wave of COVID-19 infections in Vietnam, which has had a catastrophic effect on the country's economy and healthcare system, the Vietnamese government was confident that it had put coronavirus under its heel through the conventional methods of isolation and contact tracing.
The complacent attitudes caused by the nation's initial success in containing the virus, according to Major General Vu Quoc Binh [3], a former military medical director, have led to a "perplexing" situation where the authorities made mistakes in allowing large crowds to gather before the ongoing outbreak, being assured that the situation was still controllable. Meanwhile, the government did not prioritize vaccination when case numbers were still low, he added.
In late April, when the Delta variant was believed to have arrived in Vietnam[4], people were still allowed to freely travel across the country during a long holiday without being given any preventive measures. Only around 0,01 percent [5] of the country's population was fully vaccinated at that time.
On May 23, the country's general election day, Vietnamese citizens were encouraged to directly go to voting polls to elect their National Assembly representatives in a large rubber-stamp legislative council; at the same time, COVID-19 infections started to break out in several northern provinces. On the other hand, the government vowed to "successfully organize" the political event at the cost of potential coronavirus transmission due to mass gatherings at the polls.
About one month later, in late June, the Vietnamese Ministry of Education still proceeded with [6] a plan to hold the national graduation examinations on July 7 and 8, which would take place in all of the country's 63 provinces and municipalities. For instance, in Ho Chi Minh City, it was estimated [7] that nearly 90,000 students, along with 15,000 examiners, would be gathering in around 160 locations in the city to take part in the exams. At the time, daily coronavirus infections in Ho Chi Minh City stood at a 3-digit number; in late July, the city started to record [8] thousands of new confirmed cases every day.
The examples mentioned above have not considered other significant missteps by the government, including an identity card registration program, where local residents were asked to replace their old identity cards with electronic ones at police stations, which nurtured an environment for disease transmission.
In addition, there were the chaotic scenes of cramped vaccination venues [9] and congestion roadblocks [10] where people were crowded together to show their "travel permits," a scheme used to limit the number of commuters on the streets. Overall, they exposed that the Vietnamese authorities' mismanagement and inefficient plans harm more than good in improving the pandemic.
Scapegoating the vulnerables
From those experiences, it is conceivable that the current spread of virus infections is possibly the consequence of the Vietnamese government's mishandling of the disease. However, none of the officials responsible for such failure has been held accountable, punished, or voluntarily resigned in the same way that other ordinary citizens have been fined, prosecuted, and jailed for "spreading infectious diseases."
Those indictments and the imprisonment of people for allegedly violating anti-coronavirus protocols are not only unfair, but they also do not effectively fix the root cause of the ongoing problem.
In its purest form, the punishments applied have not necessarily been aimed at controlling or preventing the spread of the disease but rather to intimidate the public and shift blame to more vulnerable subjects through a scapegoating strategy [11].
Most of the time, violators of pandemic regulations have been blamed for their "lack of discipline" for flouting COVID-19 laws, such as avoiding complying with compulsory isolation rules or declaring health conditions. However, these indications are invincibly reflecting the true feelings of local residents during this tumultuous time: scared, hopeless and angry.
Most Vietnamese people have been in dire straits since the country went into periodic lockdowns earlier this year. They are scared of being taken to poor and unclean quarantine facilities if tested positive while no one can take care of their sick parents or young children. Some people face financial strains and have lost hope that they will not return to their hometowns due to strict lockdown measures. At the same time, many others become angry that high-level government officials were somehow immune to punishment for breaking social distancing rules [12] while ordinary people would receive heavy fines [13] for doing so. These stories provide us a more authentic picture of the ongoing anti-coronavirus scheme in Vietnam.
If the "war against COVID-19 [14]," an ostentatious metaphor commonly used by the Communist Party, does exist, the ordinary Vietnamese people are the losers of this battle.
References:
Duc, V. (2021, September 7). Khởi tố bác sỹ làm lây lan dịch bệnh. Báo Công An Nhân Dân. https://cand.com.vn/Phap-luat/khoi-to-bac-sy-lam-lay-lan-dich-benh–i627297/
Richard C. Paddock, Chau Doan. (2021, June 2). Spared for Months, Vietnam Faces a Wave of New Infections. The New York Times. https://www.nytimes.com/2021/06/02/world/asia/vietnam-covid-ho-chi-minh.html
Bac Pham, Bennett Murray. (2021, September 14). Counting the cost of Vietnam's Covid meltdown. Asia Times. https://asiatimes.com/2021/09/counting-the-cost-of-vietnams-covid-meltdown/
Huong, L. T. (2021, August 11). Delta variant outbreak challenges Vietnam's COVID-19 response strategy. The Brookings Institution. https://www.brookings.edu/blog/order-from-chaos/2021/08/11/delta-variant-outbreak-challenges-vietnams-covid-19-response-strategy/
Coronavirus (COVID-19) Vaccinations. (n.d.). Our World in Data. https://ourworldindata.org/covid-vaccinations
Huynh, T. (2021, June 26). Bộ GD-ĐT: 63 tỉnh, thành tổ chức thi tốt nghiệp THPT đợt 1 cùng ngày. Tuoi Tre Online. https://tuoitre.vn/bo-gd-dt-63-tinh-thanh-to-chuc-thi-tot-nghiep-thpt-dot-1-cung-ngay-20210626200317418.htm
L.Đ.O. (2021, June 30). TPHCM "mạo hiểm" khi tổ chức thi tốt nghiệp THPT đợt 1?Lao Dong Online. https://laodong.vn/giao-duc/tphcm-mao-hiem-khi-to-chuc-thi-tot-nghiep-thpt-dot-1-925514.ldo
Hang, T. (2021, July 24). 3.991 ca mắc COVID-19 sáng 24/7, nhiều nhất vẫn là TP Hồ Chí Minh. Báo Công An Nhân Dân. https://cand.com.vn/y-te/Sang-24-7-them-3-991-ca-mac-COVID-19-Long-An-bo-sung-them-1-288-ca-benh-i621409/
Huong, T. (2021, June 25). TP.HCM: Hàng ngàn người xếp hàng chờ tiêm vắc xin Covid-19 ở Nhà thi đấu Phú Thọ. Thanh Nien Online. https://thanhnien.vn/thoi-su/tphcm-hang-ngan-nguoi-xep-hang-cho-tiem-vac-xin-covid-19-o-nha-thi-dau-phu-tho-1404282.html
LĐO. (2021, September 6). Chốt kiểm soát "vùng đỏ" Hà Nội lại đông đúc: Có lúng túng, dễ lây nhiễm. Lao Dong Online. https://laodong.vn/y-te/chot-kiem-soat-vung-do-ha-noi-lai-dong-duc-co-lung-tung-de-lay-nhiem-950298.ldo
Minh, H. (2021, June 4). Đại dịch, bản năng đổ lỗi, và những cuộc săn dê tế thần. Luật Khoa Tạp Chí. https://www.luatkhoa.org/2021/06/dai-dich-ban-nang-do-loi-va-nhung-cuoc-san-de-te-than/
Chinh, Y. K. (2021, September 16). Ý thức chống dịch: dân trí thấp hay quan trí lỏng? Luật Khoa Tạp Chí. https://www.luatkhoa.org/2021/09/y-thuc-chong-dich-dan-tri-thap-hay-quan-tri-long/
Thiet, K. (2021, August 10). Thêm 16 trường hợp bị xử phạt vì ra đường tập thể dục, bất chấp quy định phòng chống dịch. Báo Đồng Nai Điện Tử. http://www.baodongnai.com.vn/tintuc/202108/them-16-truong-hop-bi-xu-phat-vi-ra-duong-tap-the-duc-bat-chap-quy-dinh-phong-chong-dich-3072372/
Jason, N. (2021, September 12). Why Did The Vietnamese Communist Party Militarize Its Fight Against COVID-19? The Vietnamese Magazine. https://www.thevietnamese.org/2021/09/why-did-the-vietnamese-communist-party-militarize-its-fight-against-covid-19/
Newsletter
Join the newsletter to receive the latest updates in your inbox.
---