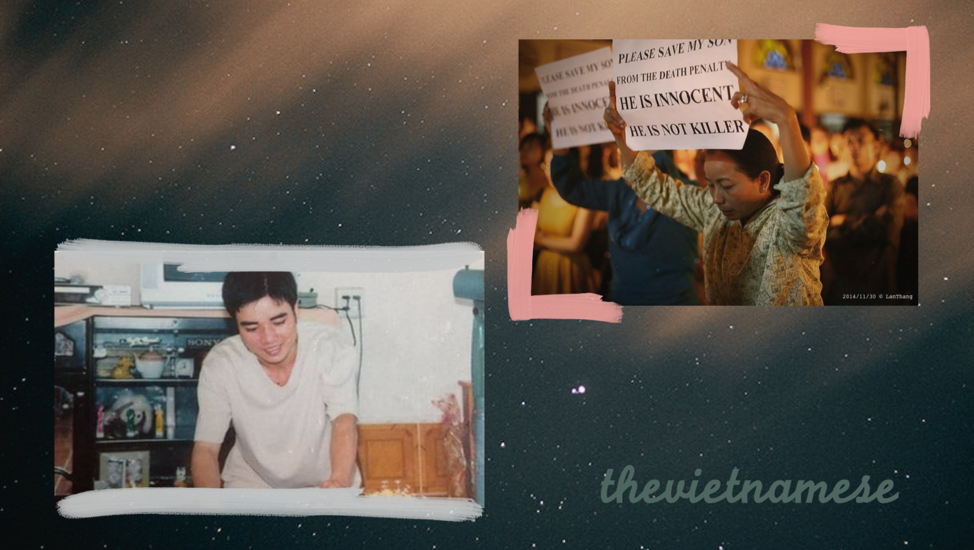 A Spark Of Hope For Ho Duy Hai's Family As New Alibi Emerges
On June 24, 2021, Attorney Tran Hong Phong, the lawyer for Ho Duy Hai and his family in their petition for his wrongful death penalty case, published a letter on his Facebook account, providing a new alibi regarding the case. Five lawyers (including Phong), two journalists working for a law newspaper, and Ho Duy Hai's family jointly signed the letter.
The letter, which had been previously sent to the Procurator of Supreme People's Procuracy of Vietnam and the Vietnamese authorities, provides convincing proof [1] to demonstrate that Ho Duy Hai was not the murderer of two post office workers in Long An Province in 2008.
Alternatively, the new evidence shows that on the evening of January 13, 2008, Ho Duy Hai actually did not go to Cau Voi Post Office, where the murder took place, but rather attended the funeral of Ho Chi, also known as Tu Lan, a neighbor who lived just 500 meters from Hai's house.
Furthermore, the new evidence also shows that Ho Duy Hai was at the funeral from 7:50 pm until 9 pm, which coincides with the time the Long An Police investigative agency alleged he had entered the Cau Voi Post Office, at around 7:30 pm, to murder the two victims at around 8:30 pm allegedly. Seven witnesses, who also attended the funeral, including the deceased's wife, have confirmed this fact.[2]
Ho Duy Hai received a death penalty for his convictions of homicide and robbery, despite "serious procedural shortcomings"[3] and violations of the defendant's right to a fair trial.
This controversial and invalid case has set his family and their attorney on a decade-long journey [4] of calling for the suspension of his execution. They finally reached a cassation trial [5] in 2020, but Ho Duy Hai was once again declared guilty of the crimes and sentenced to death.[6]
Although the presumption of innocence has been recognized [7] in its 2015 Criminal Procedures Code, Vietnam has fallen short of actually practicing this principle in its criminal proceedings. Quite commonly, the number of cases and the speed at which a case must be solved dwarf the importance of proper due process to uphold a fair and just trial.
A local lawyer explained [8] that investigative agencies could deploy "professional" methods to extract forced confessions from people since these agencies "often hold prejudices" against the accused. Also, earlier this month, the People's Court of Dak Song District, in Dak Nong Province, held [9] nearly 60 "pretend" trials, to meet its quota for a local judge to be reappointed, without any real defendants or victims.
However, the new evidence provided by his attorney might prove that Ho Duy Hai was wrongfully convicted, which would be a spark of hope for both the defendant and his family as the possibility of retrial could be high.
To strengthen the validity of the new proof, Attorney Phong confirmed that all seven witnesses "voluntarily provided the information and confirmation letters to affirm that their testimonies are true and vowed to take full responsibility under the law […]."
In their letter, the attorney and the signees demanded Vietnamese government officials expeditiously verify the evidence, review the cassation decision, release defendant Ho Duy Hai on bail while awaiting verification; and review and resolve their previous petitions and demands.
The case of Ho Duy Hai has drawn wide attention from both national and international audiences, as he was convicted of murder and later sentenced to death via an opaque and unfair trial.
Bibliography:
[1] RFA. (2021, June 25). Vụ án Hồ Duy Hải: Luật sư cung cấp bằng chứng ngoại phạm mới. Đài Á Châu Tự Do. https://www.rfa.org/vietnamese/news/vietnamnews/ho-duy-hai-case-lawyer-provides-new-proof-06252021081856.html
[2] HCMC Reporters. (2021, June 25). Vụ án tử tù Hồ Duy Hải: Luật sư cung cấp tình tiết bất ngờ. Dân Việt. https://danviet.vn/vu-an-tu-tu-ho-duy-hai-luat-su-cung-cap-tinh-tiet-bat-ngo-2021062515064789.htm
[3] Will, N. (2019, December 3). After Decade of Petitions, Vietnam to Re-consider Case of Death Row Inmate Ho Duy Hai. The Vietnamese Magazine. /2019/12/after-decade-of-petitions/
[4] Vi, T. Q. (2019, September 29). Wrongful Death Penalty Cases And The Families That The Inmates Left Behind. The Vietnamese Magazine. /2019/09/wrongful-death-penalty-cases-and-the-families-that-the-inmates-left-behind/
[5] Thereporter. (2020a, May 7). Ho Duy Hai's Cassation Trial. The Vietnamese Magazine. /2020/05/ho-duy-hais-cassation-trial/
[6] Thereporter. (2020b, May 9). Ho Duy Hai's Case Reaffirmed, Sentenced to Death Again. The Vietnamese Magazine. /2020/05/ho-duy-hais-case-reaffirmed-sentenced-to-death-again/
[7] V.L.L.F. (2018, June 1). Legal experts discuss presumption of innocence, due process principles in criminal proceedings. Vietnam Law and Legal Forum. https://vietnamlawmagazine.vn/legal-experts-discuss-presumption-of-innocence-due-process-principles-in-criminal-proceedings-6244.html
[8] Thi, D. (2021, June 25). Liệu có tái thẩm vụ án Hồ Duy Hải với chứng cứ ngoại phạm mới? Đài Á Châu Tự Do. https://www.rfa.org/vietnamese/in_depth/will-the-ho-duy-hai-case-be-retrial-with-new-alibi-dt-06252021114054.html
[9] Duong, D. (2021, June 6). Tòa huyện lập gần 60 vụ án "ảo" để. . . một thẩm phán được bổ nhiệm lại? Dan Tri. https://dantri.com.vn/xa-hoi/toa-huyen-lap-gan-60-vu-an-ao-de-mot-tham-phan-duoc-bo-nhiem-lai-20210606162322706.htm
Newsletter
Join the newsletter to receive the latest updates in your inbox.
---