free press
Freedom Of Speech In Vietnam: Where Government Is The Boss
In ASEAN, there are still stories of the independent media that will give us inspiration and encouragement. Here are the two examples of those stories.
First story
Two years ago, a tuk-tuk took a group of international journalists along alleys full of twists and turns in Chiang Mai, Thailand, before stopping in front of a private radio station.
Uncle Sangmuang Mangkorn, the colleague and guide, then gave the journalists a tour around the radio station and showed us the facilities of MAP Radio.
MAP stands for the Migrant Assistance Programme, and it is a foundation that runs several community radio stations in support of migrant workers in Chiang Mai and Mae Sot.
Most people have a preconception of radio stations being quite large and full of modern equipment and technology. Yet, the MAP Radio office is far from this ideal. Inside were just two small transmitting rooms and two employees working on a live program. This was all they had.
Warmly referred to as "Uncle" Sangmuang, he and some of his close friends founded MAP Radio in 1966 when an influx of Myanmar migrants came to Chiang Mai to work at construction sites. Myanmar workers frequently got into trouble in Thailand, and they had no avenues available to access information that would be essential for the duration of their stay. MAP Radio operates both as a radio station focusing on labor rights, health, education and an organization to help and campaign for migrant workers. MAP Radio also broadcasts in some of the workers' mother tongues.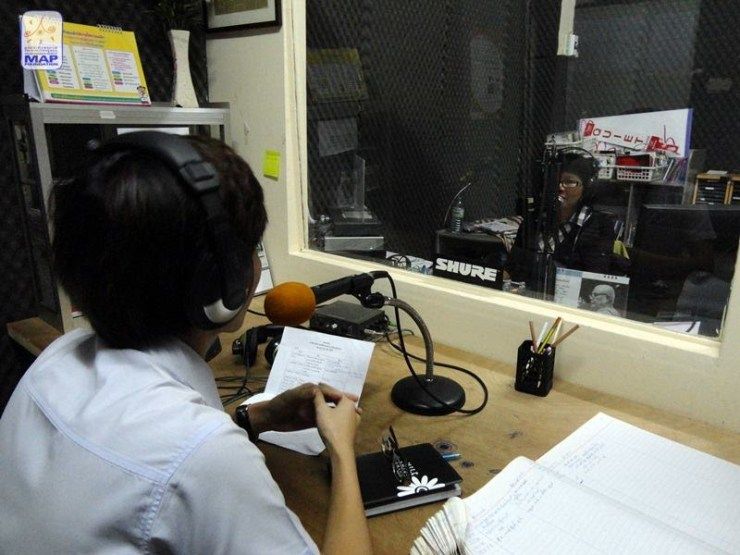 Second Story
In 2018, Malaysiakini, a 4-language online newspaper in Malaysia, issued a publication concerning deaths in police stations. The paper discovered that only one-fourth of these deaths captured public attention. Hence, the paper created a separate web page to gather information about these deaths, teach basic ways to protect oneself from abuse by authorities, and share the experiences of victims under arrest.
In 2021, Malaysiakini was fined RP $500,000 (more than USD $120,000) by a court in Malaysia on charges that readers' comments on its website resulted in a decline of public trust in the judiciary system. Immediately after the court's ruling, Malaysiakini called on its readers to make donations to help it pay the fine. Within a few hours, they had collected more than the amount needed.
Compared to the rest of Southeast Asia and the world, freedom of speech and free press in Vietnam has a quite different fate.
Vietnam: When the government acts as the big boss
In 2018, a Vietnamese activist, Nguyen Ngoc Nhu Quynh, was sentenced to 10 years in prison for collecting information about unexplained deaths in police stations. After spending two years in jail, she was exiled to the United States for political reasons.
Fast forward towards the year 2020, it was a terrible one for the press in Vietnam as mainstream media continued to operate under government control.
Vietnam's independent press development has taken a step backward during the past two years. We now do not have Bao Sach (The Clean Newspaper) anymore because its founding members have been arrested in late 2020 and early 2021.
Three members of the Independent Journalists Association of Vietnam, journalist Pham Doan Trang, land rights activist Can Thi Theu, and her two sons, together with many others, were also detained in 2020 and 2021. At some of their trials, heavy sentences were handed out.
Vietnam imprisoned all of them for speaking out against abuses by the government and participating in activities that displeased the authorities.
In a few months, Chung Hoang Chuong, the owner of a SIM card shop in Ninh Kieu Town, Can Tho, will complete his 18-month sentence. He was arrested in early 2020 for posting comments concerning the Dong Tam incident. The final post on his Facebook account attracted around 1,400 comments, many of which criticized him for his daring anti-state viewpoints.
The government uses penal charges against people who exercise their right of freedom of speech in Vietnam when it feels that that such speech negatively affects the interests of the Vietnamese Communist Party. In these charges, the authorities always regarded the Party's interests as the people's; when the Party's interests are compromised, so are the people's.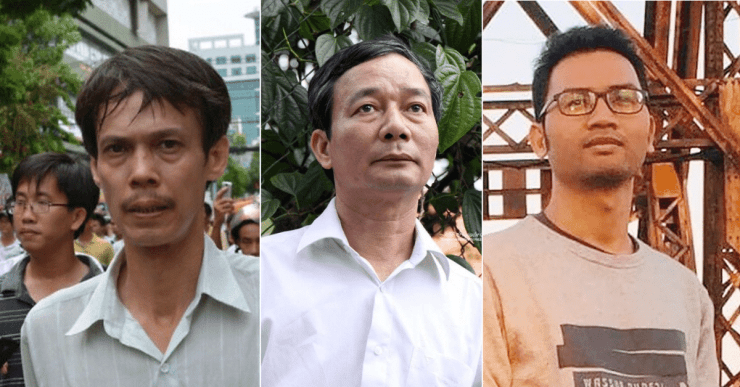 The VCP always regurgitates the idea that the people are masters of Vietnam. But in reality, the Party and the government behave like they are the bosses of the people. At a moment's notice, they are ready to punish a particular civilian if he/she criticizes them. Here, the VCP shows its true colors; party leaders are the true masters of the land and not a government whose primary responsibility is to serve the people.
In a particular business, the owner has the right to punish or dismiss some workers since he holds ownership of the company. However, Vietnam is not owned by the Party; ownership of this land belongs to us, the people.
In Myanmar, the military regime has controlled the country for a long time. Following the transfer to a civilian government, the military, by default, accounts for 25 percent of seats in the National Assembly. Nonetheless, the central and local governments should be run by civilian leaders.
The political system in Vietnam is similar, if not worse, than the situation in  Myanmar; replace the term "Myanmar junta" with "one-party regime" to see these similarities. The National Assembly, the courts, the People's Procuracy, and the central and local authorities are under the control of VCP members. Even in elections, the Party handpicks candidates to ensure the Party's continued existence and dominance. Such an administration leaves the people with no other option than obedience.
Side effects of controlling the press
Have you ever wondered how one gets daily news and information about Vietnam? He or she may listen to the radio in the morning, reads online papers in the afternoon, and watches TV or follows social media after work in the evening. In Vietnam, except for social media platforms, all other sources of information are controlled by the State.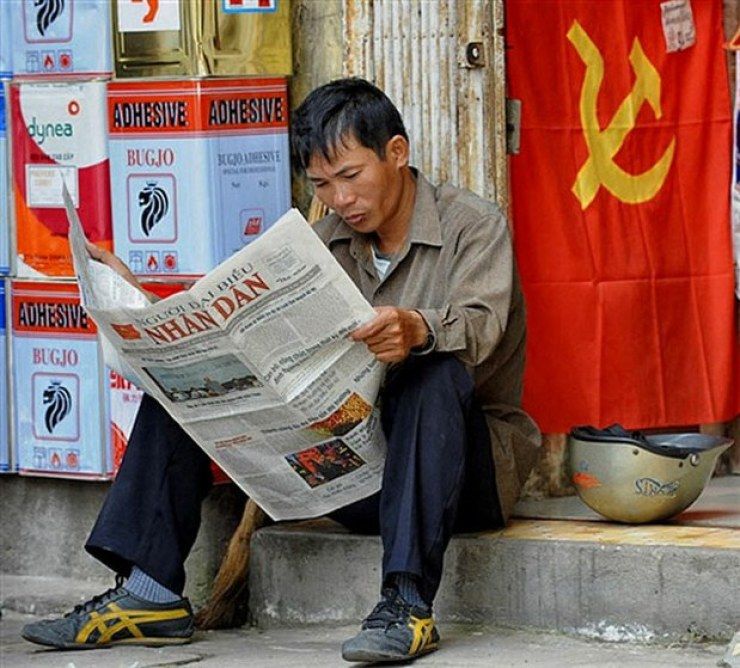 Imagine for a moment that you live in a neighborhood where residents can buy groceries at only one store. Whatever the store is selling will decide what you eat each day. If the commodities are plentiful and diverse, your family can be assured that they will receive proper nutrition. However, if what is being sold is neither nutritious nor varied, you are left with no other choice than to accept what the store has available. In other words, your family's health and yours depend entirely on what the store owner has for sale.
Now, let's visualize that there are lots of stores in your neighborhood. In case you dislike what's available in one, you can go to another instead. Better products will be available to you since competition exists among the stores to provide the best goods and services. They respect your demands because satisfying their customers' needs means they get more enormous profits.
Controlling the press is similar to allowing people to do their shopping at only one store. For decades, Vietnamese authorities have dictated what people should know and what they should not;  they have decided which media outlets are permitted to operate, how they should function, and which types of news are not allowed to be released. This whole mechanism determines what information you can get and how you can obtain it.
Thus, the responsibility falls on an independent press to become the best way for information to reach the people. An ordinary civilian has no time to look into matters that don't personally affect his or her life. Take, for example, the suspicious construction of toll booths, a stretch of forest cleared and made into a golf course, the sale of counterfeit medicines, corrupt government officials, the misallocation of the national budget, and the troubles in reforming the education system. For all these things to reach the ears of the masses, we need the involvement of the free press. Only when journalists are free from the risk of persecution and imprisonment can they provide this critical information.
Regrettably, each of us has been forced to do our shopping at the only one store for a tremendously long time. Even worse, we dare not speak about our need for information because it is too dangerous. Some of us do not even know what information we need in the first place.
Without proper access to information, the people are robbed of their right to make counter-arguments, and they become increasingly less and less able to make their voices heard. Eventually, they relinquish their own land's mastership and become puppets of those who hold the strings.
---
This article was written in Vietnamese by Tan Thanh and was previously published in the Luat Khoa Magazine on April 24, 2021.