"The dream for authoritarian regimes is to reap the fruits of electoral legitimacy without running the risks of democratic uncertainty."
Andreas Schedler, professor of political science.
Despite being a one-party state, the Vietnamese Constitution does allow non-party members and self-nominated candidates to compete for the National Assembly election. Because of this, the Vietnamese Communist Party (VCP) often claims that elections in Vietnam are democratic and represent the true will of the people.
However, the story is not that simple.
Self-nominated candidates, especially those who are independent and without affiliation with the VCP, experience extreme hardships in their election races, as the VCP deploys multiple tactics to barricade truly independent candidates from winning elections.
In 2016, a group of activists, dissidents, and non-party members decided to nominate themselves en masse to run in the National Assembly election. Their objective? Not to win. Instead, they hoped to shed light on the unfairness of Vietnamese elections and the VCP's treatment of genuinely independent candidates.
Some media outlets called the phenomenon a "democratic experience." Some researchers considered it as Vietnam's one-of-a-kind social movement, in which participants collectively mobilized and presented unprecedented coordination.
Stanford University post-doctoral fellow Nhu Truong examines the self-nomination movement in her article "Opposition Repertoires under Authoritarian Rule: Vietnam's 2016 Self-Nomination Movement." She documents the movement and argues that it happened due to the combination of two factors: the right timing and the common activist interests of the participants. Her research focuses on those who exclusively identified themselves with the movement.
Nhu Truong is a scholar of the Walter H. Shorenstein Asia-Pacific Research Center at Stanford University, specializing in authoritarianism and communist regimes. Her article appeared in Cambridge University's academic publication Journal of East Asian Studies.
The Movement
How did the movement happen? If Vietnam allows non-party and self-nominated candidates, did any similar movements happen before?
Self-nominated candidates are actually not a new phenomenon in Vietnam because it has been allowed since 1992. State officials have also repeatedly affirmed that discrimination against independent candidates is illegal.
However, genuinely independent candidates remain incredibly underrepresented. This is because not all self-nominated candidates are non-party members or without VCP affiliations. The VCP might even back some self-nominated party members to win to appear more democratic.
Even if we assume all self-nominated candidates are independent and present opposition to the VCP, the number is awfully inadequate. Over the years, less than 1 percent of self-nominees eventually won their election. Non-party delegates in the National Assembly have never exceeded 15 percent.
Why? Because, like its Chinese counterpart, the VCP has many tactics to manipulate elections to its own benefit.
Aware of the severe lack of political diversity, a group of activists, dissidents, and non-party members collectively nominated themselves to prove that the electoral system in Vietnam is rigged and discriminatory.
Unlike self-nominees before and after them, these self-nominees stood out because of their planned collective mobilization. The movement started as the result of a famous civil society activist Nguyen Quang A, who issued a rallying call on Facebook. Nguyen Quang A laid out a rational action plan, including adhering to current legal frameworks despite its shortcomings and establishing collective support groups online for self-nominees to help each other.
A list of over 30 self-nominated, non-party candidates was then presented on the movement's Facebook page. These candidates publicly aligned with the movement as well as its slogan "My rights, I exercise"(Quyền ta, ta cứ làm), which stresses the movement's adherence to the law in Vietnam.
The list of candidates included many prominent activists and dissidents other than Nguyen Quang A, such as human rights lawyer Vo An Don, who defended exile blogger Mother Mushroom, journalist Nguyen Tuong Thuy, who led an association of independent journalists and recently jailed activist Nguyen Thuy Hanh.
Unfortunately, all self-nominated candidates who aligned themselves with the movement were eliminated before getting their names on the ballot. Despite getting 100 percent of approval from his meeting with local constituents (one of the steps in the election procedure), Tran Dang Tuan, the former director-general of the state-controlled Vietnam National Television, was later disqualified by the National Election Council.
The Council did not cite any particular reasons for eliminating him.
In the 2016 election, only two self-nominated candidates were elected. Both of them were VCP members.
This movement, as Dr. Truong pointed out, might not strictly qualify as a "social movement" in its scientific definition as a "sustained campaign of claim-making" that uses "repeated performance" to advertise the cause, and has a common identity based on "networks, tradition, and solidarities." It is because the movement lacked a cohesive common identity despite massive coordination and a shared social circle.
However, this self-nominated movement is still useful to understand the collective political mobilization in Vietnam.
The Right Timing
All politicians need good timing in order to broaden their chance of getting elected, especially for non-party candidates running in an election in an authoritarian state. And indeed, the 2016 election presented a lot of opportunities for independent party critics to rise.
The period leading up to the 2016 election was a particularly bad time for the VCP with a prominent corruption scandal of former Prime Minister Nguyen Tan Dung that resulted in party elites infighting, and the first-ever vote of no confidence in the National Assembly. The years 2011-2016 also witnessed numerous incidents causing massive outrage, such as the Formosa environmental disaster case, which caused serious environmental consequences and cost human lives.
This period of time witnessed an "expansion of public criticism," according to scholar Benedict Kerkvliet. There were protests all over the country, not only because of the Formosa case but also because of the  Hanoi local government's decision to replace and/or cut down around 6,700 trees for an urban project. There were also nationalist protests, which condemned China's sovereign claims in the South China Sea and called out the government's dependence on China.
At the same time, the Trans-Pacific Partnership (TPP) agreement between the United States and Vietnam, which was signed in early 2016, pressured Vietnam to entertain domestic reforms as a part of the deal. TPP also advocated the government to let civil societies participate in policymaking. Activists viewed this as a golden opportunity.
But good timing and a favorable political climate were not enough to form such a collective mobilization, even though they were indeed important, argued Nhu Truong. The movement was made possible also by the struggles shared between the activists, which motivated them to mobilize together.
The Common Struggle
Nationalism, environmentalism, and democratization are the three common activist spheres of those participating in the movement. According to Nhu Truong, those who were concerned with all three spheres of social contention were most likely to join the self-nomination movement.
This is because those who participated in all three activist spheres were more likely to form a relationship with each other. No one initially thought that they would participate in such a movement, but common advocacy activities allowed them to meet both online and offline, resulting in common social circles that are valuable for collective mobilization.
This linkage was also intensified by the intense usage of social media in Vietnam and later proved to be useful through Nguyen Quang A's rallying call on Facebook.
Therefore, the self-nomination movement in 2016 should not be viewed as a separate and impulsive movement, but rather the consequence of years of activism and shared frustration with the VCP.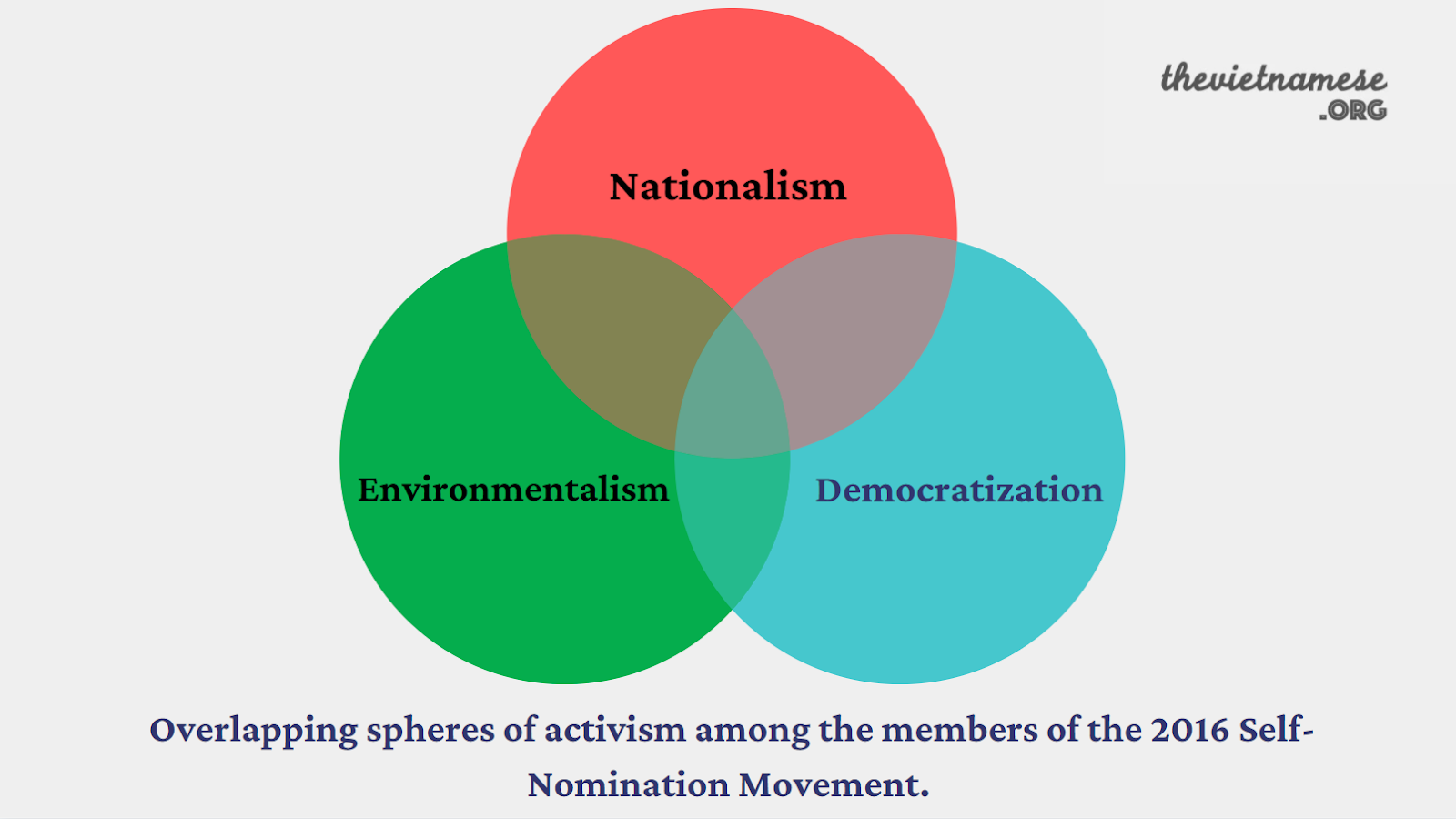 The Regime's Response
Without a doubt, the regime was not happy with such a movement. There were typical efforts to discredit the movement's participants via the state-controlled media, by accusing them of "distorting and smearing" the regime and the election, "preparing a coup," and "being backed by the reactionary press and terrorists."
There was only some rare and minimum support from government officials. For example, Vu Trong Kim, the secretary-general of Vietnam Fatherland Front, an organization aligned with the VCP, said that "No one is allowed to create difficulties for the self-nominees, that is against the law."
All candidates in the movement were still eliminated before getting their names on the ballot, if not by the VCP-controlled local voters then by the VCP-influenced National Election Council.
But the regime did not stop at simply disqualifying the candidates. Although it did not forcefully suppress the movement, it still monitored and harassed important figures, such as Nguyen Quang A. Notably, he was arrested on his way to a meeting with then U.S President Barack Obama.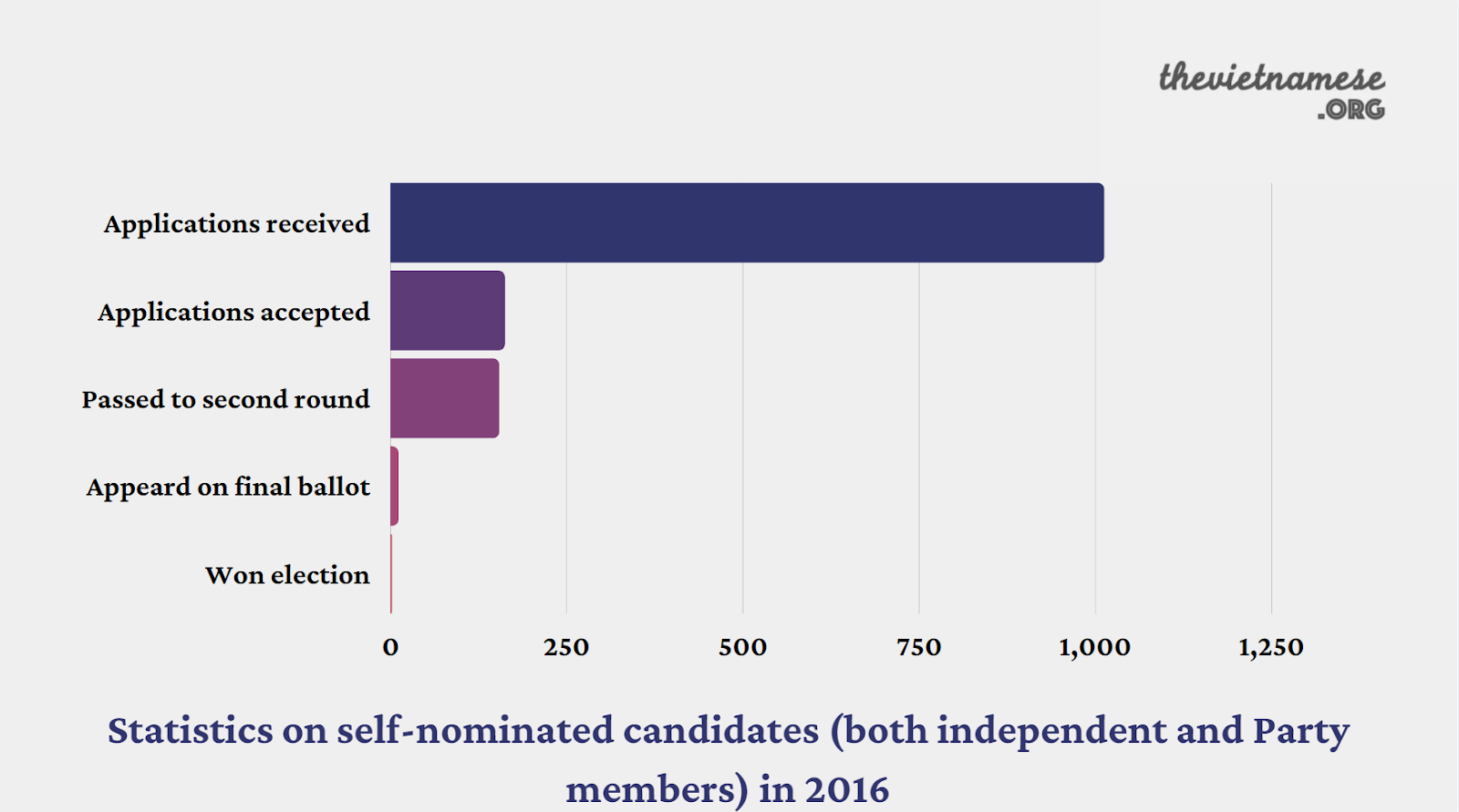 In the end, the regime still consistently claimed that elections in Vietnam are democratic because everyone could run for election, regardless of party membership. The self-nomination movement in 2016 proves otherwise.