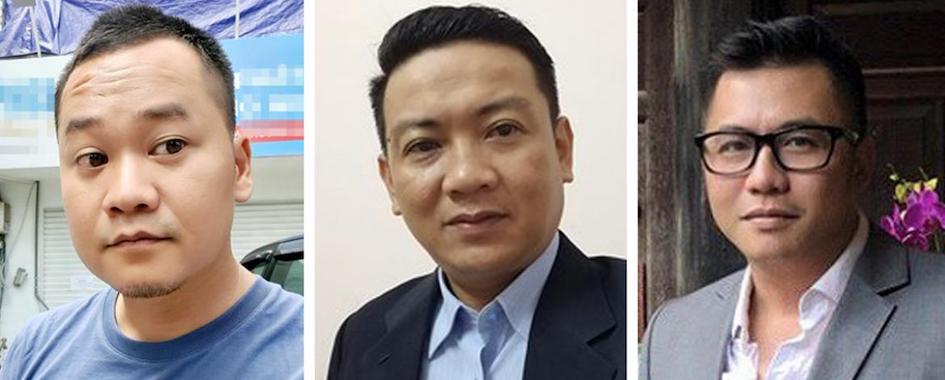 Vietnam Briefing: A Busy Week Of Cracking Down On Freedom Of Speech
We release the Vietnam Briefing every Monday morning, Vietnam time.
---
Three Vietnamese journalists arrested over reporting on 'toll booth' schemes
Quote from RFA:
"Police in southern Vietnam's Can Tho City on Tuesday arrested three independent journalists connected with the publishing of articles online last year criticizing toll booths set up under a controversial infrastructure funding program, state media sources said.
Nguyen Thanh Nha, Doan Kien Giang, and Nguyen Phuoc Trung Bao—all writers for the popular Facebook page Clean Newspaper, which discusses Vietnamese social issues—were taken into custody in connection with an investigation into the activities of journalist Truong Chau Huu Danh, who was arrested in December."
---
Vietnamese journalist gets eight years for 'anti-state' writings
Quote from RFA:
"A court in Vietnam sentenced a journalist to eight years Friday for writing anti-state stories and sharing them on social media, her lawyer told RFA.
The People's Court in the south-central coastal province of Phu Yen convicted Tran Thi Tuyet Dieu of violating article 117 of the Vietnamese penal code for 'creating, storing and disseminating information and materials against the Socialist Republic of Vietnam.'"
---
Vietnamese Facebook user jailed for two years for 'abusing democratic rights'
Quote from RFA:
"A court in southern Vietnam's Can Tho City on Thursday sentenced a Facebook user to two years in prison for posting articles and livestream videos criticizing Vietnam's communist government online, family members and media sources said.
Le Thi Binh, born in 1976, was arrested in December and charged with 'abusing the rights to freedom and democracy to threaten the interests of the state' under Article 331 of Vietnam's 2015 Penal Code. Her elder brother, Le Minh The, had completed a two-year jail term on the same charge in July."
---
International Commission of Jurists (ICJ) filed new submission to the UN, detailing the government's use of laws to suppress freedom of expression
Quote from ICJ:
"The ICJ highlighted in particular how new laws have been enacted in response to the COVID-19 pandemic that aim at or can be used by State authorities to control information about the pandemic. These laws contain provisions incompatible with human rights law and standards as their vague language makes them prone to abuses. In addition, some   prescribe excessive sanctions, including severe criminal penalties, which are incompatible with the principles of necessity and proportionality."
Read the full text here.
---
On foreign affairs
PM wraps up working trip to attend ASEAN Leaders' Meeting (April 25): "On the Myanmar situation, Chinh affirmed that Vietnam, as a non-permanent member of the UN Security Council for 2020-2021. and the Council's president for April 2021, has worked to create favorable conditions for the ASEAN member nations to collaborate closely at UN forums in mobilizing support for the bloc's efforts in approaching and finding suitable solutions to the Myanmar issue."
Vietnamese President chairs UNSC's high-level open debate (April 19): "In his capacity as President of the United Nations Security Council in April 2021, Vietnamese President Nguyen Xuan Phuc on April 19 chaired a High-level Open Debate on 'Cooperation between the UN and regional organizations in enhancing confidence-building and dialogue in conflict prevention and resolution', which was held in both online and in-person formats."
Japan targets Vietnam for first ASEAN oil-sharing deal (April 21): "The deal is part of Japan's attempt to build oil-sharing arrangements with Associations of Southeast Asian Nations members. Under one proposal, each participant would build up individual reserves of crude oil, along with gasoline, diesel fuel and other petroleum products, to prepare for disruptions in supplies."
---
A busy week of the South China Sea issue, too
Vietnamese, Chinese defence ministers hold talks in Hanoi (April 25): " Both sides agreed that the year of 2020 witnessed complicated developments in the world and regional situation with great risks of instability, creating new challenges to the trend of peace, cooperation and development and greatly impacting the security and development environment of all countries."
China, Vietnam agree to boost trust amid South China Sea tensions (April 25): "China and Vietnam have agreed to work together to improve trust amid simmering tensions between the two neighbours over their territorial claims in the South China Sea."
Vietnam building up its maritime militia (April 25): "Vietnam is building up its maritime militia in the South China Sea in an apparent challenge to Chinese efforts to dominate the disputed waterway, according to a Chinese military magazine."
Indonesia, Vietnam renew calls to finish EEZ negotiations (April 25): "Indonesia and Vietnam have renewed calls to finish ongoing negotiations on the delimitation of the maritime boundary between their exclusive economic zones (EEZ) near the South China Sea to provide clarity and avoid incidents in the waters."
Japanese destroyer in Vietnam on friendly visit (April 20): "The visit is part of efforts to boost defense and security cooperation between Vietnam and Japan and maintain the countries' strategic partnership, officials said."
India offers help to Vietnam in warship-building & maintenance (April 20): "India on Tuesday offered all possible help by its defence and other shipyards to Vietnam in construction and maintenance of warships, build."
---
New research on Vietnam's politics
Newsletter
Join the newsletter to receive the latest updates in your inbox.
---