The aftermath of the war left Vietnam in shambles. As the conflict that raged and surged within its borders came to an end, the country was left bleeding, battered, and broken. With millions dead, an almost non-existent economy, and a bleak uncertain future under the questionable leadership of the Communist Party, Vietnam was beginning to look more and more like a lost cause, destined to be another failed state under the selfish rule of tyrannical forces.
However, no one would have expected Vietnam to be where it stands today.
Since Vietnam opened its economy to international trade in 1986, the country has undergone a massive and abrupt shift. It morphed from being one of the poorest nations in the world to being one of the fastest growing economies in Southeast Asia. Case in point, between the years 2002 to 2018, Vietnam's GDP increased 2.7 times which, according to the World Bank, lifted 45 million people out of poverty.
Vietnam's economy has also shown surprising resilience in the face of the ongoing global pandemic. While other countries in the Southeast Asian sphere have been greatly suffering due to COVID-19, Vietnam has been keeping itself afloat; some might even argue that it is thriving.
Aside from keeping infection rates under control, Vietnam's GDP actually grew a surprising 2.6 percent in the third quarter of last year, passing even Singapore and Malaysia. Because of its commendable handling of the pandemic and its perceived economic stability, Vietnam is shaping up to be an alternate hub for manufacturing as international businesses begin to pull out of China.
Yet, economic growth and financial stability is only one way to measure the worth of a nation. While Vietnam seems to be doing admirably well in this regard, it is floundering in several other aspects. To be more specific, in its observation of human rights, and in the protection of several of its most marginalized citizens.
The Human Rights Measurement Initiative's (HRMI) 2020 Country Report on Vietnam presents several findings that both highlight Vietnam's economic success and its key failings as a country.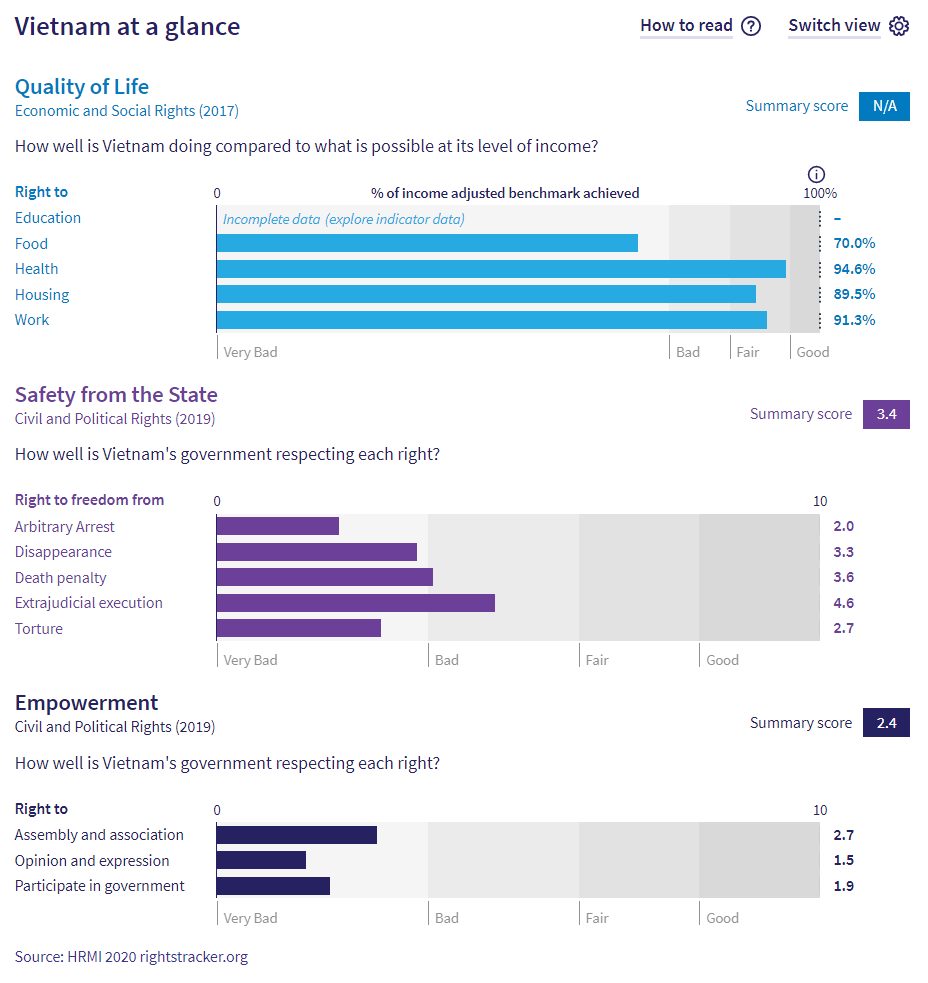 In terms of Quality of Life, Vietnam has performed reasonably well in the categories of Health, Housing, and Work but its ranking regarding food accessibility still falls below the benchmark.
This report states that "Vietnam is performing better than many countries in East Asia for the rights to housing (89.5%), work (91.3%), and health (94.6%). This suggests that the Vietnamese government is using its resources fairly effectively so that people have access to housing and work. These scores have also increased steadily since 2007, suggesting that the quality of life in Vietnam is increasing."
However, in regards to food, the Human Rights Measurement Initiative also believes that Vietnam could manage its resources better to ensure that more of its citizens do not go hungry.
It is also important to take note of some caveats in the given information. The report makes an effort to highlight the fact that Housing does not actually refer to having a place to live in.
Rather, it refers to sanitation access and access to potable drinking water. As such, several respondents have stated that some people are at risk of having these rights violated. Some of these people include street children, homeless youth, and surprisingly, human rights advocates.
The category for Work also needs slight clarification. The 91.3 percent figure refers to people who are NOT absolutely poor. This means that anyone who lives on more than a meager amount of  US$3.20 a day is counted towards this number.
Granted, even with Vietnam's less than stellar performance regarding food accessibility and concerns regarding housing and work, what the Vietnamese government has done so far is, to a small degree, admirable and we have to give credit where credit is due, political beliefs notwithstanding. If we go solely by the data presented regarding Quality of Life, and also taking into consideration the state Vietnam was in after the war, what it has accomplished is somewhat commendable.
But the report does not end there. And as more information is presented, the more sinister reality behind the facade begins to reveal itself.
Regarding the upholding of civil and political rights, it is clear that Vietnam is performing miserably. In all aspects presented in the report under the categories of  Safety from the State and Empowerment, Vietnam's scores range from Bad to Very Bad and these scores have only been getting worse with the passage of time.
The data heavily implies that the Vietnamese government doesn't seem to care about protecting, or even at the very least acknowledging, the universal human rights of its citizens.
The report also notes several groups of people whose rights are at most danger of being violated. One fact that immediately stands out is that these groups are common in all the lists provided within the report itself. Some of these people-at-risk include: members of labour unions, people engaged in or suspected of political violence, journalists, people with particular religious beliefs and practices, immigrants, and human rights advocates.
In general, if a person has particular political affiliations or beliefs that don't align with what the Vietnamese government espouses, or if they believe in a religion that isn't part of the mainstream zeitgeist, their rights to work, freedom from arbitrary arrest, freedom from disappearance, freedom from torture, assembly and association, and freedom of opinion and expression are actively hindered, ignored, or violated by the government.
In effect,  the HRMI report presents a two-faced Vietnam.
On the one hand, you have Vietnam as a rising cub economy. This is the face of Vietnam that is often read or heard about in mainstream news outlets.
This is the Vietnam that Western economists praise to high heavens for being able to steer itself away from total collapse towards some semblance of stability and even growth. This is the Vietnam that the communist  government wants its citizens to be proud of.
On the other hand, you have Vietnam as a heartless oppressor of its own people. This is the Vietnam that is willing to go to drastic lengths to silence or restrict any form of discontent, dissent, and differing points of view.
This is the Vietnam that shows no concern for those it tramples under its heels as it marches forward towards a selfish vision of progress and growth that benefits only those who hold the reins.
This is the Vietnam that is willing to pay for the price of progress with the rights, liberties, and lives of its own citizens.
This is the face that very few get to see.
But it doesn't have to be this way. There are many avenues to progress and growth, and the road is never set in stone. History has shown us time and time again that nations formed on a foundation of dialogue, compromise, and free speech tend to outlast the rest and stand firm against the test of time.
Governments can work with their citizens, even with those who hold beliefs or thoughts that go against the grain to bring about benefits that everyone can enjoy. This kind of progress is possible, and it is attainable.
However, the question isn't "Can Vietnam go on this path?" The response to this should be apparent; if Vietnam can pull itself from the brink of collapse to be where it is today, of course it can.
In reality, the question stands as such,"Is the Vietnamese government willing to do so?"
And this query is a lot harder to answer.