"I believe my life is firmly tied to the nation's."
For at least the past 12 years, Pham Doan Trang has been one of the most prominent names in Vietnamese politics, and her arrest on October 6, 2020, has her staring down 20 years in prison.
So, who is Pham Doan Trang?
---
Pham Doan Trang
Birth name: Pham Thi Doan Trang
Birthdate: May 27, 1978
Birthplace: Hanoi
Profession: Democracy activist, journalist
Location: Currently being held in Temporary Detention Camp #1, Alley 702, Phuc Dien Ward, Nam Tu Liem District, Hanoi.
Quotations without citations are taken from writings on Doan Trang's blog: phamdoantrang.com.
---
Growing up with the music of the Beatles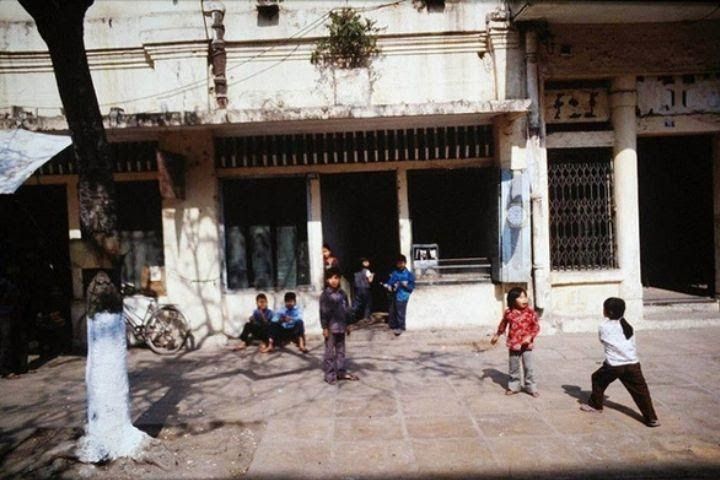 Pham Doan Trang is the youngest child in a family of teachers. Her grandparents taught history and math at Hang Ken School, and her mother and father were also teachers. During the subsidy period, Doan Trang grew up in a poor residential area in southern Hanoi. Shewrote about her childhood in her blog:
Like many other children, I was scared of ghosts. This fear only grew when we had to sleep amidst blackouts so dark we couldn't see our own fingers. Looking out the window, the alleyways were pitch black. There was a burned-out house whose gray walls were charred black. The owner of the house had died in a fire long ago, and no one lived there anymore. There was another house in which the husband and wife died in an accident, and the children lived with the grandparents; no one dared go there either.
In 2nd grade, a neighbor's cassette player strongly stirred little Doan Trang's curiosity as it played Beatles' songs one after the other. Her soul was set aflutter with these hits. From that point on, she began studying English so she could sing Beatles songs.
"In 7th grade, I began struggling with my neighbor's cassette player to listen to and transcribe the songs where I tried my best to record the lyrics," she said. "I started borrowing my friends' personal songbooks where they had the lyrics written out to transcribe the Beatles songs, complete with incorrect English spellings and spotty grammar…. I grew up with the music of the Beatles".
---
In college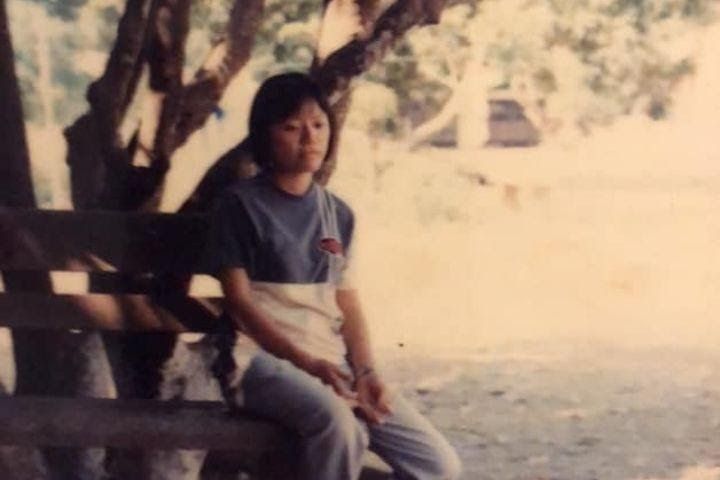 From 1996-2000, Doan Trang studied at Hanoi Foreign Trade University, majoring in international economics. It was during this time that she and her classmates first connected to the internet. In her blog, she described her college years in Vietnam:
Back then, the internet was only barely establishing itself in Vietnam, and students were quite shy and cautious when surfing online…. We didn't have books, but we could already see the events in reality were not really accurately described in those books anyway. Moreover, who would let the students just willy-nilly visit the companies and large organizations to find out the truth…. Because of that, students of my time especially focused on studying the one resource that was most useful: online economic articles, either written or translated by journalists. Countless generations of economics students got their education through these articles.
---
Baby steps towards journalism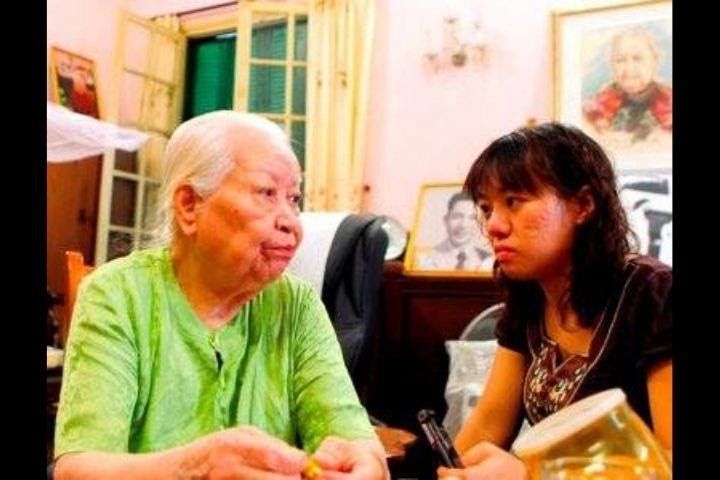 In the winter of 2000, after graduating from university, Doan Trang began a stint at the e-newspaper VnExpress, which had just been established. She wrote about that time in her blog:
I remember fondly the winter of 2000, those days and months when I was just starting out in journalism. Sometimes when I think back, I picture myself as a child, dazed and naïve, scared of everything and everyone. I was scared of many things, but most of all, I was scared of miswriting.
After a period of time as newsroom secretary at VnExpress, Doan Trang switched over to television at the digital TV channel VTC (Vietnam Television Corporation).
During her journalism career, Doan Trang has stated that with the exception of sports, she wrote about all sorts of topics—including those which couldn't be published in the media.
---
"Trang the Ridiculous"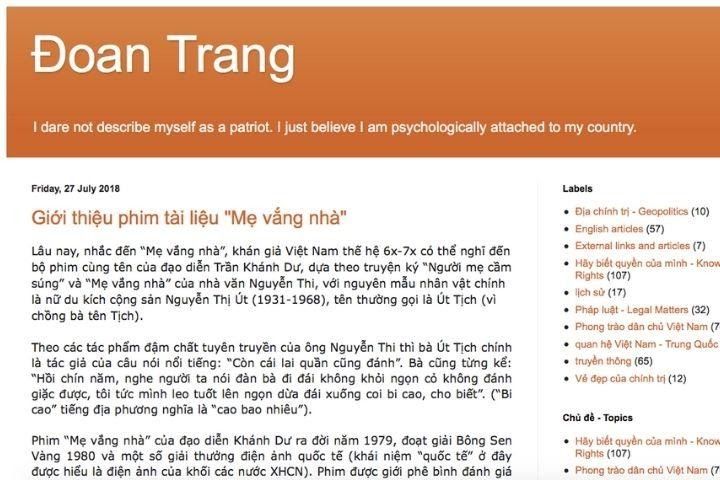 In August 2006, Doan Trang established her blog phamdoantrang.org, which helped her connect with friends in and outside the country, as well as providing her with a platform with which to write about things that could not be published in the media. The blog remains to this day.
When writing her blog, she used the name "Trang the Ridiculous".
"I started my blog … originally and purely as a means to practice writing in English," she wrote. "As such, you can see right away that Trang the Ridiculous' blog became a gathering place for the ridiculous and the recalcitrant."
After a number of years, Doan Trang's blog moved beyond its original purpose.
---
Sympathizing with the weak
One of the many things that haunted Doan Trang was the fate of the weak around her.
When I was young and living with my parents in a poor neighborhood in southern Hanoi, I remember the women who shouted to themselves, hoarse out of fear and hopelessness, "my child, oh my child…." I remember the tired faces of those struggling to survive, working countless jobs with no names: pedaling cyclos and bicycles, repairing shoes, carving chopsticks, etc. I remember asking myself why so many people around me died young; I once asked my friend, why is human life here worth so little, and he responded: "Whose life? You think your life is worth something?"
"If I had the power to change anything in Vietnam," she wrote, "I would say that the country lacks an environment where human beings are respected."
---
Speaking up is tied to the nation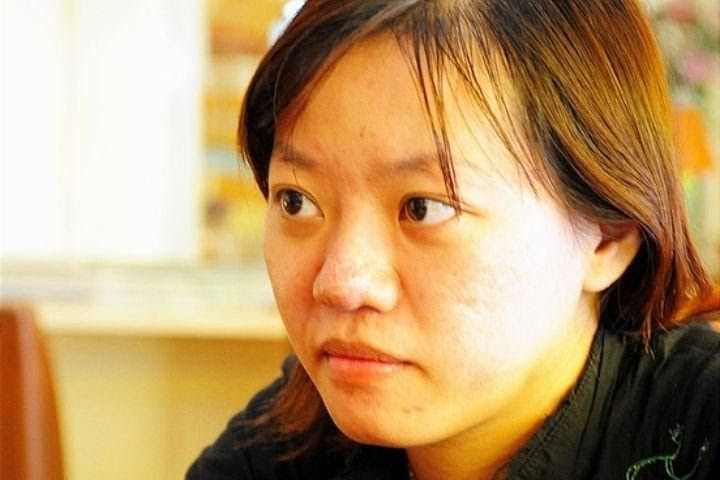 Doan Trang once wrote on her blog that life would be so much easier if we closed our eyes to the suffering around us.
She has said that the first reason most people don't say what they think is innate fear, fear of being blamed, fear of responsibility, fear of isolation. The second reason is, perhaps, that people are not perceptive enough to see the problem or their self-interest in the problem. Even worse, they may only see the penalty in speaking up, believing that speaking up won't change anything anyway; maybe they feel that the problem is not even relevant to them.
I've worked in a number of organizations, and I recognize that people will speak up, and only speak up, when they see themselves as part of the organization. People only strongly attach themselves to the nation when they feel they have shared visions for the future; only then will they feel inspired to turn these visions into reality.
---
Quitting VTC Television
In March 2007, Doan Trang announced that she would step down from VTC and move to the e-newspaper VietNamNet.
I was like many of us: obsessed with working in television, to the point of madness. I brought (just a portion of) the flame I had from when I was 12 or13 and 19 or 20 to my time working as a visual journalist at VietNamNet TV. I was fortunate that I didn't pour my whole self into it, otherwise I would have lost even more than I did those 10 years. One day, the pragmatic voice inside of me cried out: "Trang, is it worth it?".
---
Mobilizing for LGBT rights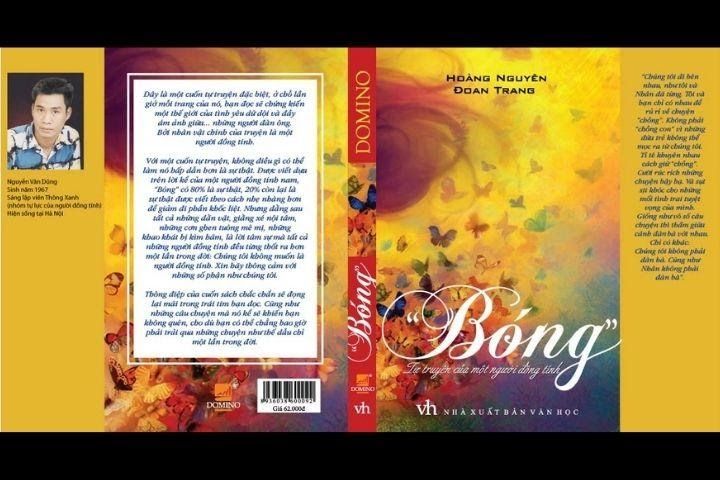 In 2007, a man named Nguyen Van Dung recounted his life and the LGBT world he inhabited in a trailblazing book called Glass – Biography of a Gay Man, authored by Doan Trang and Hoang Nguyen.
The biography shook society, revealing for the first time the world of LGBT in Vietnam.
Nguyen Van Dung became a popular figure and one of Doan Trang's friends, and the book, which was used to mobilize for LGBT rights, became a bestseller.
---
Working as a state journalist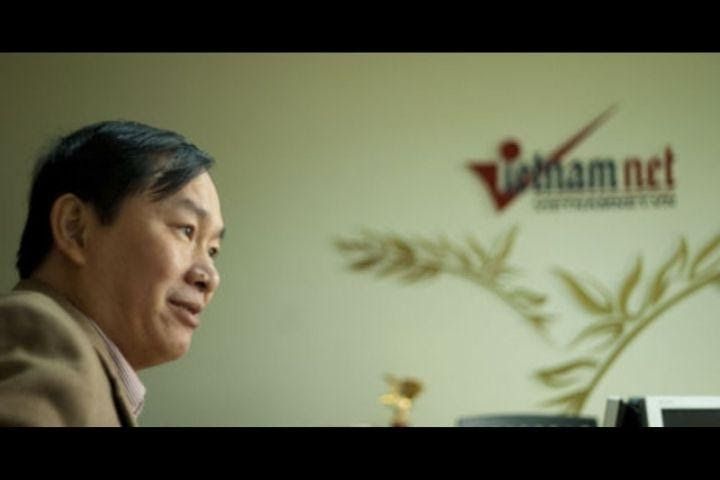 In 2008-2009, Doan Trang became the first Vietnamese journalist to write an in-depth analysis on Sino-Vietnamese relations. The articles resonated strongly among Vietnamees when they  appeared in Vietnam Weekly, a specialty page of VietNamNet.
Prior to that, at the end of 2007, bloggers in Hanoi and Ho Chi Minh City organized ground-breaking protests to oppose China's establishment of Tam Sa (Sansha) City, an island in the disputed area of the sea, which Vietnam also claims sovereignty over.
In 2007, Doan Trang wrote extensively about her experiences as a journalist in Vietnam.
I like being around those who are different from me, especially those who are quirky or even eccentric. I crave novelty. So, I rarely regret spending too much time or energy on work. I don't think you can excel at something if you don't love it. And if you love it and you do it well, in turn, it will change you in positive ways. Obviously, [overworking] can still ruin your life, but unhappiness can spring even from one's happiness.
However, never will I be an effective journalist if I feel unhappiness weighing down on my heart.
If you're a Vietnamese journalist, you'll have many more reasons to feel sad. Whether this sadness is worthwhile depends on you. But if you sincerely want peace, perhaps you shouldn't become a journalist.
---
Detained for nine days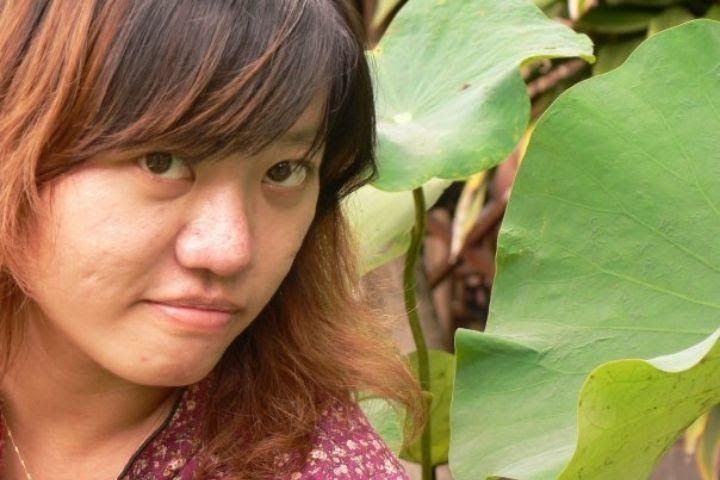 In 2009, an unexpected event caused Doan Trang's life to veer in a different direction.
On August 27, 2009, blogger Wind Trader, whose real name is Bui Thanh Hieu, was arrested. The next day, Doan Trang was also arrested, and then blogger Mother Mushroom, whose real name is Nguyen Ngoc Nhu Quynh, was arrested a few days after that.
Police stated that all three individuals had infringed upon national security by printing t-shirts opposing the establishment of bauxite mines in the Central Highlands.
All three individuals were released one after the other after nine days in detention. At the time, Doan Trang was a reporter for Vietnam Weekly (VietnamNet). She wrote about her detention in her blog:
Among the three bloggers, I was perhaps the most 'unjustly' arrested; I didn't participate in the t-shirt printing at all, had never laid eyes on the shirts, or even been consulted about them. Now, when I occasionally think back to that event, it's of one sad thought: I didn't even get to wear my shirt, not even once….
---
Fired by VietnamNet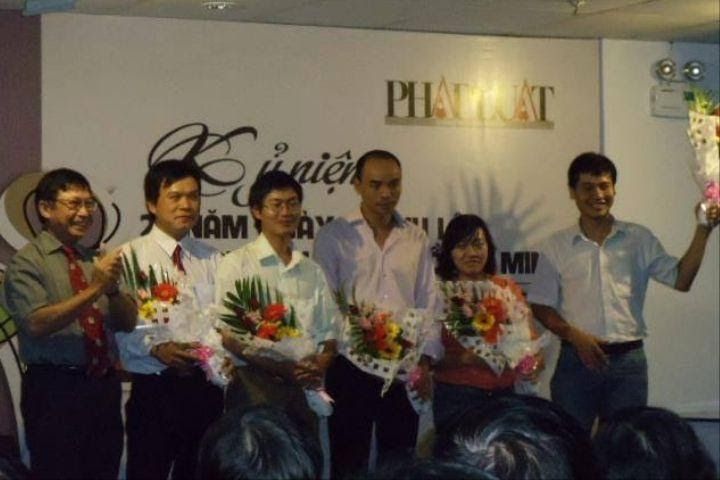 After her arrest and detention in 2009, Doan Trang was fired by VietnamNet; no reason was given.
During the dark, depressing winter days of 2009, [Professor Dang Phong] remained one of three individuals who helped me keep the flame alive. I couldn't give in to their rottenness. I couldn't.
During the dark, depressing winter days of 2009, [Professor Dang Phong] remained one of three individuals who helped me keep the flame alive. I couldn't give in to their rottenness. I couldn't.
After that upheaval, Doan Trang went to work for the Ho Chi Minh City Law newspaper.
I was lucky to cross paths with Ho Chi Minh City Law newspaper during those difficult days, when the lingering effects of my time in detention remained serious, when I lived under constant suspicion and when I myself couldn't trust anyone.
---
"A history of Vietnamese blogs"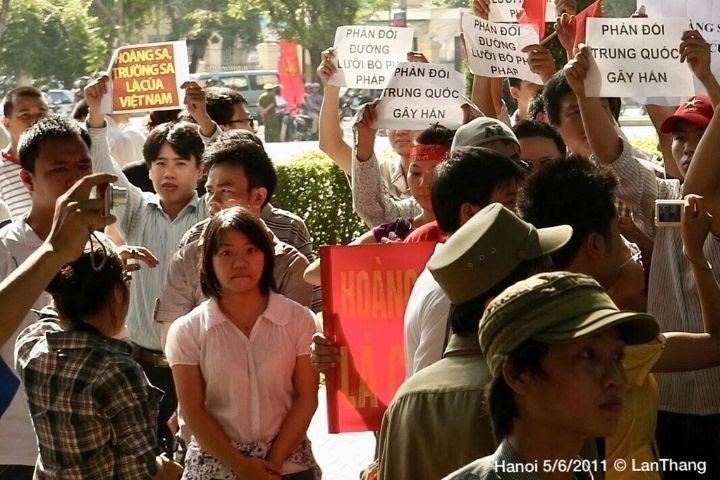 In June 2012, Doan Trang released "A History of Vietnamese Blogs" on her personal blog to mark the 7th anniversary of  Yahoo! 360°'s arrival in Vietnam. Yahoo! 360° opened up a world of information for Vietnamese citizens. It became the online literary movement and provided social and political commentaries.
In addition to working for Ho Chi Minh City Law newspaper, Doan Trang also wrote articles for other publications, including Tia Sang (Ray of Light), Nhip Cau The Gioi (Global Span – a Vietnamese newspaper in Hungary), and a number of other publications.
During this period, Doan Trang continued to write in-depth analyses on Sino-Vietnamese relations. She was the first journalist in Vietnam to write about the Vietnam-China dispute over the South China Sea, which was a very politically sensitive issue in the country that the government just started to lift up its censorship in the past five years.
On the morning of August 5, 2012, Doan Trang was arrested when she participated in an anti-China protest in Hanoi. This arrest led Doan Trang to become more involved with human rights activities and began her works as a Human Rights Defender in Vietnam.
---
Pham Doan Trang became a Human Rights Defender
In 2012, Doan Trang became one of the first Vietnamese journalists to report on human rights violations occurring inside the country to the outside world.
That same year, Scrap Paper (Giay Vun) Publishing House published Doan Trang's book And the Fourth Power, as well as a number of other works of which she was co-author, including The F Generation. In the same year, Knowledge Publishing House published Vietnam and the East Sea Dispute, which Doan Trang co-authored.
In March 2013, as the Vietnamese government was seeking citizen feedback on its new draft of the Constitution, Doan Trang began writing a series of articles called What I Tell Myself and Others, which sought to disseminate basic knowledge about politics and human rights where she wrote:
Isn't this an amazing opportunity for us to learn about our Constitution, the law, constitutionality, human rights and citizens' rights…? This writer asks for even more: this is an occasion to push all of us Vietnamese citizens, especially young people, to try caring about politics a bit more. How about it?
---
Moving away from state journalism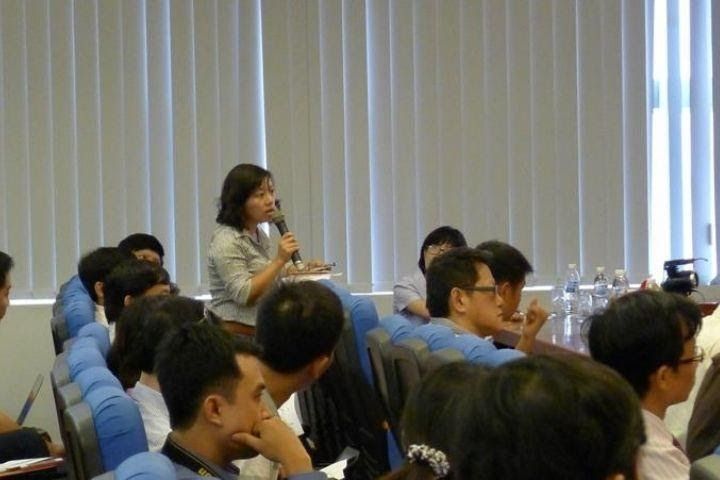 In 2013, Doan Trang announced that she was leaving Ho Chi Minh City Law. By this point, she had worked for more than 10 different state media outlets. She then made the decision to go overseas and participate in international advocacy.
The next year, Doan Trang traveled to the United States at the invitation of Villa Aurora, a prestigious artists' residence, and the University of Southern California.
---
Human rights advocacy for Vietnam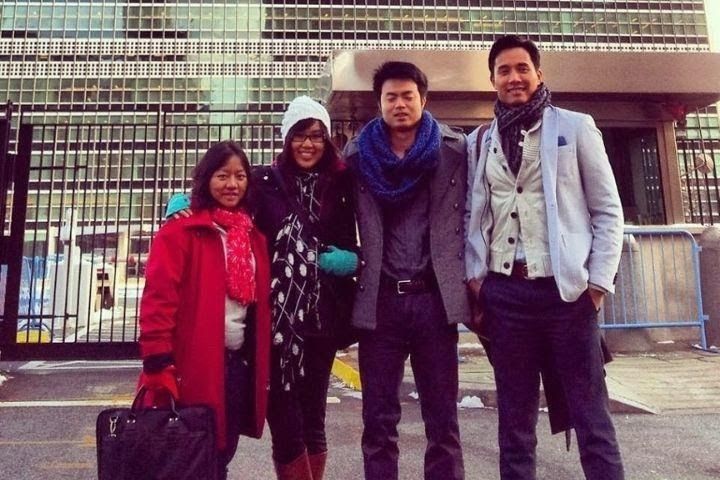 From the end of 2013, Doan Trang embarked on many trips to the United States, Europe, and Thailand to advocate for human rights in Vietnam. In particular, Doan Trang was part of a delegation of civil society advocates during a number of international events, including the Universal Periodic Review session on human rights at the UN in February 2014 and the Canadian Senate hearings on human rights in Vietnam in April 2014.
---
Co-founding Luat Khoa Magazine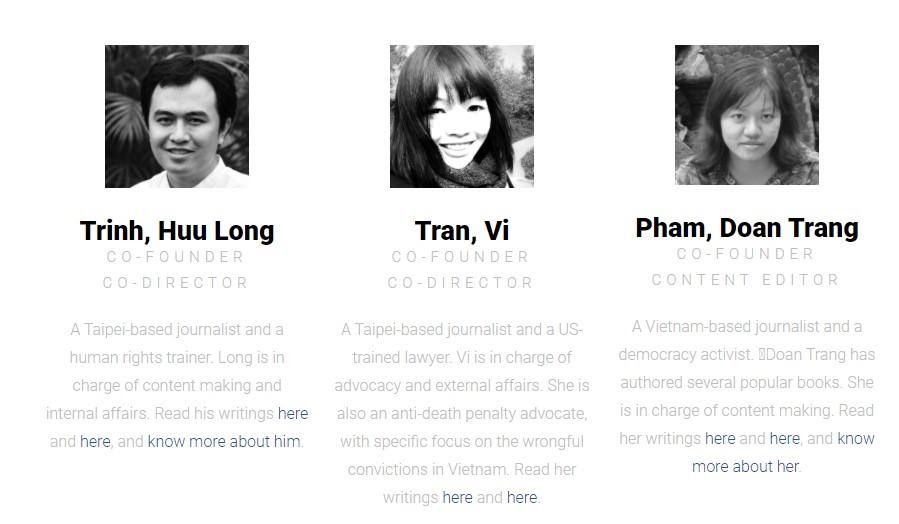 On November 5, 2014, readers first laid eyes on Luat Khoa Magazine, a publication dedicated to law, politics, and human rights and founded by Doan Trang and a number of others.
In her blog, she introduced Luat Khoa:
I understand the fear of not knowing anything about the law, of not knowing even where to begin to escape that immense jungle. I understand how overwhelming these things can be, and I know (in part) what it's like to be involved in matters related to "courts" with a voice too weak to have any say, not knowing what to do or who to believe, never mind using the law to defend oneself….
Broadly speaking, discovering the law and studying jurisprudence are the first steps on the road to building a state governed by rule of law.
---
Police retaliation upon returning home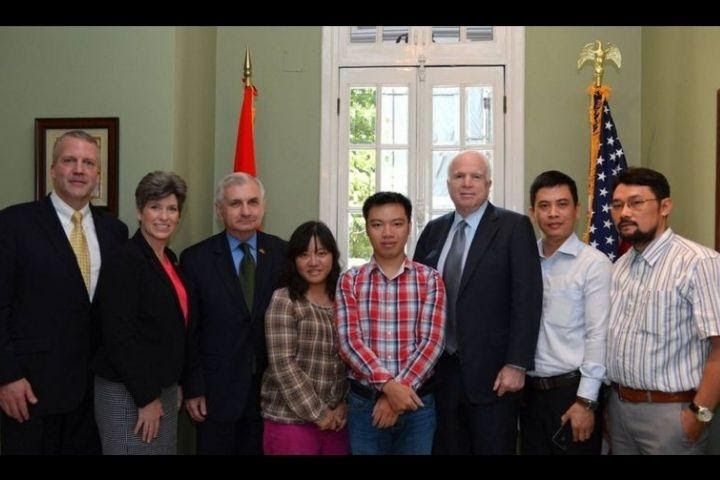 On January 26, 2015, Doan Trang returned to Vietnam. She was detained at the airport for 15 hours and was closely monitored after returning home. Afterwards, she was arbitrarily arrested by police when she served as a translator for the families of death row inmates Ho Duy Hai and Nguyen Van Chuong in an advocacy meeting with the New Zealand Embassy in Hanoi.
Two weeks after she returned to Vietnam, police disseminated explicit pictures of Doan Trang taken from her computer, which they had confiscated six years earlier.
In March 2015, police poured glue into the locks of Doan Trang's home, preventing her from attending a meeting at the German Embassy in Hanoi.
---
Assaulted by police during protests against felling trees in Hanoi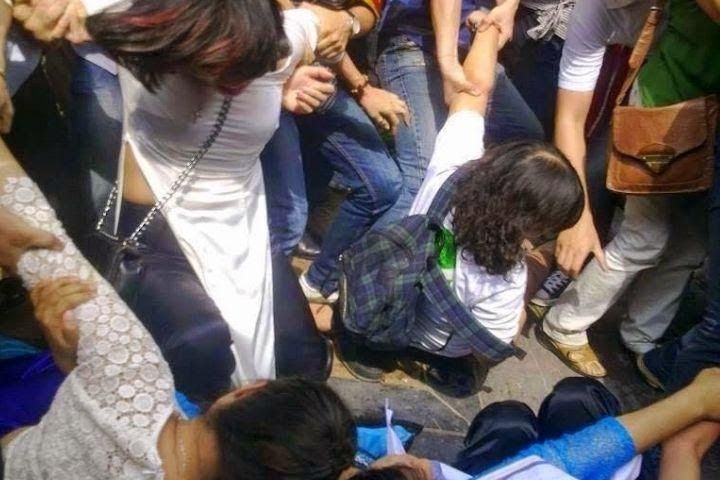 On the morning of April 26, 2015, the group For a Green Hanoi organized a march to prevent the Hanoi authorities from cutting down trees in the city. During the protest, police strong-armed Doan Trang and many other protestors onto buses. Doan Trang recalled the incident:
After the march was disrupted on Sunday, when everyone was gathered in front of the Long Bien district police station, Mr. La Viet Dung checked in on me: "You were dragged over a manhole this morning, weren't you?" he asked.
I remember I was lost in the middle of the crowd, images rushing past in a blur, but I recall seeing a stretch of green sky and a sea of undulating faces, young and old, of both the citizens and police.
---
Demanding the release of individuals at the police station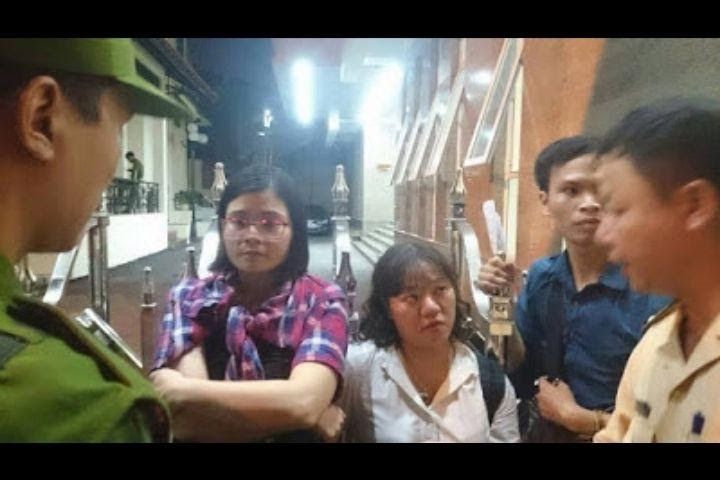 Doan Trang participated in many attempts to free those arbitrarily held at police stations.
On the night of September 23, 2015, six young individuals of the channel Conscience TV were arbitrarily detained. That same day, Doan Trang and other activists arrived at the Hai Ba Trung District police station in Hanoi to demand their release. She and others organized a small protest in front of the station, where they were assaulted by the police.In December 2015, Doan Trang uploaded "Timeline of the capital's tree-felling 'campaign'" in both English and Vietnamese on her blog.
---
Arrested on the way to meet President Barack Obama
In May 2016, Doan Trang took a car from Saigon – where she had just undergone knee surgery – to Hanoi to meet American president Barack Obama. However, she was apprehended by police several hours south of Hanoi and held for 26 hours in  Ninh Binh Province.
After being arbitrarily detained in Ninh Binh, she returned to Saigon and continued to be harassed by police at a friend's residence where she was staying.
From this point onwards, up until her most recent arrest, Doan Trang was repeatedly harassed by police in all sorts of ways. Anytime a diplomatic delegation came to Hanoi, she would be put under house arrest for many weeks prior to its arrival.
---
Resumption of book and report writing on the environment, politics, and human rights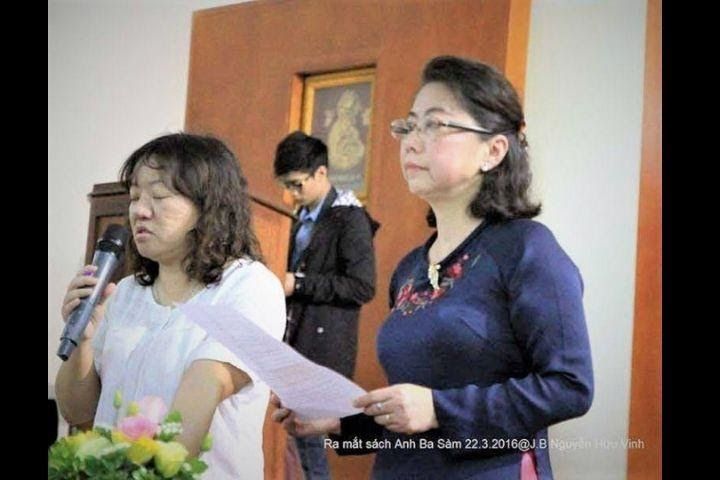 In 2016, Doan Trang participated in writing and editing the bilingual (English-Vietnamese) book Anh Ba Sam, about blogger Anh Ba Sam, whose real name is Nguyen Huu Vinh. The book was released on Amazon a week before Mr. Vinh's preliminary trial in March 2016.
Beginning in February 2016, as the Vietnamese government was organizing elections for representatives of the National Assembly's 14th term and of the People's Councils at all levels, Doan Trang wrote a good deal about the processes on her blog.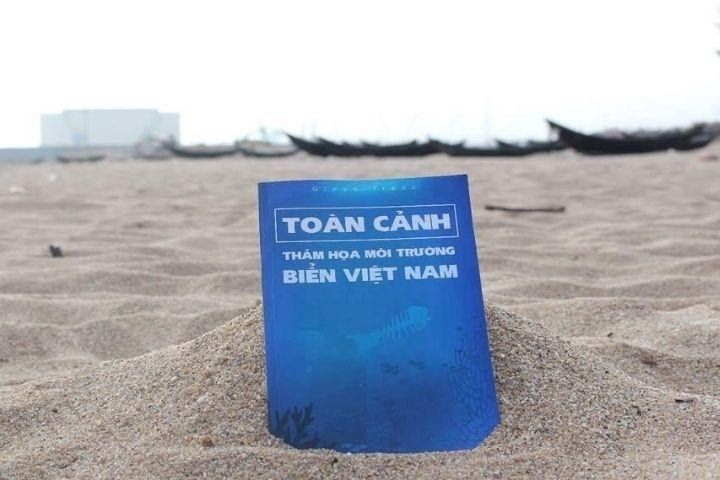 In October 2016, the group Green Trees published the book Overview of Vietnam's Marine Environmental Disaster on Amazon, with Doan Trang and other activists as co-authors. The book laid out the timeline of events during and after Hung Nghiep Formosa Ha Tinh's polluting of beaches in mid-2016. Also in the same year, the book From Facebook Down to the Streets was published on Amazon.
---
Supporting other activists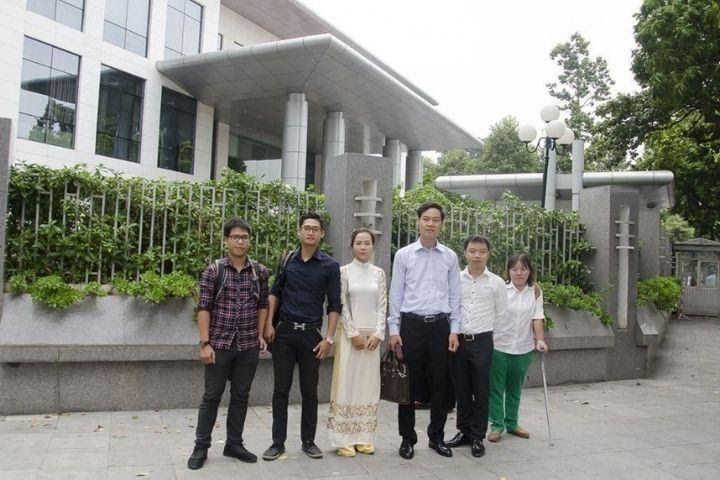 Few outsiders know that Doan Trang is more than just an activist; she also guides young people on how to become activists themselves. For these young people, she is a rare kind of teacher, imparting on them knowledge and skills that they can't learn anywhere else.
---
The days writing Politics for the Common People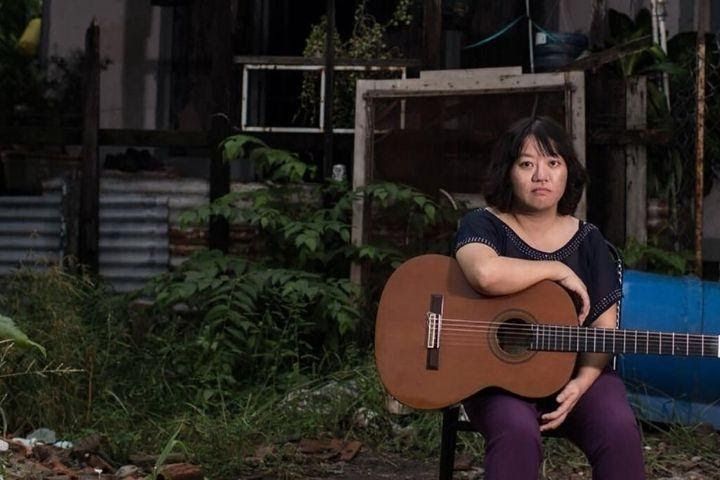 In 2017, Doan Trang wrote Politics for the Common People while she was under house arrest in Hanoi. In July 2017, she left Hanoi for Saigon in order to evade police harassment.
On September 22, 2017, Politics for the Common People was published by Scrap Paper Publishing House and  Green Trees. The book aimed to spread basic political knowledge to everyday people, especially the young involved in social and human rights activism.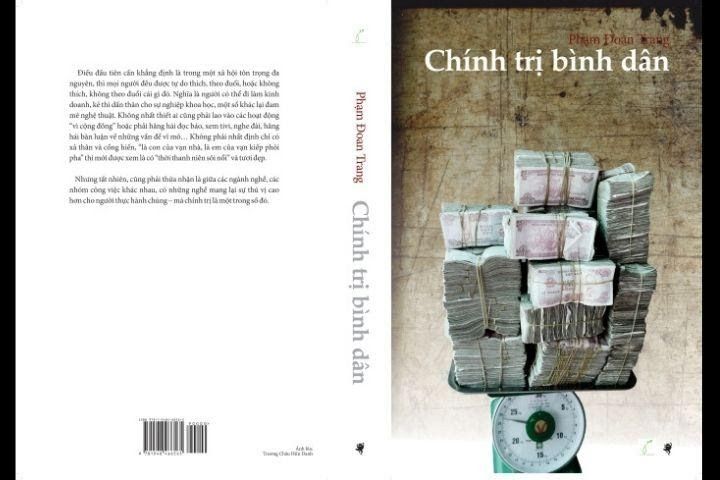 I wrote [Politics for the Common People] while under tight police supervision in Hanoi; I couldn't do anything or go anywhere. I felt like I couldn't breathe—literally…. Meanwhile, in some other location, their boss, sitting in an air-conditioned room, directed them to closely follow the 'suspect', research the suspect's habits, her daily routine, her path to and from home, and how items are arranged in her house….
If I didn't have my guitar by my side, I probably would've gone insane…. But, to me, all of that isn't important; what's important is that people read the book. The more people that read it, the better.
In 2017 and 2018, Doan Trang stated that at least 300 copies of Politics for the Common People were confiscated by Danang police as they were being transported from Poland to Vietnam.
Link to purchase the book: Amazon (print), Smashwords (digital).
---
Receiving the Homo Homini Award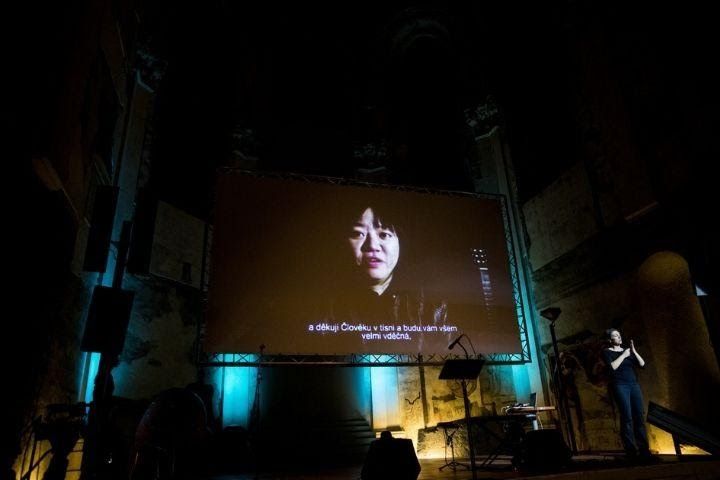 In February 2018, People In Need, an internationally-renowned non-profit organization based in the Czech Republic, bestowed upon Doan Trang the Homo Homini Award, given annually to honor valiant political and human rights activists and journalists across the world. Doan Trang was unable to leave Vietnam to receive the award.
---
Days of horror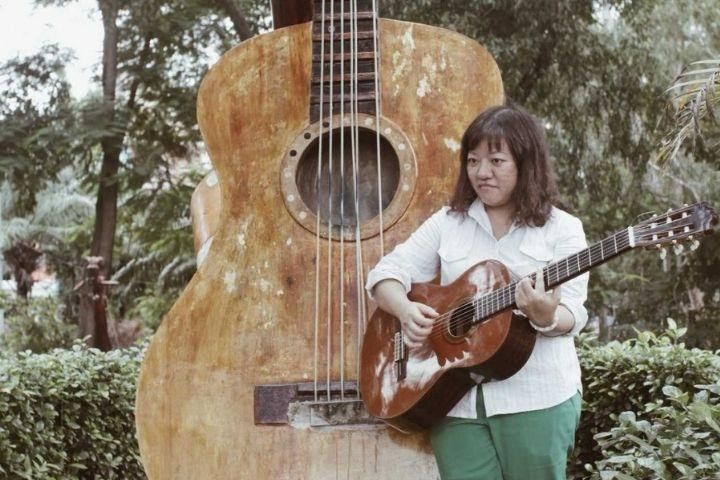 In February 2018, Doan Trang was kidnapped by police and interrogated about Politics for the Common People; upon returning home to Hanoi to celebrate the Lunar New Year with her family, she was put under house arrest.
At the beginning of March, police continued to hold her captive as she tried to find ways to escape Hanoi. Ultimately, Doan Trang was able to escape to Saigon, but her health was quite frail.
One day at the end of May, Doan Trang returned to Hanoi. As soon as she stepped off the bus in Hanoi, police were waiting for her. She was forced to resume house arrest because the authorities were afraid she would "instigate" the masses to protest two bills: the SEZ Law and the Cybersecurity Law.
With the help of friends and readers, Doan Trang escaped the Hanoi police one more time, traveling to Saigon. During this escape, she seriously injured her hands climbing over high walls, which she did in spite of her aching knees.
---
The next book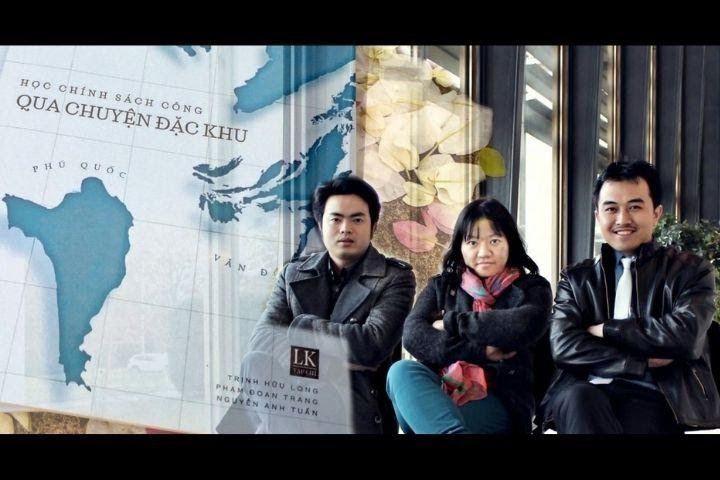 In June 2018, when protests against the two proposed laws broke out, Doan Trang joined hands with jurist Trinh Huu Long and activist Nguyen Anh Tuan to write Studying Public Policy through the Case of SEZs. In mid-December 2018, the book was published by Luat Khoa Magazine.
---
Admitted to the hospital after a brutal police assault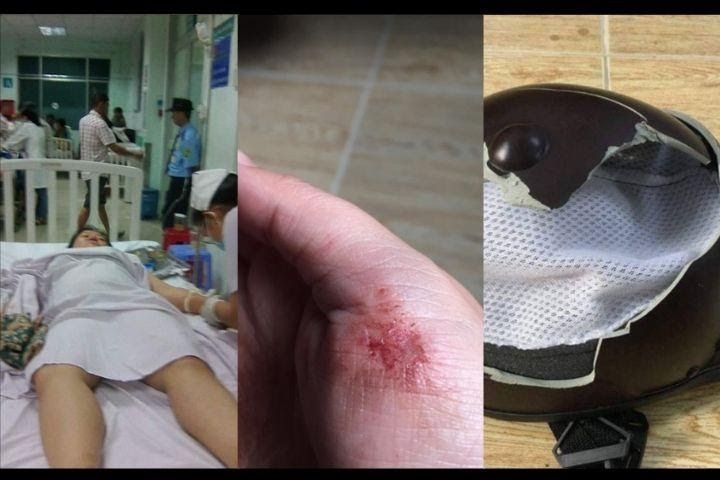 On August 15, 2018, Doan Trang was assaulted by plainclothes police while attending an evening concert by singer Nguyen Tin. The concert was broken up by police, who interrogated and beat both organizers and attendees.
Doan Trang recounted how six plainclothes police officers beat her with a motorcycle helmet and some custom-made weapons. Police confiscated her computer and I.D. documents during the event.
The next day, she was admitted to the hospital suffering a concussion. At the hospital, police kept an eye on her as though she were a criminal; no friends or readers were allowed to speak with her. She was bedridden for the next three weeks.
Only later did Doan Trang learn that the concert was disrupted by police because they suspected Doan Trang was going to use the event to distribute Politics for the Common People and other "anti-state" materials.
---
Homeless
Doan Trang's living situation became increasingly precarious as she no longer had her identification papers and police scoured for her everywhere. Vietnam's tenant registration system effectively worked to make life difficult for an independent journalist like her. She believes that police even forced her neighbors in Hanoi to sign pledges to immediately report her if they saw her.
In January 2019, Loc Hung Garden – where Doan Trang was living – was torn down by the authorities. From then on, half her time and energy was spent trying to find a place to live while on the run from police and while her hands and feet were seriously injured. Doan Trang was unable to walk more than a few hundred meters and could not ride a motorcycle.
Injured and exhausted, Doan Trang felt her journalism career was coming to a close in the face of relentless government pursuit.
---
Unable to live a normal life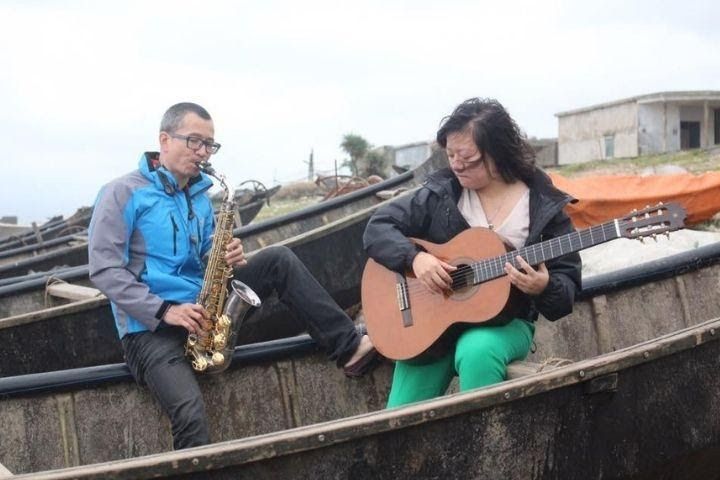 For more than three years beginning in July 2017, Doan Trang lived in at least 60 different locations across Vietnam. She traveled for over three years on a pair of injured legs, weighed down by a pervasive fear, while being constantly beaten, assaulted, and beleaguered by police. She described her life in her blog:
Working as an independent journalist and author under a totalitarian regime means that you can be arrested and interrogated, even assaulted, at any time without any way to protect yourself and unable to freely move around the country….
One could also be placed under house arrest or become essentially homeless. You can't go out and enjoy yourself or even walk down the street because someone could be following you, or even worse, a complete stranger could suddenly attack you from behind.
Your family is closely monitored, and police might make trouble for your friends and supporters .… You have to live with the perpetual feeling that you are an enemy of the state, deserving of punishment ….
You certainly won't die, because they have no intention of killing you. But you can no longer live normally like other people or like you had before. Misery, depression, and mental breakdowns will all pile on to wreak havoc and slowly kill you.
---
Receiving the Press Freedom Award from Reporters Without Borders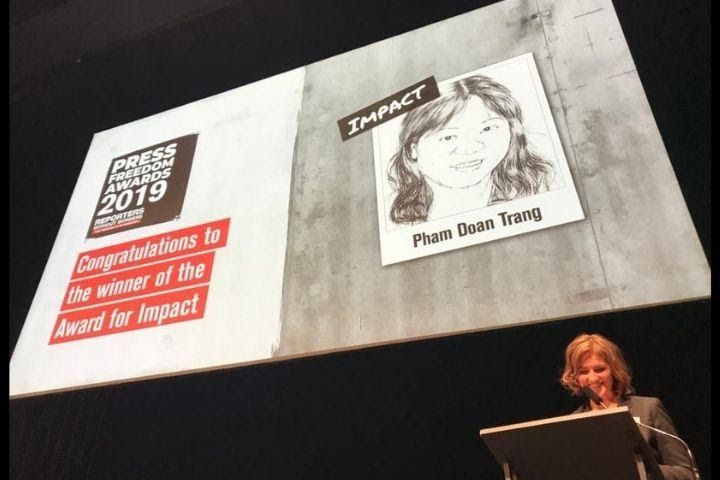 On September 12, 2019, Reporters Without Borders awarded Doan Trang the 2019 Press Freedom Award Prize for Impact.
Responding to BBC Vietnamese, Doan Trang spoke of her wishes after receiving the prize:
I hope that in the near future, more people in Vietnam will continue to strongly speak up, to express their views and political opinions on social and political matters.
I especially hope for the appearance of more writers, more independent journalists, more professional bloggers, and even more state journalists, who will participate in democratizing society through the media."
---
Unable to live and unable to write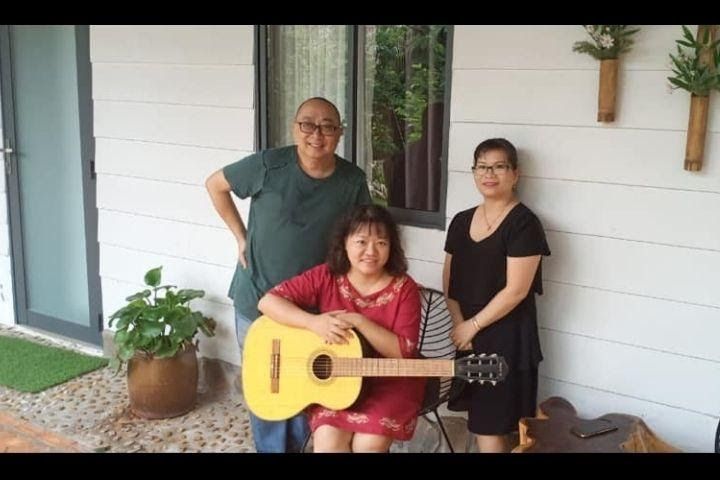 In her most trying days, Doan Trang was neither able to live nor to write.
In February 2019, she founded and became an editor for Liberal Publishing House.
In 2019, Liberal Publishing House published two of Doan Trang's books: Politics of a Police State and Non-violent Resistance; Luat Khoa Magazine also published her book A Handbook for Families of Prisoners.
In July 2020, Doan Trang and a number of translators announced that they would publish the book Fighting Impunity, translated from a work by Safeguard Defenders providing instructions on how to use Magnitsky Laws to sanction human rights violators. In addition, Liberal Publishing House also produced other works on human rights, politics, and democracy.
After Liberal Publishing House released a number of books and reports, police sought to disrupt its activities by any means possible. Many book distributors and recipients were followed, threatened, and assaulted by the authorities.
---
Report on the Dong Tam Village Incident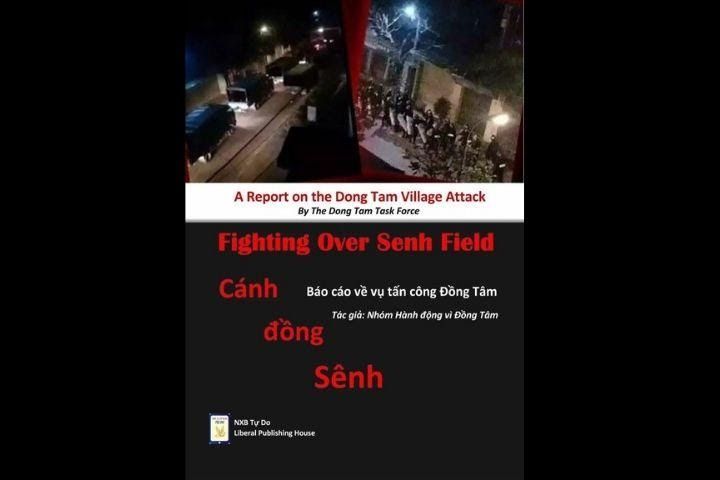 In February 2020, a month after riot police shot at Dong Tam villagers in the middle of the night, Liberal Publishing House published a bilingual (English-Vietnamese) work called Fighting over Senh Field: A Report on the Dong Tam Village Attack.
Fighting over Senh Field had five authors, including: Doan Trang, activist Will Nguyen, and activists Can Thi Theu and her two sons Trinh Ba Phuong and Trinh Ba Tu. Ms. Theu and her two sons were arrested before the preliminary trial for murder and obstruction of officials in Dong Tam.
---
IPA honors Liberal Publishing House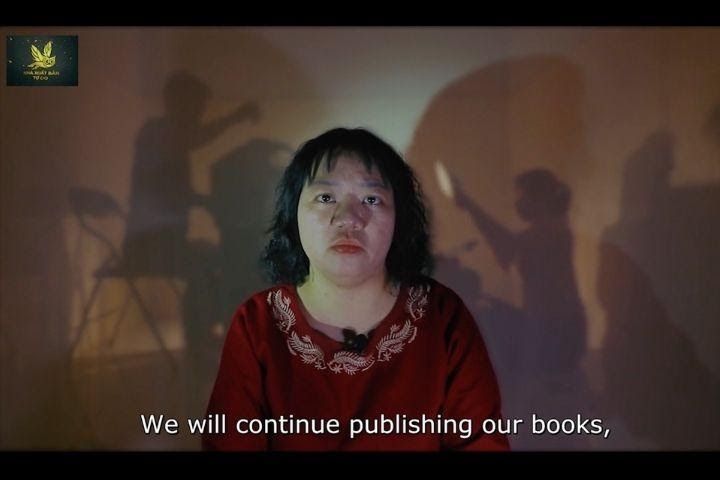 At the beginning of June 2020, the International Publishers Association (IPA), the world's largest association of publishers,  awarded Liberal Publishing House the Prix Voltaire 2020 Award. The award is given to publishing organizations around the world that best embody IPA's spirit of independent publishing.
At the beginning of July 2020, Doan Trang announced her withdrawal from Liberal Publishing House, citing her "ailing health" and "security threats to members of LPH".
A few weeks later, Liberal Publishing House became embroiled in a scandal after Doan Trang publicly accused a high-level manager in the organization of corruption. The spat dragged on, with the other side claiming that Doan Trang's accusations were false. The matter remains to be settled, but the person whom Doan Trang accused also withdrew from Liberal Publishing House.
---
Arrested after the third report on Dong Tam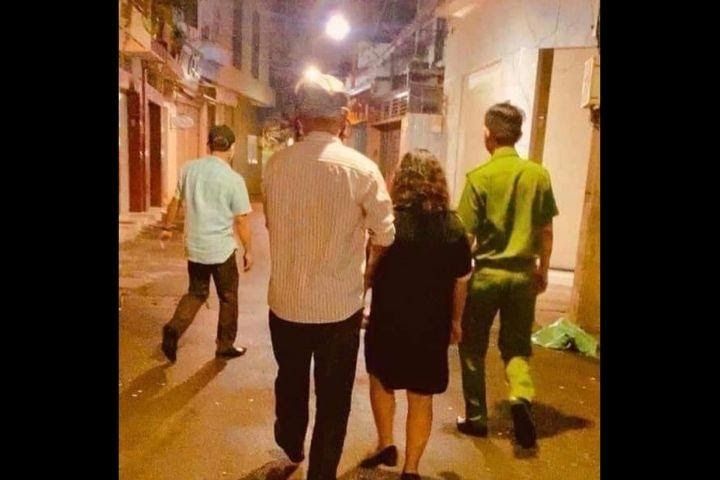 At 11:30 pm on the night of October 6, 2020, Ho Chi Minh City Police arrested Doan Trang, and extradited her to Hanoi the following day.
Police charged her with "propaganda against the state" as stipulated in Article 88 of the 1999 Penal Code and "making, storing, or distributing information, materials, and items to oppose the State" as stipulated in Article 117 of the 2015 Penal Code.
Police arrested Doan Trang on the very day Vietnam and the United States held their annual human rights dialogue, detaining her shortly after the event ended.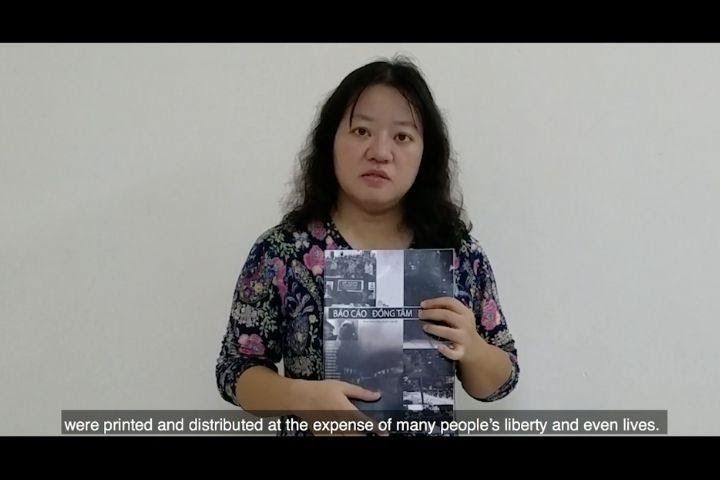 Shortly before her arrest, Doan Trang and Will Nguyen had announced the release of the 3rd edition of the Dong Tam Report, in both English and Vietnamese.
Doan Trang introduced the report on Facebook: "On September 25, we released the 3rd and most complete edition of the Dong Tam Report to readers. It is bilingual and twice as thick as the February edition. Strangely, I was also able to break my own personal record: I lost 7 kg of body weight."
Doan Trang's arrest occurred before she was able to participate in a live discussion at the world's most prestigious event for publishers – Frankfurt Bookfair – from October 14-18, 2020. In September 2020, IPA announced on its website that Doan Trang would be attending the event.
---
International response to her arrest
The Vietnamese government's arrest and indictment of journalist Pham Doan Trang sparked a sweeping international backlash.
After her arrest, the Czech Republic's foreign minister Tomáš Petříček recalled on his Twitter and Facebook accounts that Doan Trang had been bestowed the Homo Homini Award for her bravery and contributions to protecting human rights.
US Assistant Secretary of State for Democracy, Human Rights, and Labor, Robert A. Destro, wrote on Twitter that the United States condemned the arrest of activist Pham Doan Trang and called for her immediate release.
International publications such as The New York Times, The Guardian, AP, Reuters, Washington Post, Economist, Bloomberg, Al Jazeera, DW, VOA, BBC, Bangkok Post, The Independent and other media not only reported on Doan Trang's arrest but also depicted how human rights were trampled on in Communist countries like Vietnam.
Many globally prestigious organizations also criticized the Vietnamese government's blatant human rights violations after Doan Trang's arrest. Following are a number of human rights and publishing organizations that have demanded the Vietnamese government release Doan Trang immediately: PEN International, Reporters Without Borders (RSF), Committee to Protect Journalists (CPJ), Federation of European Publishers (FEP), Amnesty International, Front Line Defenders, International Federation for Human Rights, International Federation of Journalists, Institute for War and Peace Reporting…
---
"I'm counting on you"
Doan Trang probably didn't want to be detained, but she knew she would be arrested and sentenced one day. She had long prepared for it.
Right after Doan Trang's arrest, her friends made public  a letter that she had left behind. "Ideally, I'd like to be free (and allowed to stay in Vietnam instead of being expelled), with the goals achieved," she wrote.
She touched upon three objectives that she hoped readers would leverage her imprisonment to achieve.
The first goal was to tie her imprisonment to advocacy for new laws to reform how Vietnam conducts elections and constitutes its National Assembly.
The second one was to encourage people to read her books.
And the third goal was for democracy activists to use her imprisonment to negotiate with the Vietnamese government, with a focus on new legislation for elections and National Assembly formation.
***
In 2011, Doan Trang was still affected by the repercussions of her 2009 arrest. Back then, Trang could have chosen a different path, one that led to a quieter life – but she didn't.
In a 2011 post, she imagined asking her late grandfather:
"Oh grandfather, when you were alive, did you ever think that your grandchild would grow up to be a 'disaffected', 'disruptive', 'danger to national security', grandfather?" And then I would ask him: "Should people love their country, should they tie themselves to their nation, grandfather?"
Today, Doan Trang undoubtedly has an answer.
***
This article was written by Tran Phuong and previously published on Luat Khoa Magazine on October 25, 2020. The translation was done by Will Nguyen.