Kon Tum provincial police formally express the government's position on Falun Gong.
To our readers:
In 2020, we began to publish monthly bulletins on religion in Vietnamese on Luat Khoa and in English on The Vietnamese in order to record events affecting freedom of religion and faith in Vietnam.
In addition to these religion bulletins, Luat Khoa also regularly publishes articles on freedom of religion and it has also created an English-language database on the same topic.
Luat Khoa's efforts in 2020 on freedom of religion remain modest. To prepare content for 2021, we hope readers will contribute suggestions for religious topics at tongiao@luatkhoa.org or editor@thevietnamese.org.
---
[Religion 360*]
Authorities accuse Falun Gong of intending to establish an opposition political force
In December 2020, provincial and municipal authorities continued to block the spread of Falun Gong.
Police and the state-run press have asked citizens not to spread Falun Gong, not to share information regarding the religion on social media, and to report to police anyone "propagandizing" the religion.
Information drawn from the state press indicates that in 2020, the authorities confiscated materials to spread Falun Gong from at least 71 people.
These people were normally stopped as they were individually handing out flyers and gifting keychains and books. No reports indicate that these people spread Falun Gong in any organized manner.
Provincial and municipal authorities have consistently blocked the spread of Falun Gong by citing that the state had yet to permit the distribution of the religion's flyers.
However, in December 2020, Kon Tum provincial police took this policy one step further in expressing the government's position on Falun Gong.
Kon Tum provincial police stated that Falun Gong uses its focus on health and exercise as a cover to lure people into joining the religion. They also accused Falun Gong adherents of asking the government for legal recognition in order to form an opposition political force in Vietnam.
Below are the cities and provinces that have investigated and confiscated materials from Falun Gong practitioners in December 2020.
Hai Duong Province: Keychains with propaganda content confiscated from two people
According to VTC Newspaper, Thanh Mien district police in Hai Duong Province investigated a 61-year-old woman for promoting  Falun Gong among students on December 2, 2020.
The woman was investigated by police for handing out keychains containing a link to a Falun Gong website for students. Police confiscated 190 of the woman's keychains.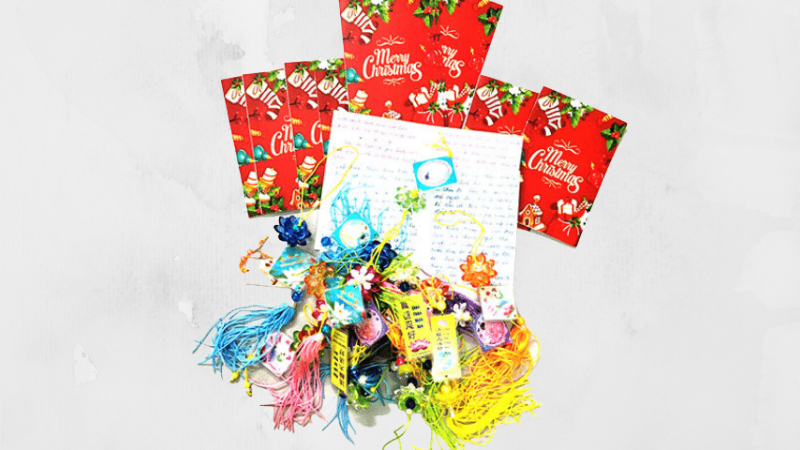 Also in Hai Duong Province, police confiscated 10 greeting cards and 24 keychains belonging to a 26-year-old woman who was handing out materials promoting Falun Gong on December 23, 2020.
Quang Ninh: Falun Gong books and flyers confiscated prior to distribution
On December 29, 2020, Tien Yen district police in Quang Ninh Province reported that they had requested a woman turn in Falun Gong materials that she was storing at her residence. Police confiscated 40 books, 6 flyers, and 10 keychains containing Falun Gong content from the woman.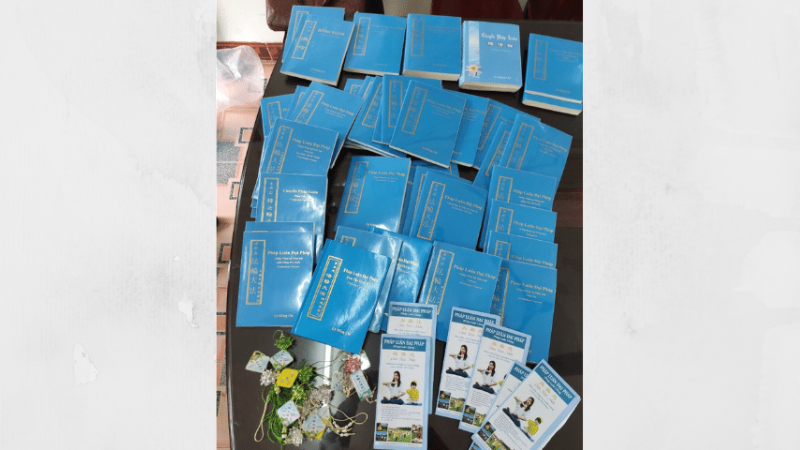 The items were confiscated for containing material promoting Falun Gong, a religion not yet permitted by the state.
Bac Ninh Province: Two Falun Gong students prevented from proselytizing by police
A number of unsourced photographs and videos shared on social media showed two Falun Gong students in Bac Ninh encountering difficulties with police on the night of December 22, 2020.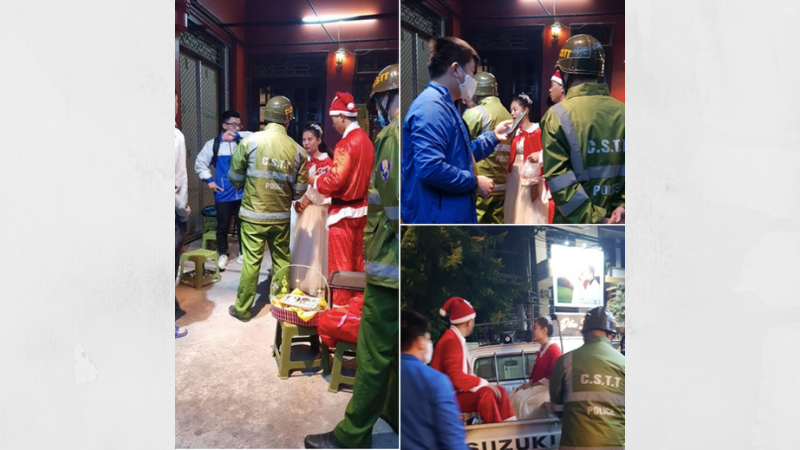 According to the photographs and video, a man and a woman dressed in Santa costumes on the occasion of Christmas spread Falun Gong materials in a public area.
The police officer in the clip stated that a number of Catholics were "upset" at the pair's actions and reported them. Police ordered the two to the police station for questioning.
State journalists have yet to report on this case.
---
Head of Pure Hoa Hao Buddhism's Central Oversight Committee prevented from attending prayer ceremony
On December 15-16, 2020, Can Tho city police prevented Mr. Nguyen Van Dien, head of the Pure Hoa Hao Buddhism's Central Oversight Committee, from attending a prayer ceremony.
According to the Pure Hoa Hao Buddhism, on the afternoon of December 15, 2020, a group of plainclothes individuals from Can Tho city police arrived at Dien's residence to demand that he not attend an important prayer ceremony at its temple.
On the morning of December 16, 2020, police continued to demand that a driver not take Dien to the ceremony.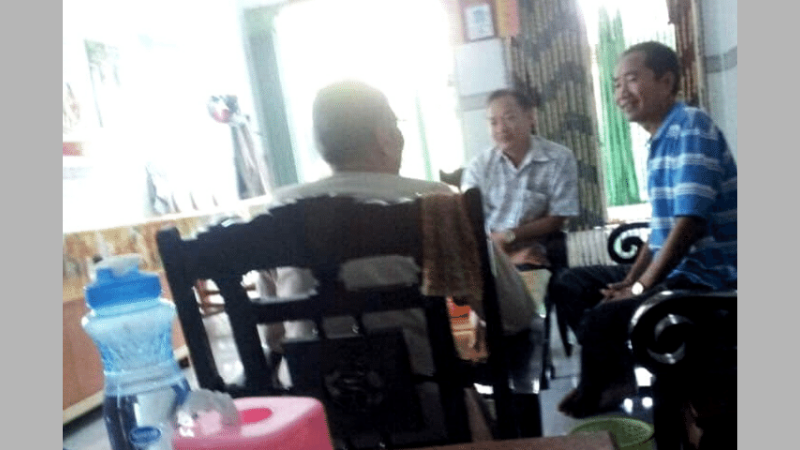 The organization's website stated that police stopped Dien by using COVID-19 and the ban on assemblies as a pretense. However, only Dien was prevented from attending the ceremony. Moreover, other ceremonies in the area were allowed to carry on as normal.
Pure Hoa Hao Buddhism is not recognized by the state. Members of this organization are regularly obstructed at gatherings and events.
---
Ho Chi Minh City authorities return five religious properties to the Saigon Archdiocese
According to the Ho Chi Minh City Party Committee website, municipal authorities  "gifted" five religious properties to the Saigon Archdiocese on December 21, 2020. The reason for this "gift" was not provided.
The Saigon Archdiocese confirmed the return of the religious properties belonging to five parishes: Tan Lap Parish, Cong Thanh Parish (District 2), Tan My Parish (Hoc Mon), Tan Hiep Parish (Hoc Mon), and Binh An Parish (District 8).
The Archdiocese website confirmed that the government had "returned" the properties to them.
According to Archbishop Nguyen Nang's statement during a meeting, these were religious properties that the parishes had lent to the state after 1975 to serve as schools. He stated further that the archdiocese was "delighted to receive back the properties, in order to provide necessary services for parishioners" and that he hoped the other properties would also be returned if the city was able to build new schools.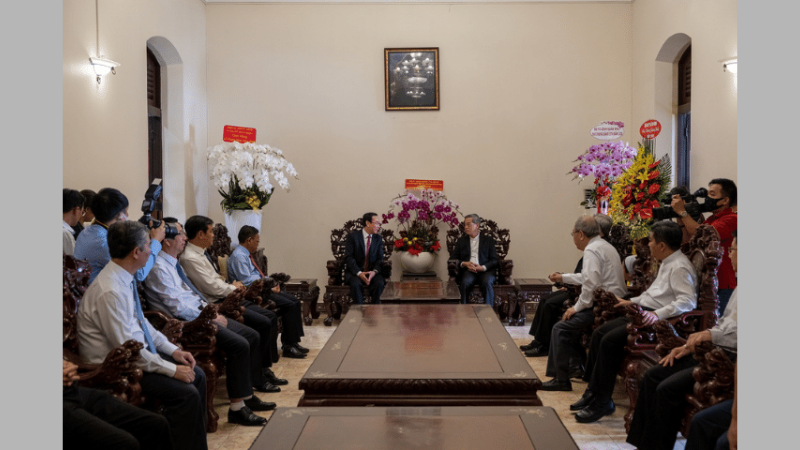 After 1975, Catholic organizations in southern Vietnam lent many properties to the state for educational purposes.
To this day, the number of properties lent has not been precisely established. Conflicts between the state and the Catholic church continue to occur.
---
Thien An Abbey's shrine to the Virgin Mary vandalized
In December 2020, the area around Thien An Abbey that was dedicated as the shrine to the Virgin Mary (Thua Thien – Hue Province) was trespassed upon by strangers many times.
The monks stated that many stone benches and greenery in the area were vandalized and that the grounds of the shrine were sullied with dirt. The abbey has reported the incident to the authorities, but the area around the shrine continues to be vandalized.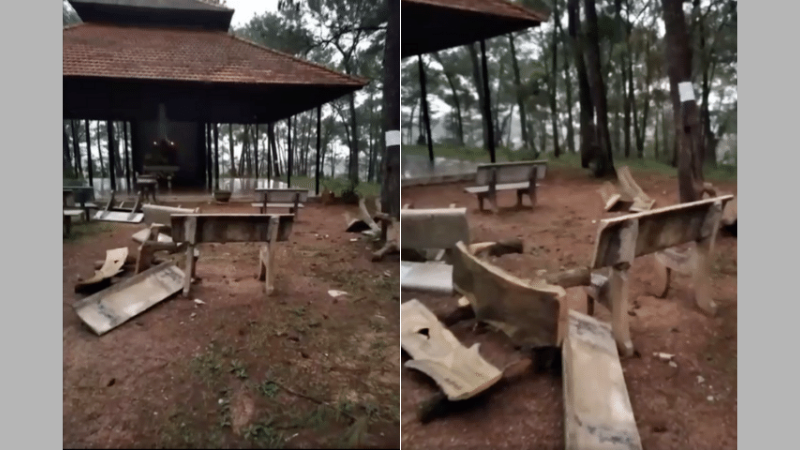 For more than 20 years, Thien An Abbey has been in limbo due to a land dispute between the abbey and local residents and Thua Thien – Hue provincial authorities.
Events indicate that the authorities and local households have teamed up in their land disputes with the abbey.
---
Government prevents the Unified Buddhist Sangha from distributing free aid
According to the Unified Buddhist Sangha, Huong Tra commune authorities in Thua Thien – Hue Province prevented the church from distributing free aid to flood victims at the end of December 2020.
Afterwards, authorities confiscated all gift vouchers and prevented residents from coming to Long Quang Monastery to receive free aid.
The reason authorities gave for the obstruction was that as the Unified Buddhist Sangha was not recognized by the state, and therefore distributing free aid was illegal.
---
[On This Day]
Letter from the House of Representatives on freedom of religion in Vietnam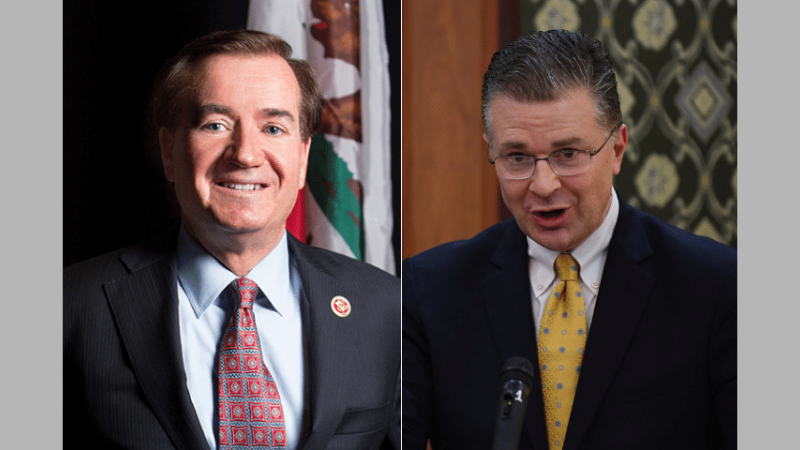 In December 2017, Mr. Edward R. Royce, chair of the House Committee on Foreign Relations, sent a letter to Mr.  Daniel J. Kritenbrink, US ambassador to Vietnam, to express his concerns about freedom of religion in the country.
In the letter, Royce expressed his concerns about the new Law on Faith and Religion, which was set to go into effect on January 1, 2018.
"I fear that this new law will form the basis for continued mistreatment of those who seek to practice their faith in Vietnam," he wrote.
Royce's fears have become a reality.
In the past three years, state organizations have taken advantage of the law's nebulous regulations to control religious activities.
Most recently, the Vietnamese Protestant Church (Southern branch) had to postpone its clerical congress for not sufficiently meeting the requirements of the Law on Faith and Religion. Specifically, they had not sent the roster of candidates to the Government Committee for Religious Affairs prior to the congress.
Royce's fears about the Vietnamese government using ambiguous national security concerns as pretext to suppress religious activities also proved to be true.
In a number of areas in the northwest, authorities have tightly controlled religious activities. The Protestant Church of Christ in the Central Highlands is even seen as a threat to national security.
---
If you have any suggestions or would like to join us in writing reports, please email us at: tongiao@luatkhoa.org or editor@thevietnamese.org