Freedom of Expression
Vietnamese Stand-up Comedian Condemns National Newspaper For "Defamation and Humiliation"

One week ago, followers of Dua Leo – one of Vietnam's most prominent stand-up comedians – weren't expecting him to release a "lawsuit reaction" video.
The incident resulted from an article published in Nhan Dan (The People), a Party mouthpiece, on January 8, 2021. The article, which was titled "Disguised as spreading knowledge to distort and undermine the nation's image," was by a writer named Viet Quang, and it targeted Dua Leo for his vlogs and videos published on his Youtube channel.
That article is seen as part of a campaign to delegitimize and clamp down on influential opposition voices as the Party ramps up for its 13th National Party Congress.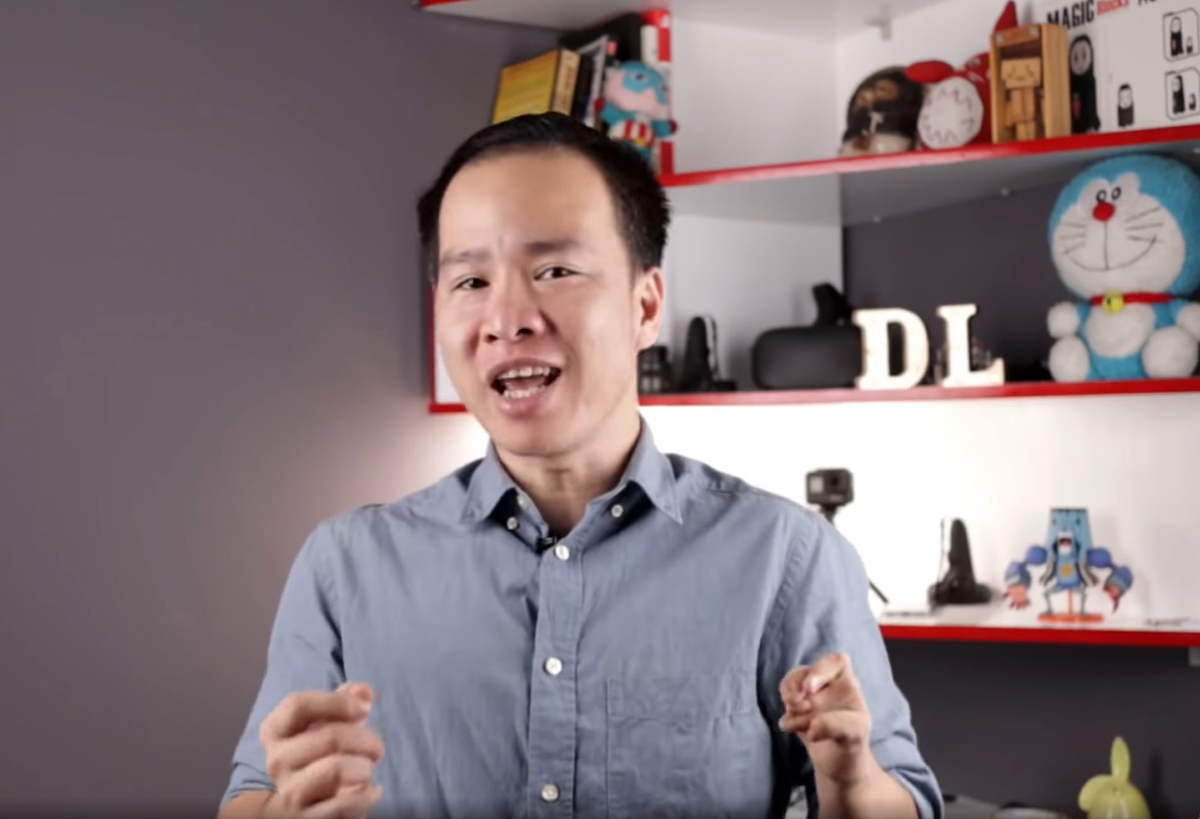 The stand-up comedian and his journey
Nguyen Phuc Gia Huy, commonly known by his stage name Dua Leo, which means cucumber in Vietnamese, is a Vietnamese stand-up comedian. He first came across stand-up comedy after watching one of Pablo Francisco's videos; Francisco is an American stand-up comedian famous for his voice impersonating skills. Having graduated from the University of Economics with a bachelor's degree in foreign trade, Mr. Huy had worked for several companies before deciding that he wanted to be a stand-up comedian.
Being a unique performer in a relatively new comedy field, there's much room for this young talent to rise. But unlike his fellow counterparts, Dua Leo embarked on a different journey: using comedy as an alternative method to raise people's awareness of social issues and tangible problems. He also created content for various topics, including history, science, politics, and even mental health. For that reason, Mr. Huy touted his role as being similar to that of a chef who cooks and serves people delicious meals, in his case, creating and spreading useful knowledge.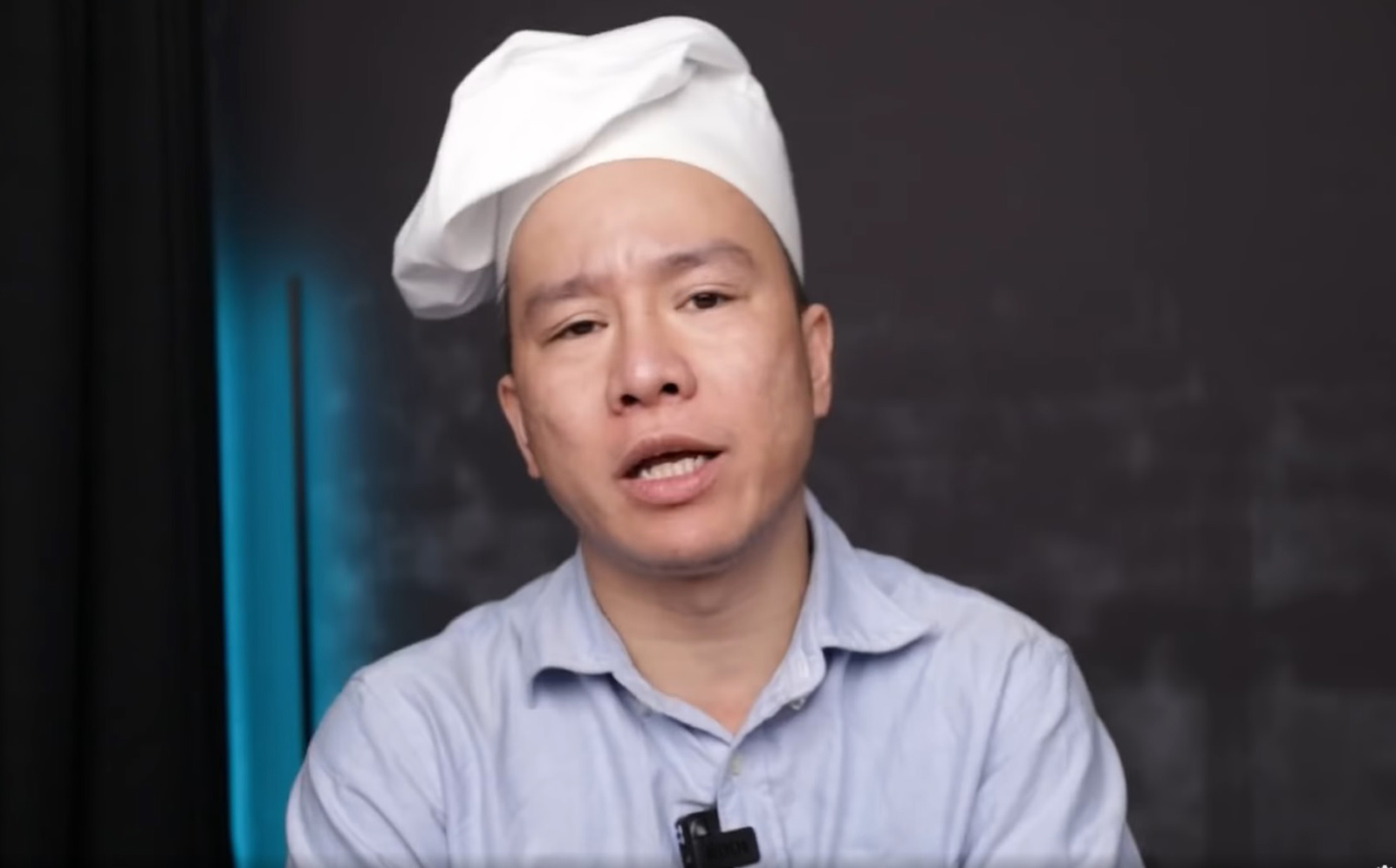 Funny, informative, and approachable, Dua Leo's videos quickly drew a large number of viewers and subscribers, mostly young people who are aware of the current situation and who are eagerly pushing for systemic change in Vietnam. Currently, Dua Leo's Facebook fanpage and Youtube channel have over one million followers and 700,000 subscribers, respectively.
No mercy for opposition voices
Despite being an influential icon for the young, Mr. Huy is not particularly favored by the authorities.
This is not the first time the comedian has provoked the ire of the government.
In 2016, he was first summoned by Ho Chi Minh city police after claiming in one of his videos that "there's no freedom of speech in Vietnam." After the incident, Mr. Huy made a video addressing his fans, under the stage name Dua Leo, reassuring them that nothing would stop him from doing what he is doing now. "I just want to deliver a simple message in this video: I'm just a comedian, as I always am, and my main goal is to gain [as many] views and likes for my videos [as possible]," he sarcastically joked. "[And] my secondary goal is as important as my main goal, [and that] is to make Vietnam a better country."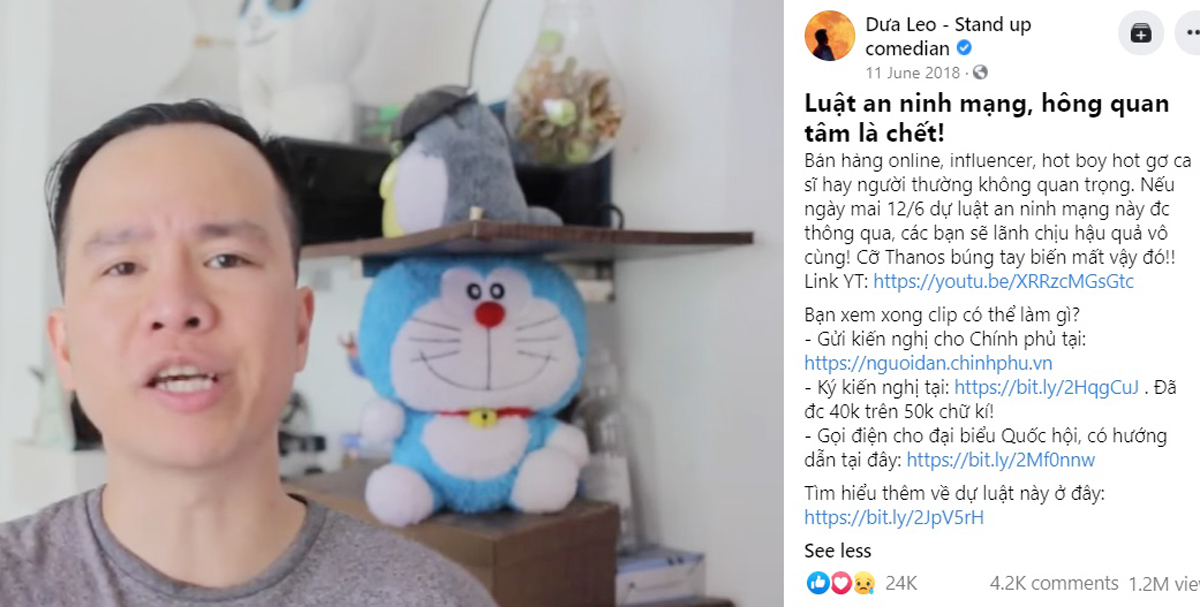 The shaming in Nhan Dan is another warning from the government, aimed at those who refuse to follow Party guidelines when speaking on social media.
The author of the Nhan Dan article accused Mr. Huy of "faking the activity of spreading knowledge to obtain illegitimate donations with illicit intentions," together with "colluding with overseas Vietnamese and foreign-based Vietnamese language news outlets –  which have unfavorable views towards the Vietnamese Communist Party, government, and the people of Vietnam."
On top of that, the writer also sourly slammed Mr. Huy for "being discontented" with the country's current situation, accusing him of being "delusional of self abilities and knowledge," or "dumb" and "child-minded." Even worse, the author attempted to humiliate the comedian, claiming that "he's popularly admired for his confident and eloquent manner, despite [his] physical disabilities."
Notwithstanding being one of the biggest and fastest growing markets for social networks, there is little free space for dissenting opinions in Vietnam. Social networking sites such as Facebook and Youtube, which served mainly as "non-censored" platforms for local dissidents to voice their opinions in the country, are often under strict government scrutiny.
Standing up for justice
Nevertheless, in order to deal with the powerful Propaganda Department that sets its own rules, the only way to fight back is to play by their rules.
In one of his latest moves, Mr. Huy announced that he had hired a law firm to file a lawsuit for "defamation and humiliation," demanding apologies from the newspaper as well as that the article be taken down.
The lawsuit concluded that the article was entirely based on personal assumptions without any concrete or fact-based evidence. Furthermore, it argued that the writer had falsely accused Mr. Huy of criminal wrongdoings, without any court judgement or going through any legal proceedings.
In his reaction video, Dua Leo constantly emphasized that this move was not a tit-for-tat response, but rather a so-called legal "case study" for people: everyone is equal under the law, therefore we should seek legal protections even when justice appears not to be on our side. And more importantly, he reaffirmed, everyone is innocent until proven guilty.
As of January 26th, Nhan Dan newspaper had further published two sequences, on January 23rd and 24th, respectively. These two articles, which threatened Mr. Huy to "turn back before it is too late," are nothing if not a retaliation move after the comedian had decided to file a lawsuit against its smearing campaign.
One day after the publication, on January 25th, Dua Leo had released another reaction video, repeatedly condemning the newspaper for "groundless and unjustified accusations." At the same time, the comedian also publicly released all the lawsuit papers on his Facebook fan page, as he carried on legal processes. And at the bottom of his post, Dua Leo did not forget to use the hashtag #JusticeWillPrevail.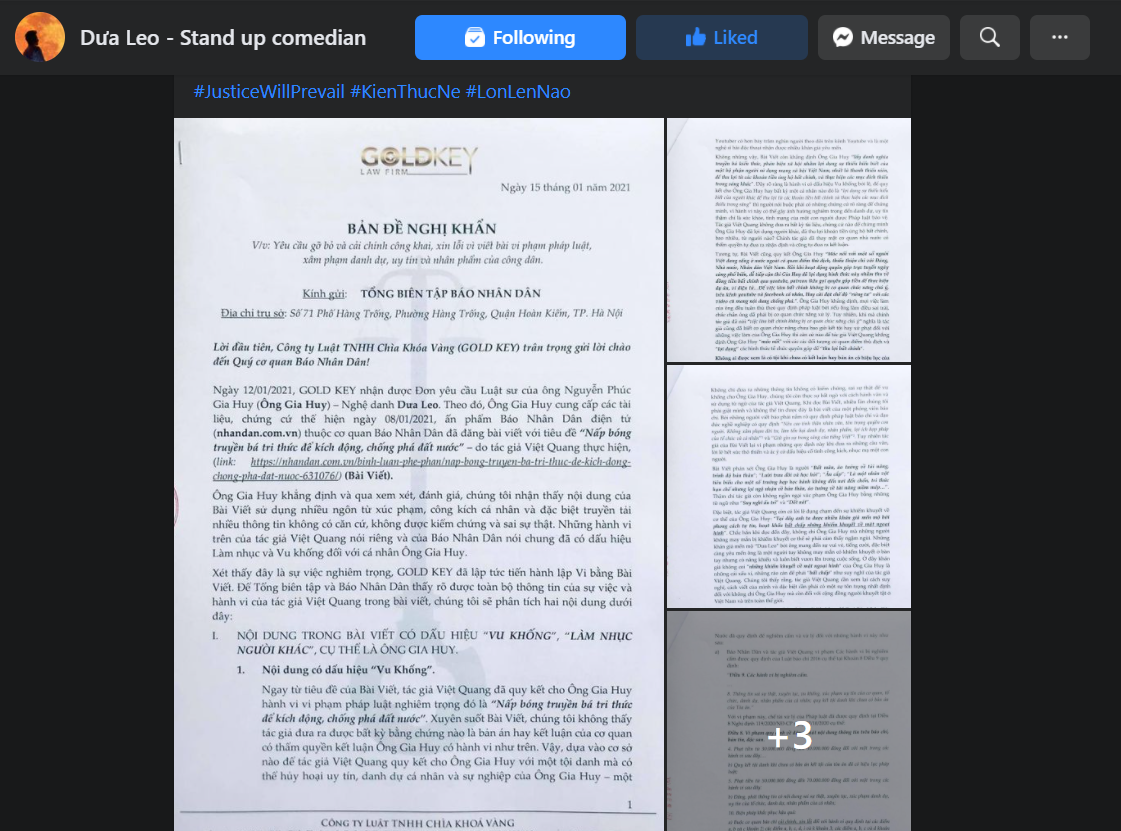 As many activists, journalists, and prisoners of conscience are still being locked up in jail for defending human rights and freedom of speech, the fight for justice is not yet over in Vietnam.
And just like those brave people, Dua Leo is a stand-up comedian who is standing up for a good cause.