Religion
Religion Bulletin – August 2020

Discover the four common tactics the Vietnamese authorities use to suppress religious organizations in [The Government's Reach]. In [Religion 360°], we continue coverage of the parishes resisting the government acquisition of schools borrowed after 1975, along with other news. Learn a bit about the Khmer Krom movement in [On This Day], where we discuss the arrest of a former Khmer temple head in Tra Vinh.
If you have any suggestions or would like to join us in writing reports, please email us at: tongiao@luatkhoa.org or editor@thevietnamese.org
[The Government's Reach]
Four tactics the Vietnamese authorities use to suppress religious organizations
For years, the government has used multiple tactics to suppress religious organizations it does not agree with.  The authorities refer to their actions as "professional", but in common parlance, these actions are more "cloak and dagger". The following are the four most common tactics used by the government to suppress religious organizations.
Organizing crowds to protest
The land dispute at Thien An Abbey continued to escalate in August 2020. On August 10 and 11, a group of about 40 individuals organized a protest to speak out against Thien An Abbey for sitting on their and the government's land. Protestors used large signs and loudspeakers to threaten and insult monks while standing on the disputed land. According to the  abbey, the crowd's organizers were cadres of the Thuy Bang Commune People's Committee, along with a number of police, as well as cadres from social organizations such as the Women's Association.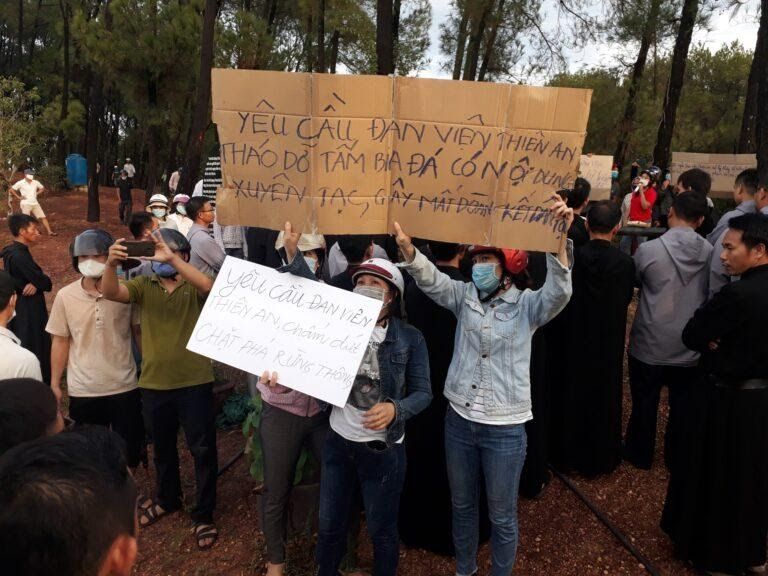 In May 2017, an enormous mobilized force of between 1,000 to 3,000 people organized a week-long protest to speak out against Father Dang Huu Nam, the head of Phu Yen Parish in Vinh Diocese. This force criticized the clergyman's words against the government and his actions when he assisted parishioners in suing the Ha Tinh Formosa Co. a year after the company caused a marine environmental disaster in 2016.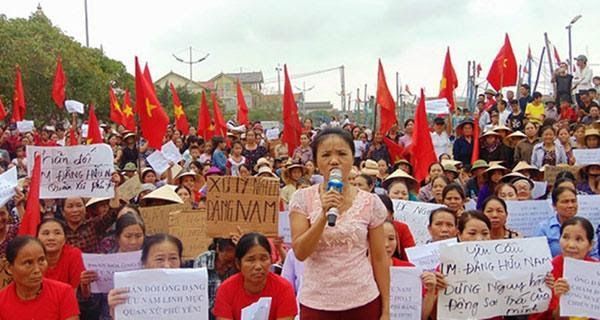 In Vietnam, protests like these cannot be organized without the backing of the government. They're put together to smear and lower the prestige of religious organizations that the government does not approve of.
Using state media
The protests against the monks of Thien An Abbey were reported in detail by the Thua Thien – Hue Province state media. After the protests, Thua Thien – Hue newspapers published two articles on August 18, 2020 and August 26, 2020 accusing the monks of surreptitiously taking land and falsely slandering the authorities with accusations of oppression. Hue Radio-Television broadcast a report on the protests as well. State journalists have previously blamed the monks of Thien An Abbey for being "aggressive and uncooperative with the authorities".
The protests opposing Father Dang Huu Nam were also reported in-depth by scores of other state journalists. More significantly, Vietnam Television (VTV) conducted a live national broadcast on the evening of March 24, 2017, regarding priests in Phu Yen Parish. The VTV report accused the Phu Yen priests of disrupting order and security by inciting parishioners to submit litigation against the Ha Tinh Formosa Co..
The Vietnamese state closely monitors media organizations, and journalists are not allowed to report on news that could adversely affect government interests. No independent television and radio stations are permitted to operate.
Religious organizations today normally have to establish their own media channels or use social media to speak up for themselves. There are currently two Catholic websites actively operating: "Good News to the Poor" and "VietCatholic," but both are blocked in Vietnam.  Independent media, such as VOA, RFA, BBC, and RFI, are also blocked in Vietnam.
Using hired thugs
According to the monks of Thien An Abbey, this land dispute has lasted more than 20 years and has always involved unidentified, aggressive individuals who assault the monks. Over many years, Thien An Abbey has faced numerous aggressive acts, including glass shards strewn across the football field, pine trees being cut down, statues of Christ being stolen and smashed, stalking, and threats—none of which are investigated by local authorities.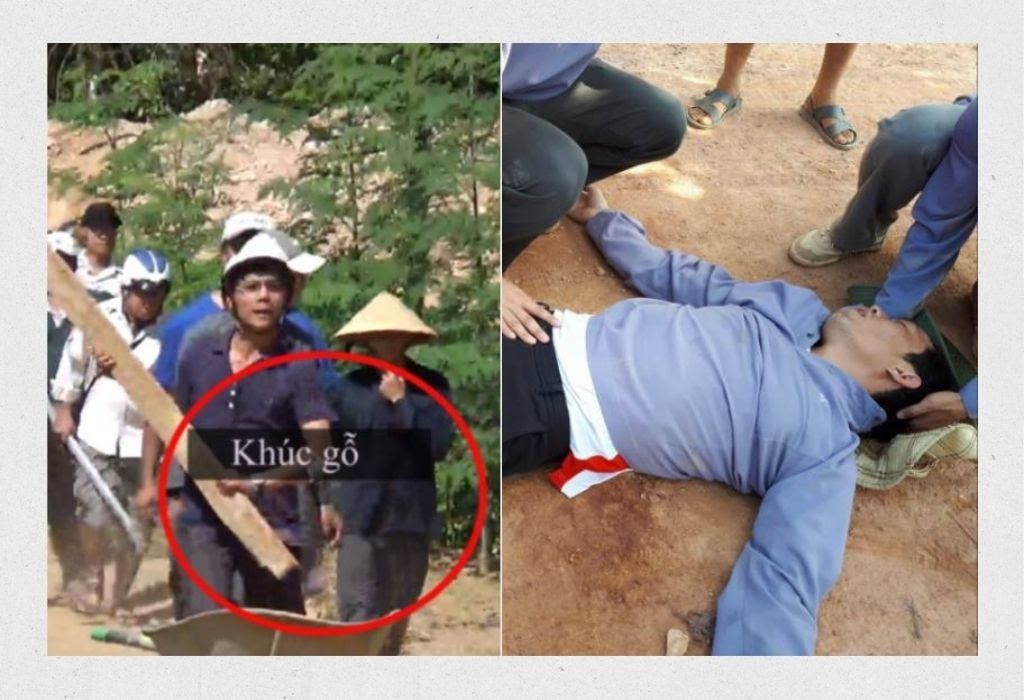 The Vietnamese authorities are well-versed in using hired agents to create physical scuffles in order for police to then respond with violence.
On February 14, 2017, according to VOA, police infiltrated a group of people who were mobilizing to sue the Formosa Co. These infiltrators threw rocks in the direction of riot police and instigated violence, giving police a pretext to suppress the movement, injuring about 50 parishioners. Police also instigate and/or stage scenes of violence in order for state media to record negative images.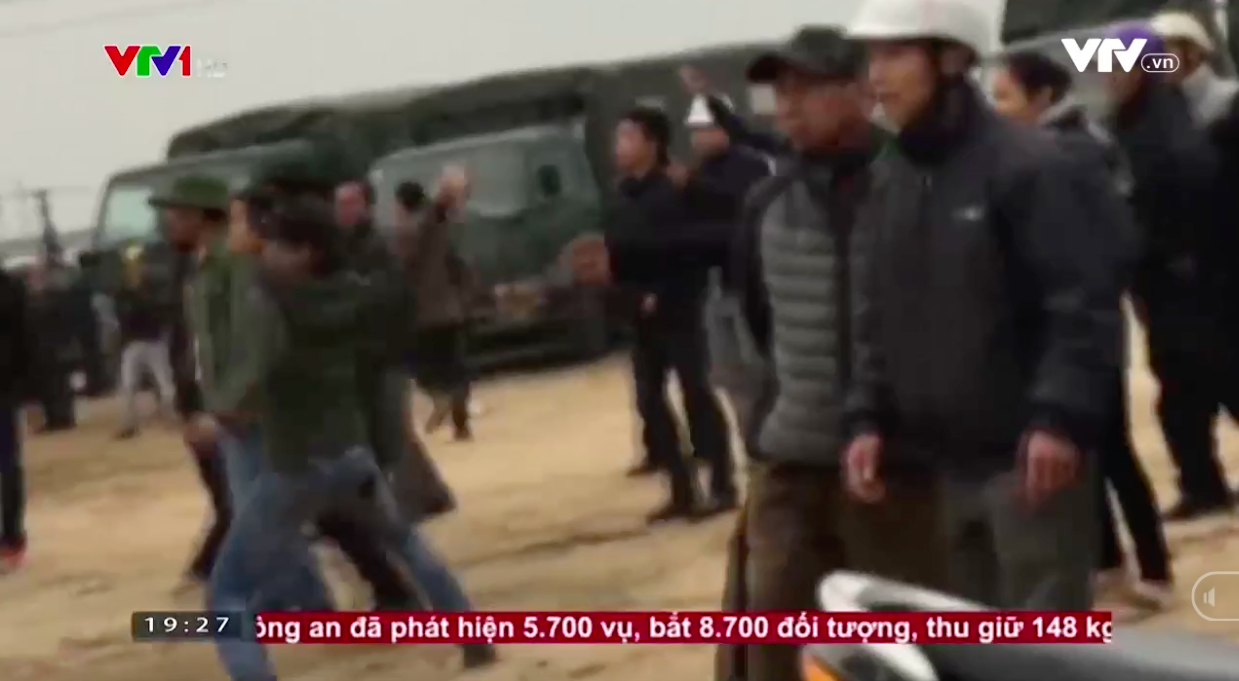 Hired agents who were not part of the contingent hurled rocks in the direction of riot police in order to instigate violence.  Source: VTV.
In October 2019, six independent Hoa Hao Buddhists were stopped by a mob blocking the road and were severely beaten as they were on their way to An Hoa Temple to stop the re-tiling of that temple's original roof. The matter was not investigated by the police.
The government use of hired thugs to instigate violence and threaten activists and religious groups is commonplace in Vietnam—and a serious problem.
Harassment using administrative regulations unrelated to religion
In 2018, Thuy Bang Commune police asked Thien An Abbey to provide a list of individuals who lived at the abbey in order for police to carry out direct inspections and corroborations.
In June 2017, Thua Thien – Hue provincial police set up a traffic blockade to prevent parishioners and monks from entering Thien An Abbey. Simultaneously, a large scuffle broke out at the abbey itself, injuring many monks who were unable to get to a hospital because of the traffic blockade.
This administrative harassment may seem insignificant but sometimes it is part of a larger trap to ensnare religious organizations and activists.
In February 2018, six Hoa Hao Buddhists were sentenced to between two years of probation and six years in prison for interfering with traffic police who had prevented residents from attending the death anniversary of a fellow follower. The six were convicted of obstructing officials and disturbing public order when they protested and argued with traffic police who were purposefully checking the papers and confiscating the vehicles of those attending the anniversary.
Local authorities regularly misuse administrative regulations as tools to punish and entrap religious organizations and to hinder activities. Authorities in a number of locations in the Central Highlands refuse to issue paperwork to independent worshippers, such as identity cards, passports, marriage licenses, and land use deeds, as punishment.
[Religion 360°]
Thi Nghe Parish asks for help as the authorities unilaterally change the usage rights of a parish school
In August 2020, Thi Nghe Parish in Ho Chi Minh City asked citizens for support in demanding the return of their school, which the authorities had initially borrowed and later permanently altered the usage rights to.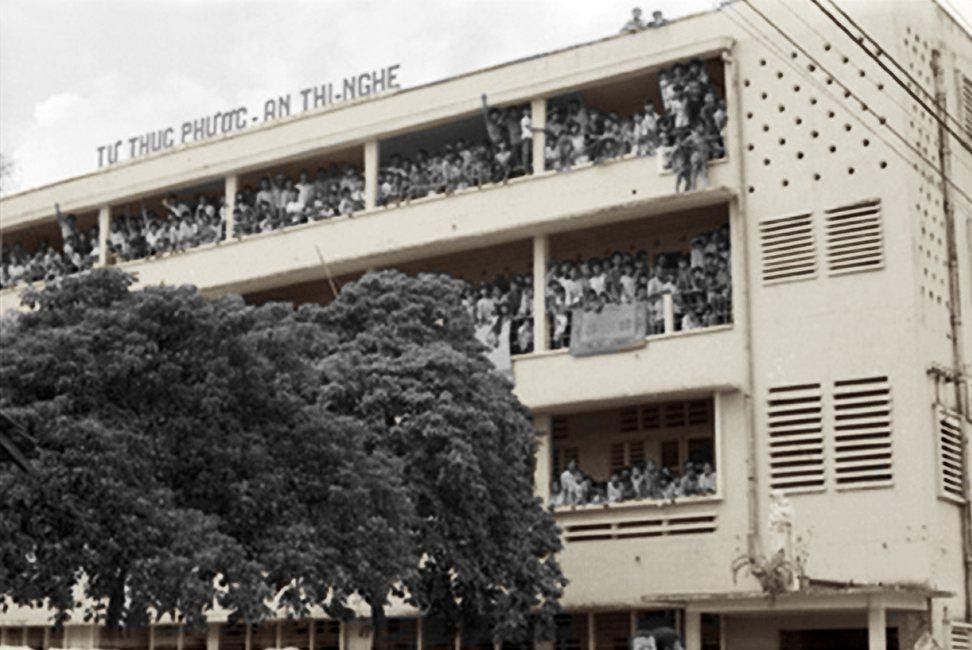 Vietnam does not recognize the right to land ownership. Land belongs to the state and citizens are granted usage rights.
Before 1975, Thi Nghe Parish contributed money to build Phuoc An Private School for approximately 4,000 students. After 1975, when private schools were abolished, the parish lent the state two three-story structures and another single-story building to function as a school (named Phu Dong Elementary School).
In 2019, when the parish was conducting a survey to build an underground parking structure for parishioners, it discovered that the authorities had granted usage rights to Phu Dong Elementary School in 2013; for six years, the parish was unaware that the school structures no longer belonged to them.
After more than a year of petitioning, in July 2020, Binh Thanh District authorities responded, stating: "Phu Dong Elementary School, including border walls, are state property to be managed by Phu Dong School."
Land policy from the 2000s granted local authorities the ability to delineate to themselves the (continued) usage of religious grounds already being used by the state. If the state continues to use these religious grounds for public purposes, then religious organizations cannot ask for the return of their properties.
Da Minh Tam Hiep congregation demands the return of a school building it lent to the authorities
At some point in the last 44 years, the Da Minh Tam Hiep congregation's Giuse School became a Dong Nai Province medical center.
Nuns in the congregation stated that before 1975, 1,000 students came to study at the school every year, at both the elementary and middle school levels. In 1976, the congregation lent the school to the authorities for five years to train cadres.
After five years, not only did the authorities refuse to return the school to the congregation, they further borrowed two rowed structures and a 6.482 square meter plot of land. These grounds were handed over to Bien Hoa General Hospital, which was then granted usage rights in 2004.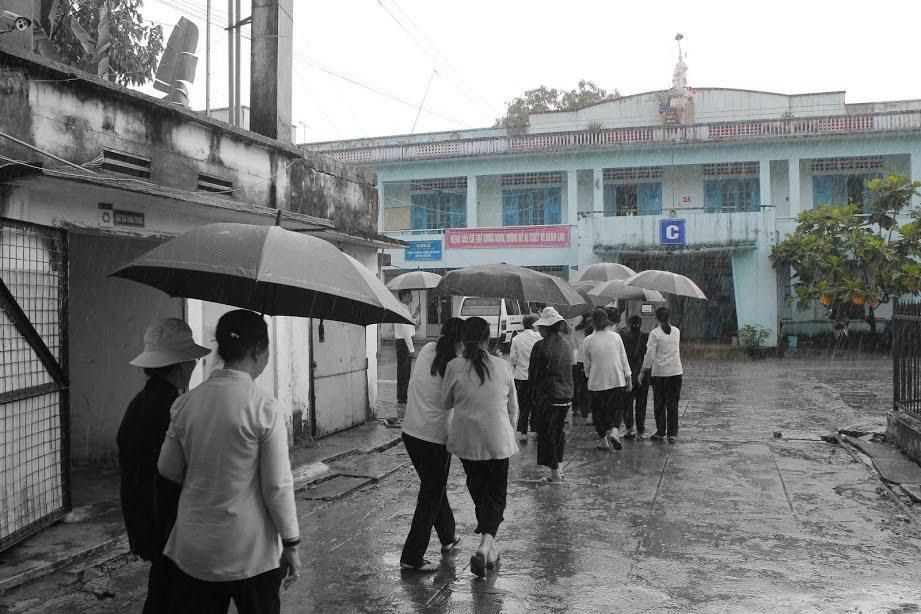 Recently, the Da Minh Tam Hiep congregation is in need of activity grounds for newly-joined nuns and as senior facilities for older nuns, hence it has asked for the return of the school building it lent to the government. But similar to the situation in Thi Nghe Parish, such returns are difficult to achieve if the authorities do not voluntarily choose to do so.
Dak Nong Province announces that it must "deal with" many new religions in the region
In August 2020, the Dak Nong Newspaper, belonging to the Dak Nong Province Communist Party, reported that many new religions were operating illegally in the region.
These new religions are referred to as "strange" or "heretical" religions. According to the Dak Nong Newspaper, approximately 10 of these "strange, heretical religions" have penetrated the province. Among them, the Gie Sua religion has the most followers, with 232; Falun Gong has 96; Hoang Thien Long 71; the World Mission Society Church of God 53; and the Tien Thien religion 24.
The Dak Nong Newspaper reported that the government will resolutely eliminate these "strange, heretical religions" from the province, and will ask residents to denounce anyone following or spreading these unsanctioned religions.
State journalists report that the Gie Sua religion was founded by an ethnic Hmong in the United States, who changed Protestant rites, such as worshipping on Sunday instead of Saturday, not recognizing the lord Jesus' name, and not celebrating Christmas or Easter.
According to Nghe An Newspaper, the Hoang Thien Long religion involves the spiritual worship of martyrs and "Uncle Ho" to treat diseases.
The Khanh Hoa Newspaper states that the World Mission Society Church of God was a religion based on the tenets of Protestantism and was introduced from South Korea into Vietnam in the 2000s.
The Tien Thien religion has yet to be reported on by state media. Information available online indicates that this religion is based on the teachings of Daoism.
Individual punished for spreading Falun Gong beliefs
State media reported that at least one person has been punished for spreading Falun Gong practices in August 2020.
According to the People's Police Newspaper,  Hai Duong provincial police arrested Ms. Le Thi Thoa, 61, as she was "illicitly spreading Falun Gong" in an alleyway in the city of Hai Duong. She was fined 300,000 dong (US$13).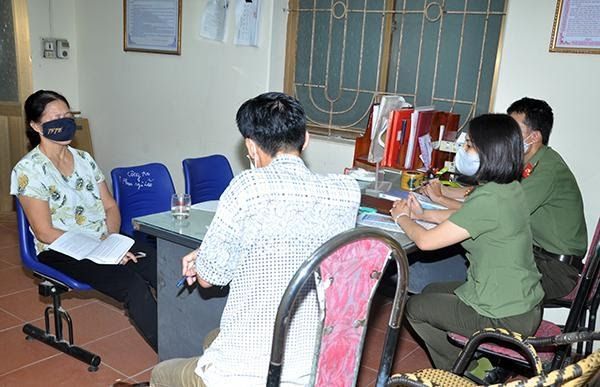 Though the government has not made any formal pronouncements about Falun Gong, local authorities uniformly see it as heretical and forbid people from promoting the  movement.
A number of religious prisoners unable to receive foodstuffs, medicine, and supplies due to COVID-19
Hua Phi, Cao Dai leader and member of the Inter-religious Council of Vietnam, told RFA that the authorities were not allowing religious prisoners to receive foodstuffs, medicine, and supplies due to COVID-19.
Near the end of July 2020, COVID-19 resurged in a number of cities in Vietnam, and detention centers and prisons temporarily discontinued outside visits. These detention centers became disease hotspots, such as in Da Nang, where outside visits and deliveries for prisoners were temporarily halted.
However, in other cities and provinces, a number of families of non-political and non-religious prisoners were still able to send in medicine and supplies.
Current regulations allow these detention centers autonomy in determining visitation and outside delivery policies. There's a high possibility that these centers are using COVID-19 as a pretense to punish religious prisoners.
Authorities finally recognize Lai Chau Parish as a religious organization after more than 13 years of applying
On August 21, 2020, the Lai Chau Province People's Committee permitted the Hung Hoa Diocese to establish the Lai Chau Parish as a legal religious organization.
According to Father Phero Pham Thanh Binh the Epsicopal See of Hung Hoa Diocese had been requesting that the authorities recognize Lai Chau Parish as a legal religious entity since 2007, a request that has only just now been accepted.
The 2016 Law on Faith and Religion stipulates that an organization granted a certificate of registration must operate for at least five years and meet a number of other requirements before it is officially recognized as a religious organization. In actuality, however, the authorities often drag their feet in granting legal status to any religious organization.
Hung Hoa Diocese manages parts of the north of Vietnam, including the entirety of Phu Tho, Yen Bai, Lao Cai, Lai Chau, Dien Bien, and Son La provinces, a portion of Hoa Hinh, Ha Giang, and Tuyen Quang provinces, as well as the city of Hanoi.
According to the head of the Hanoi Episcopal See, Giuse Vu Van Thien, Hung Hoa Diocese has faced many difficulties, because the religious policies are different from province to province: "Some policies are relaxed, but some others are difficult. Some of the policies have limited government interference, but some are overbearing. And there are others that even have cadres announcing white zones which means there are no religions in that locality at all".
[On This Day]
The imprisonment of a Khmer temple's former head and the Khmer Krom Movement
At the end of July 2010, Tra Vinh provincial police imprisoned Thach Sophon, the former head of a Khmer temple, after investigating him for a case that occurred in April 2010.
Thach Sophon was arrested July 29, 2010, two days after he left the priesthood. The government stated that his arrest stemmed from an incident in April of that same year, in which the temple he headed held a suspected burglar in captivity for a night before bringing him to police. More than a month after his arrest, he was  still not  allowed to see his family or any lawyers.
According to RFA, the human rights group Khmers Kampuchea-Krom Federation (KKF), which advocates for the rights of Khmer living in Vietnam's Mekong Delta region, raised objections to Thach Sophon's detention. The federation stated that he was arrested because the government suspected he was linked to the Khmer Krom movement. In 2006, the federation said, a disciple of his was accused of anti-state propaganda but was able to escape to Thailand before being detained. Another disciple confirmed that Thach Sophon had been monitored by the authorities since 2005.
In September 2010, Thach Sophon was sentenced to nine months of probation for illegally detaining another person.
These events pushed many human rights groups to suspect that the authorities intentionally arrested Thach Sophon to interrogate him about the Khmer Krom movement. When this proved unsuccessful, they framed him with a case that occurred three months earlier.
The Khmer Krom Movement
The Khmer Krom movement picked up strength during the 2000s and still operates, though it no longer draws as much attention. It is a movement that peacefully advocates for the rights of local Khmer living in Vietnam, including Khmer monks. Many Khmer Krom organizations participate in the movement, but the predominant one is the The Khmers Kampuchea-Krom Federation (KKF), whose website is currently blocked in Vietnam.
The Khmer Krom movement advocates for human rights in Vietnam for the Khmer ethnicity, including their freedom of religion, freedom of association, freedom of expression, freedom of information and the press, land rights. It also includes medical right, the environment, and local culture.
However, the Vietnamese authorities still see the movement as a seditious one that unites Cambodian citizens and Khmer living in the Mekong Delta against the government. In August 2010, Vietnam requested that Cambodia resolutely shut down this movement. In 2014, many large protests broke out demanding human rights for Khmer living in Vietnam.
The temporary confiscation of a Khmer monk's passport after an alleged violation of the Cybersecurity Law in February 2020
In February 2020, Long Phu district police in the province of Soc Trang interrogated a 36-year-old Khmer monk of Cambodian citizenship named Seun Ty, confiscating his passport for two weeks.
"They interrogated me and pressured me to confess to violating Vietnam's Cybersecurity Law after I shared a Radio Free Asia (RFA) interview with Mr. Tran Manrinh, a representative of KKF," Seun Ty told Voice of America. 'They used this action to accuse me of violating the Cybersecurity Law."
Long Phu district police had threatened to bar him from entering Vietnam or fine him 30 million dong (US$1,298). After human rights organizations forcefully spoke up, his passport was returned after two weeks.