The Vietnamese Magazine would like to thank the Asia Democracy Chronicles under the Asia Democracy Network for kindly giving us the permission to re-publish this article.
Why Vietnam strongly supports the former British colony's fight for freedom
Many Vietnamese citizens hold Hong Kong freedom fighters Joshua Wong, Nathan Law, and Agnes Chow Ting in high regard. The Vietnamese cheer when a government expresses support for the former British colony's fight for freedom. And they mourn whenever there is a crackdown—or a pro-democracy activist gets arrested or dies.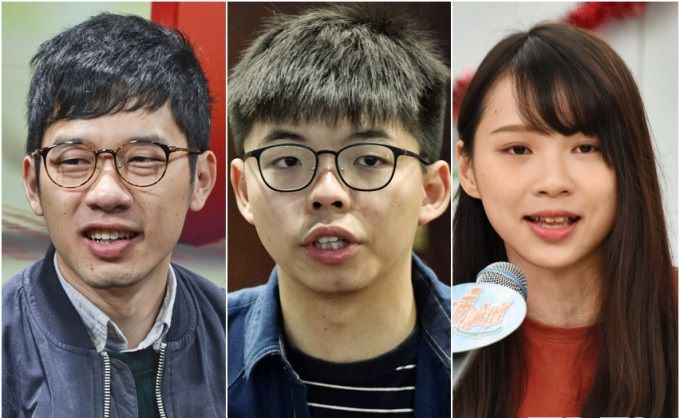 One might ask, why does Vietnam support Hong Kong's pro-democracy movement? The answer lies in the two country's shared history and similar political movements.
Bloody battles
Vietnam's long history of battling China spans more than 2,000 years. It's fair to say that the country's history is basically one of surviving next to China. After all, Vietnam was colonized by China for about 1,000 years before it finally gained its independence in 938 AD. Most national heroes worshipped as gods in Vietnam today are those who fought China over the past 200 decades, such as Hai Ba Trung (1st century, fought the Han dynasty), Ba Trieu (3rd century, fought the Eastern Wu dynasty), Ly Nam De (6th century, fought the Liang administration), Phung Hung (8th century, fought the Tang dynasty), Ngo Quyen (10th century, fought the Southern Han dynasty, ended China's 1,000-year domination over Vietnam), Ly Thuong Kiet (11th century, fought the Song dynasty), Tran Hung Dao (13th century, fought the Yuan dynasty), Le Loi and Nguyen Trai (15th century, fought the Ming empire, ended a 20-year domination over Vietnam), Nguyen Hue and Bui Thi Xuan (18th century, fought the Qing dynasty).
Today, some of the most central and important avenues in major cities of Vietnam are named after these national heroes.
In 1979,  Chinese troops invaded Vietnam, waging a two-month bloody strike along the 600-kilometer border that the two nations share. This was followed by battles along the borders for another 10 years. Not many countries in the world have had such a long and complicated history with China as Vietnam does. As a result, the anti-Chinese sentiment seems to be deeply rooted in Vietnam's culture.
Fast forward to today: The territorial dispute over the South China Sea—which also involves Taiwan, the Philippines, Malaysia, and Brunei—is also a factor behind this sentiment. China claims almost all of the area bounded by its nine-dash line. Vietnam claims sovereignty over islands in the Paracel Islands and Spratly Islands, as well as an exclusive economic zone that overlaps with China's claims.
In 1988, China and Vietnam clashed in the South China Sea when China's warships attacked and killed 64 Vietnamese soldiers and seized the Johnson Reef. Another battle in recent history was in 1974, when South Vietnam's navy lost some islands in the Paracel Islands to China's hands after a bloody battle that left 74 casualties and dozens of others injured. Skirmishes still break out between the two countries, something the Vietnamese frown on.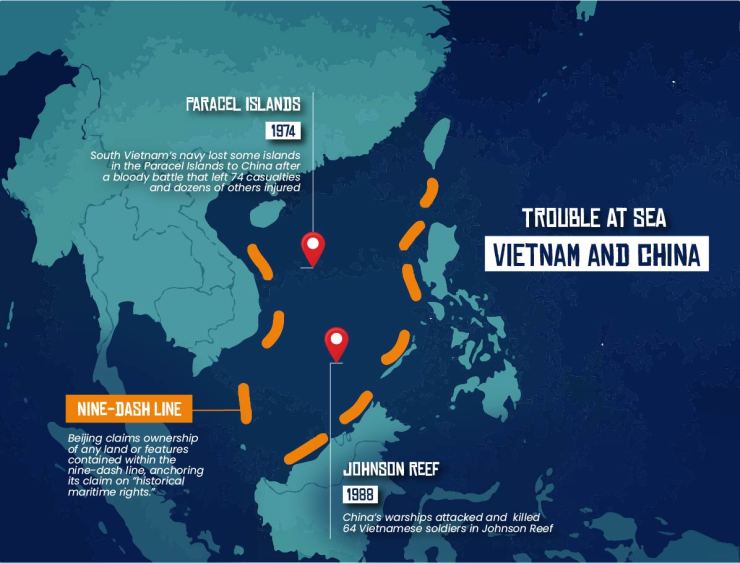 Amid territorial disputes over these islands, Vietnamese people bear the brunt of China's economic activity in their country. Poor-quality products from China (electronics, clothes, food, etc.) are being sold in Vietnam, and while people complain about shoddy goods from the mainland, they have not found a way to stop the sales of these goods within their borders. More than 91,500 Chinese workers were also living across the country as of January 2020, sometimes making up China towns and clashing with local people.
A Chinese-built section of Hanoi's new urban railway "has come under fire after reports of deferred deadlines, cost overruns, and dangers to passers-by from falling materials," reports the Financial Times. Given these trouble at sea, some people even suspect China of wanting to destroy Vietnam's economy.
Pro-democracy sentiment
Although Vietnam is no longer a communist country and has a market-driven economy, the Communist Party remains the only legal political party. The party requires all Vietnamese to study communism and to worship communist leaders such as Ho Chi Minh, Karl Marx, and Vladimir Lenin.
The society created by the communist regime is marked by corruption and inequality. Yet by an ironic twist of fate, it saved the Vietnamese people from the starvation that the party itself created before it began an economic reform program called Doi Moi in 1986. It abandoned the centrally planned economy model to open up the country to private businesses and foreign investments – a system which it eventually called the "socialist-oriented market economy". Although Vietnamese people acknowledge that the country has improved significantly economically, severe corruption and deep inequality are among the biggest threats to the regime's legitimacy. Vietnamese people are well aware that bad governance is the root cause of a slew of major challenges afflicting their lives such as unsafe food, land disputes, low wages, heavy pollution, low-quality education and healthcare, poor infrastructure, wrongful convictions, and a wide range of other human rights abuses.
The state of public governance in Vietnam is similar to China's – a combination of a communist one-party rule that suppresses human rights and a party-controlled market economy that favors members and sympathizers of the party. It is a system that puts a premium on economic development at the expense of fundamental freedoms.
But while the pro-democracy bias may seem to overlap with the anti-communist sentiment, these are not exactly the same for Vietnamese people. Some of them oppose the communist regime but embrace other authoritarians at the same time. Many Vietnamese admire South Korean dictator Park Chung-hee, Chinese nationalist leader Chiang Kai-shek, and Singapore's founding father Lee Kuan Yew, who was known for his authoritarian leadership style. This, while they lean toward democratization and support democratic movements such as the ones in Hong Kong, Burma, and Venezuela.
Mass movements
Mass protests introduced a radical change in a repressive regime like Vietnam. More than 30 years after the Vietnam War, joining a mass protest had been taboo in Vietnam, with the attendant risk of going to jail for decades. Few people dared to gather in the streets. Society had been frozen by fear."
However, reports that China established administrative units in disputed areas in the South China Sea in late 2007 angered the Vietnamese public. Suddenly, mass protests against the Chinese government broke out in the capital city, Hanoi. More protests followed in Ho Chi Minh City in early 2008.
This confused the Communist Party. They had dealt with protests before, but those involved economic issues. These protests were about protecting the country's territorial integrity, which was at the core of the nationalism that the party had spent its whole history building. Decades of fighting—from the independence struggle with the French before 1945, the Dien Bien Phu victory in 1954, the Vietnam war with the United States, and 10 years of conflict with China starting in 1979—helped build the communist party's legitimacy.
Eventually, the party cracked down on the protests. Party members could not tolerate any form of social mobilization that could potentially challenge their power.
However, the lamp of freedom had already been lit in the hearts of many Vietnamese. They realized that they must have the right to demonstrate, the right to speech, the right to participate in politics to protect their country, all of which are being suppressed by the Communist Party. For the first time in the country's history since 1975, Vietnam saw a protest movement in 2011, which lasted for almost three months, from June to August.
In 2014, more anti-China protests flared up across the country, involving not only activists but also workers, farmers, and students, due to China's deployment of the Haiyang Shiyou 981 oil rig to Vietnamese waters. A similar mass movement happened in June 2018 when the Parliament attempted to pass a special economic zones bill that were seen to open up three strategic areas in Vietnam for China.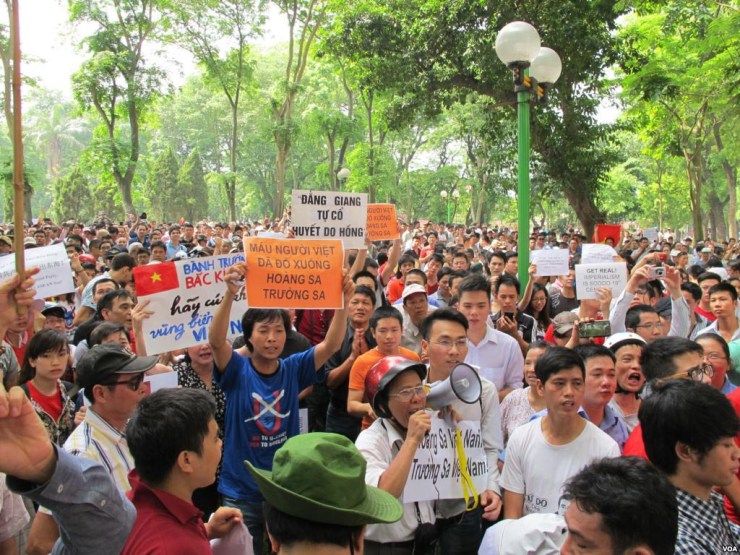 It is significant to note that most of the mass protests in Vietnam for at least the last decade have been anti-China. All protests have been severely suppressed by the government.
Movie magic
The silver screen has also influenced Vietnam's perspective on Hong Kong. Hong Kong films have been overwhelmingly popular in Vietnam for decades. These include "The Legend of Condor Heroes" (1994), "Detective Investigation" (1995), "Demi-Gods and Semi-Devils" (1997), "Triumph in the Skies" (2003), among others. It's not easy to find a Vietnamese over 30 years old that has never watched a Hong Kong film or is unfamiliar with Hong Kong film stars.
Beyond movies, Hong Kong is also a popular tourist destination among Vietnamese, especially during summer and New Year's holiday.
Until the late 1980s, Hong Kong played the role of a "port of first refuge" for Vietnamese people fleeing political persecutions and abject poverty in their country following the end of the Vietnam War.  In 1989 alone, more than 300 Vietnamese boat people landed in Hong Kong daily. The peak of the migration wave was when Hong Kong became home to 200,000 Vietnamese asylum seekers.
Supporting the democratic movement in Hong Kong came naturally to these refugees, who feel forever indebted to the now beleaguered city.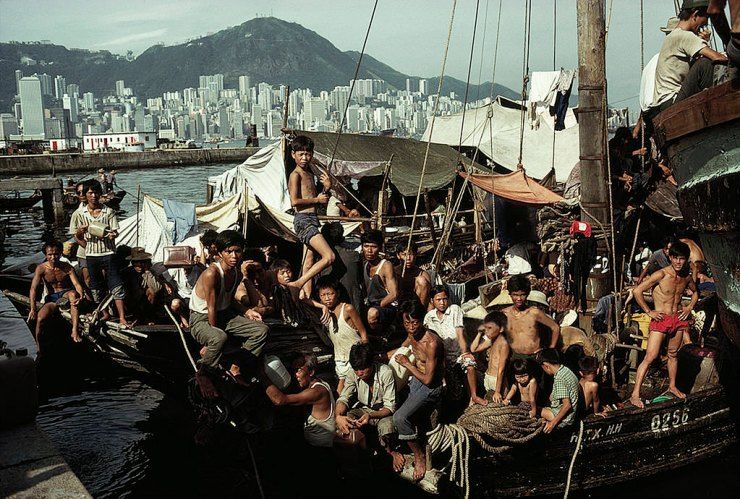 There's no doubt that Hong Kong pro-democracy movement fits perfectly into the Vietnamese people's worldview, which has been shaped by the latter's long and complicated history of dealing with China and communism, as well as nationalist and anti-government fervor.