The latest events from the third day of the Dong Tam trial (September 9, 2020):
Procuracy recommends two death sentences
According to state-run Zing e-newspaper, the Hanoi People's Procuracy recommended to the court that Le Dinh Cong and Le Dinh Chuc receive the death penalty. The recommended sentences for the remaining 27 defendants ranged from 15 months of probation to life in prison. Le Dinh Cong and Le Dinh Chuc were both prosecuted for murder.
Also prosecuted for murder was Le Dinh Doanh (who was recommended a life sentence), Bui Viet Hieu and Nguyen Quoc Tien (recommended sentences of 16-18 years in prison), and Nguyen Van Tuyen (a recommended sentence of 14-16 years in prison).
Nineteen other defendants had their original charge of murder downgraded by investigators to obstruction of officials. In total, 23 defendants were charged with the latter crime and were recommended sentences ranging from 15 months probation to 7 years in prison.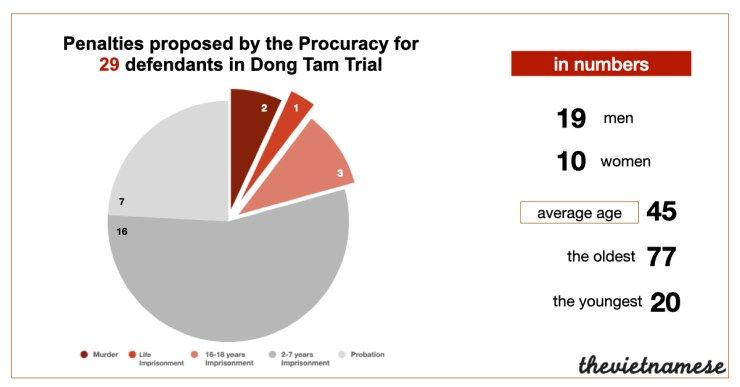 A speedy cross-examination of defendants
Prior public information estimated that the trial would last 10 days, but after only two days, the procuracy has already arrived at recommended sentencing for the defendants.  This is due to the speediness of the trial, with each defendant questioned for only a few minutes and lawyers racing to keep up, unable to record all responses in full.
In a BBC interview, lawyer Ngo Anh Tuan spoke of Tuesday's trial highlights, when every single defendant pleaded guilty.
According to Tuan, this development could be due to the fact that the defendants were facing heavy sentences and felt that even if they had retracted their previous statements, it would not stop the inevitable; as such, they chose to plead guilty in hope of a lesser sentence.
Lawyers interrupted
During the third day of the trial, lawyer Le Van Luan recounted how the prosecution repeatedly interrupted him as he debated the legality and legal value of the submitted electronic materials (unsourced videos broadcast in court, video confessions of the defendants recorded during the period of investigation that were never mentioned in case files).
Noteworthy is that during this time, the presiding judge "left the room", and the judge sitting next to him took his place, warning the lawyers to "defend what is before you, no more expounding on the law, no more utilizing the law"; if they continued, he warned,  they would be found  "in contempt of court" and "asked to leave the trial".
"No need" – episode two
During the first day of trial, court security prevented lawyers from speaking with their clients. When lawyers objected, the presiding judge declared that there was "no need" for lawyers and defendants to speak with one another in court – in complete violation of the law.
After lawyers forcefully responded by sending a complaint to the presiding judge of the Hanoi People's Court during their midday recess, the next morning, on the second day of trial, the court agreed not to block contact and to abide by legal statutes.
But as lawyer Dang Dinh Manh told the BBC, by the afternoon of the second day, the court reversed direction, asking lawyers to register before speaking with their clients and mandating that they stand two meters away from their clients. By the third day of the trial, "they no longer allowed us to see (our clients) at all," he said.
Manh believed that this reversal may be due to the fact that as the trial progressed, lawyers questioning defendants allegedly resulted in  "a lot of information being disclosed unexpectedly".
In addition to single-handedly deciding that lawyers had "no need" to speak with their clients, the trial's presiding judge also decided on the second day that there was "no need" to respond to lawyer requests for the court to provide the "video evidence" it was planning to show, so that all parties would have access to and understand the materials.
Accordingly, the prosecution stated that it would not provide the sources or any information regarding the evidence because there is "no need".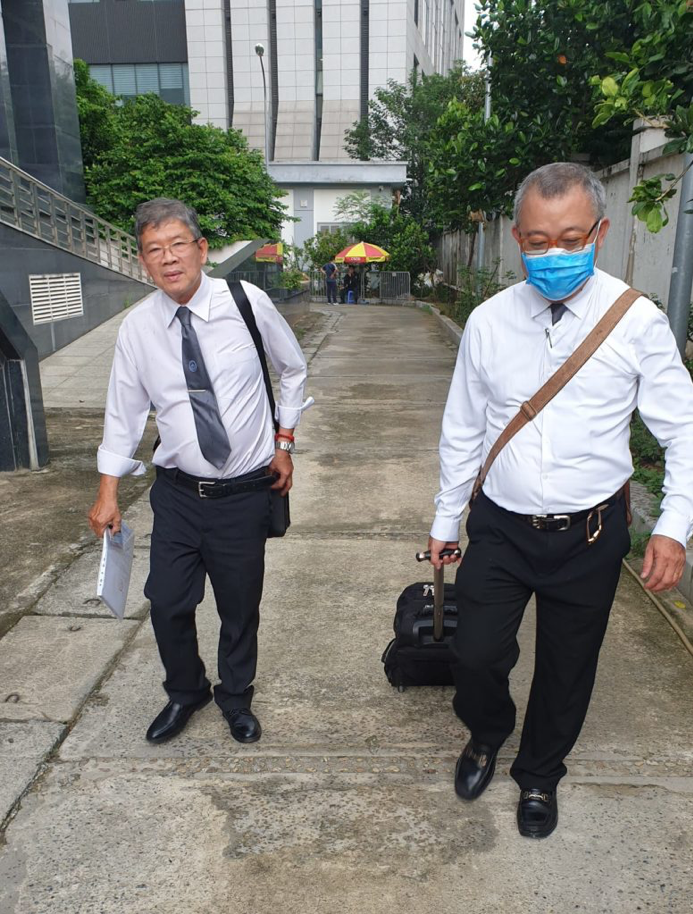 Were the defendants tortured during the investigation?
Lawyer Dang Dinh Minh relayed that at the end of the second day of the trial, he turned to the row of defendants and asked the 29: "Those who WERE tortured during your investigation, do nothing; those who WERE NOT tortured during your investigation, please raise your hand". Ten raised their hands, 19 did not.
What do the residents of Dong Tam think of the defendants and their families?
Responding in an interview with Luat Khoa Magazine, Mrs. Nguyen Thi Duyen – wife of defendant Le Dinh Uy and granddaughter-in-law of Le Dinh Kinh – affirmed:
In our village, we Dong Tam residents strongly mourn the death of elder Le Dinh Kinh, as well as the enormous losses our family has suffered and the many relatives who were arrested on the night of January 9. It brings us great anguish.
But many cannot express this for fear of immediate retaliation by police and village security. Intimidation, there is intimidation. That's the truth because many have been called to the police station and the village committee and told that they were not allowed to come to my house. They wanted to burn incense for elder Le Dinh Kinh but were prevented by security forces, who construed burning incense with some kind of involvement in the matter. So residents were very afraid and didn't dare come, though they mourned Kinh dearly.
They were able to express themselves more quietly by going to his gravesite and burning incense there, rather than coming to our house. If they came, they would be recorded and followed on camera, and possibly be immediately denounced; security would definitely summon them right away.
We can't even burn incense freely for someone who's already passed away; as such, I certainly do not hold the security forces of Dong Tam in high regard.
But I affirm to everyone that Dong Tam's residents care for and support those in custody. Villagers have conveyed themselves through text messages and they encourage us whenever they get a chance. They do not isolate my family or any other relative who's been arrested, and I feel very happy living with the residents of Dong Tam.
***
This article was written in Vietnamese by Y Chan and published on Luat Khoa Magazine. The translation is done by Will Nguyen.