Death Penalty
Wrongful Death Sentences Sent A Loud and Urgent Cry to Reform Vietnam's Criminal Procedures
Wrongful convictions almost always share a few disturbingly similar characteristics in Vietnam. First, they mostly happened in rural areas. And second, the majority of the people involved, be it the victims, witnesses, or alleged perpetrators, are often poor, and some even have little or little education.
In any case, the defendants quickly found themselves victims of police brutality and thus were coerced to confess. Most of the time, no effective legal counsel would be available. Worse of it, it would be certain that the court will convict with little or close to zero credible evidence and hastily sentence them to the maximum terms. There have been many cases where defendants were sentenced to death based on almost nothing but the very confession that the police had beaten them into giving up.
Therefore, the country's need for criminal justice reform is real and urgent. And the death penalty cases below, featuring the stories of three young men in their twenties, all convicted, sentenced, and incarcerated to await their executions during the past decade, would convince even the toughest critics.
Ho Duy Hai: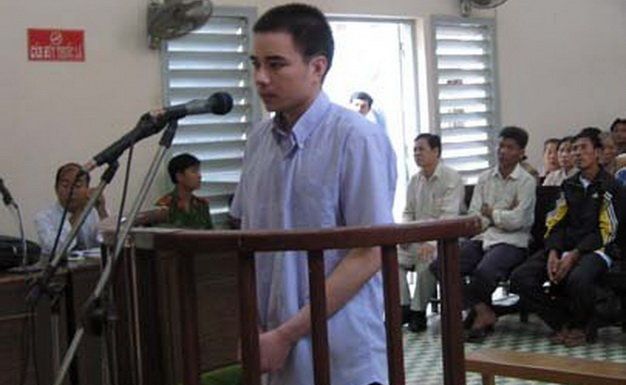 Hai was a 23-year-old recent college graduate, eagerly waiting to start his new life when he got convicted of double homicide and robbery in 2008.
Social media in Vietnam came to know of Hai's case when his younger sister, Thuy, created a Facebook group in November 2014 to raise awareness about his conviction and plead for his life. At that time, Hai's family had just received notice from the Long An Province Police Department that they would execute him on December 5, 2014.
Devastated by the news, his family then desperately turned to social media, the dissidents, and various independent human rights groups to save Hai's life. Vietnamese people began to learn about one of Vietnam's most peculiar death penalty cases. Due to pressure from both the public in Vietnam and international organizations, on December 4, 2014, then-President Truong Tan Sang personally ordered a halt of his execution – which would have been carried out the next day.
Despite the fact that a special team of jurists and legislative members was set up to investigate wrongful convictions in 2014 and 2015 and that the Deputy Commissioner of the National Assembly's Judiciary Committee at the time – Le Thi Nga – already reported to Congress, there were serious violations committed by the police and prosecution in Hai's case, he had yet been granted a review and remained incarcerated.
By next March, it would have been ten years since the day his life as a free man was abruptly ended. And as flimsy as they are, the so-called evidence that sent Hai to the firing squad still soundly stands.
The case dates back to the night of January 14, 2008, when two young women were killed at the Cau Voi Post Office in Thu Thua District, Long An Province. According to the case file, the victims' throats were cut, and one of them received blow injuries to the head while another one was almost decapitated. The perpetrator allegedly took some 1,400,000 VND (approximately 70 USD), mobile phones, and pieces of jewelry from the scene.
On March 22, 2008, Hai was arrested and tried for the double murder even when none of the fingerprints left at the scene matched his, there was no physical evidence to tie him to the case, and there were testimonies that other men were seen at the crime scene during the night of the murders.
Even more disastrous, according to the indictment, one of the prosecution's witnesses, Nguyen Van Thu, later purchased a knife at a local market and gave it to the police, vowing that it would have matched the size and shape of the knife from the scene. That was enough for the police to conclude that they had sufficiently determined the murder weapon. What happened next was more bizarre; this very "purchased" weapon was indeed admitted into evidence as part of the case file that convicted Ho Duy Hai of double murder and sentenced him to death in December 2008.
During their visitation, Hai told his mother and aunt that he was beaten up by the police and tortured during his pre-trial detention to confess to the crimes. Also, according to his family, Hai's appeal process began immediately after the conviction, but the court system repeatedly denied review.
With his family, including his mother, aunt, and younger sister, on his side, Hai continues on what seems to be an indefinite journey to fight for justice.
Le Van Manh: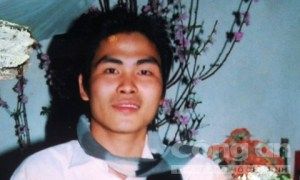 Approximately one year after the campaign to save Ho Duy Hai appeared on Vietnam's social media in October 2015, people again learned of the facts in yet another irregular wrongful death penalty case.
On October 16, 2015, the family of death-row inmate Le Van Manh received a written notice from the People's Court of Thanh Hoa Province, informing them about procedures to pick up and bury his body after execution, which was scheduled for October 26, 2015. Le Van Manh was convicted of robbery, rape, and murder of a 14-year-old girl in July 2005.
On October 25, 2015, Amnesty International issued a statement on behalf of Le Van Manh, urging the Vietnamese government to spare his life and investigate allegations that he was tortured in police custody. Like Ho Duy Hai, Manh's execution was halted due to domestic and international pressure. And also, like Hai, Manh continued to be incarcerated since then, with little progress in his plea for justice.
From 2005-2008, Le Van Manh underwent a total of seven court hearings, including three trials, three appeals, and one cassation trial. In all of his court hearings, Manh vehemently denied all of the charges and retracted his earlier confessions, alleging that he had to confess after being beaten by both the police officers investigating his case and his cellmates who were acting under police's instructions.
According to the case's official records, the victim, Hoang Thi Loan, whose date of birth was August 15, 1991, was raped and murdered in Yen Thinh Ward, Yen Dinh District, Thanh Hoa Province, in March 2005. The authorities believed that Loan went to the bank of the Cau Chay River within the Yen Thinh Ward to use the bathroom on March 21, 2005. By nightfall, her family realized that she had disappeared. The family organized a search for her but to no avail. By the 13:00 hour on March 22, 2005, Loan's body turned up at the bank of Cau Chay River within Xuan Minh Ward, Tho Xuan District, also in Thanh Hoa Province.
On March 30, 2005, the Thanh Hoa Province's Forensics Office concluded that Hoang Thi Loan died from strangulation with signs of water asphyxia and that the victim was raped before she was killed.
On April 20, 2005, Le Van Manh, who was 23-year old at the time, was arrested pursuant to a temporary arrest warrant issued by the investigative police unit of Dong Nai Province for an entirely different matter, suspected robbery and attempting to flee criminal custody, earlier that month.
However, according to the criminal complaint, just three days later, by April 23, 2005, a confession letter, claimed to be written by Le Van Manh while in police detention addressed to his father, had surfaced, admitting guilt to the rape and murder of Hoang Thi Loan. The police were in time to confiscate this letter and used it to prove Manh's guilt. The criminal complaint further showed that the investigation relied on the testimony of a 9-year-old child – who had limited education and was interviewed by the police without parental permission – for leads.
As in Ho Duy Hai's case, there was no physical evidence to tie Manh to the alleged rape and murder. The only evidence presented by the prosecution was Manh's confession letter, which he already retracted. Nevertheless, Le Van Manh was charged with the rape and murder of Hoang Thi Loan, tried, and sentenced to death.
Nguyen Van Chuong: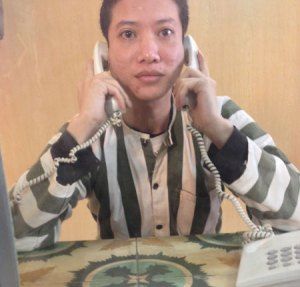 Nguyen Van Chuong's official case file reveals that it could probably be the strongest one among these three to demonstrate how police brutality affected criminal investigation in Vietnam because the suspects and witnesses also fell victim to such cruel practice.
The only evidence used to convict Chuong was his and his co-defendants' confessions. These confessions, again, were alleged by the defendants that the police obtained them through torture.
His parents recalled how Chuong had described the police would handcuff him so that he was hanging and only the tips of his toes would touch the floor, then they would beat him repeatedly until he confessed.
Court's dockets confirmed that Chuong and other defendants had all petitioned for review after the appellate court confirmed their convictions in November 2008. From prison, on April 7, 2009, Chuong sent his mother a t-shirt where he had used bamboo toothpicks to sew on his plea of innocence.
Not only the defendants alleged that they were tortured by the police during the investigation to confess, but Chuong's alibi witnesses had also come forward and alleged they were physically abused by the authorities.
According to the police's investigation file, on the night of July 14, 2007, around 21:00 hour, a high-ranking police officer, Nguyen Van Sinh, of the Hai An District, Hai Phong City, was attacked by knives and suffered severe injuries. Officer Sinh died at 8:00 A.M. the next morning from the wounds he received during the attack.
By August 3, 2007, police arrested Nguyen Van Chuong, who was born in 1983 and a resident of Trung Tuyen village, Binh Dan Ward, Kim Thanh District, Hai Duong Province. At the time of his arrest, Chuong was a factory worker in Hai Phong, married, and had no criminal records. Chuong was also the owner of Thien Than coffee shop in Hai An District, Hai Phong City. Together with Chuong, two other men, Do Van Hoang and Vu Toan Trung, were also arrested.
On August 4, 2007, Chuong's 20-year-old younger brother – Nguyen Trong Doan – obtained written declarations from various witnesses who swore under oath that they had met with Chuong in his hometown, in Kim Thanh District of Hai Duong City at the time Officer Sinh was attacked in Hai Phong City, which is some 40 km away. In other words, Chuong had an alibi and witnesses to support it.
But instead of investigating the validity of his alibi, the police arrested Chuong's brother, Doan, alleging that Doan manipulated evidence and witnesses to help Chuong conceal his crimes. Ironically, Doan was arrested at the police station in Hai Phong City when he came to provide the police with testimonies from witnesses who were with his brother during the night of the alleged crime.
One of Chuong's alibi witnesses was Tran Quang Tuat, who later told Tien Phong newspaper in November 2007 that the police had intimidated him into changing his testimony about Chuong's whereabouts while Officer Sinh was attacked.
Another person, Trinh Xuan Truong, petitioned to the People's Supreme Procuracy Office on September 10, 2013, and claimed that the police had beaten him up, burnt him with cigarettes, threatened to arrest him, and ordered him to change his testimony from being with Chuong in a different city during the night of the attack to did not see Chuong that night.
By January 27, 2008, the Hai Phong City Police Department finalized their investigation and concluded in their criminal complaint that Chuong, along with two co-conspirators, Trung and Hoang, had confessed to using a knife to rob Officer Sinh for money to buy heroin, resulting in his death from knife injuries the morning after.
On June 12, 2008, Chuong and his co-defendants were tried for murder, and he was given the death penalty while the other two received a life sentence and 20 years imprisonment, respectively. It is worth noticing that Trung, the defendant who received the 20-year imprisonment, was the grandson of a woman who received an outstanding medal from the regime in the past; thus, the law allows him a lighter sentence.
Nguyen Trong Doan, Chuong's younger brother, was also sentenced to two years imprisonment for "concealing criminals" because he was trying to bring Chuong's alibi witnesses forward.
Like Ho Duy Hai and Le Van Manh, Chuong has been incarcerated since his arrest, and his execution could happen anytime. And also, like the other two families, Chuong's parents, especially his father, became his strongest and most outspoken advocates on Facebook. During a teleconference with us in early 2016, Chuong's dad, Nguyen Truong Chinh, disclosed that he had left their home to come to Hanoi to petition for a review of Chuong's case. With all of their valuables sold to pay for Chuong's legal case and appeals, his father had lived among land-grabs victims' community and worked as a motorbiker for hire to earn a meager salary.
Yet, the future looks bleak when courts refuse to grant review, and legal options are running out for Ho Duy Hai, Le Van Manh, Nguyen Van Chuong, and other death-row mates, unless major reforms regarding criminal procedures occur in Vietnam. Until then and there, their lives could only depend on other people's mercy and how much and how often the international community exerted pressure on the Vietnamese government.